UTLD 50: aka Groundhog Day
2014 Lakeland 50 was absolutely what I expected it to be and completely what I didn't expect it to be, all rolled into one rollercoaster ride. And that just about sums this race up. If you think you can predict, or control 100% how it's going to go, then you need to think again. That's what makes it so difficult and so rewarding and I think, what brings runners back, year after year, regardless of previous results, finished or not.
It's certainly true to say that time erases some of the most painful memories. During the race, at my lowest point (which spanned a few hours), I never wanted to run an ultra again, ever. By the end of the race I was in love with running again, but was in no rush to repeat the experience and by the time I got home I was already contemplating how finishing the 100 might feel. Weird.
This blog isn't going to follow every step of my journey, it's more of a reflection of the right bits and the wrong bits and hopefully what extra I found out about myself this year, when I thought I had learned plenty in the 2013 race journey.
The Lakeland 100 event is unique and addictive. From rolling into the field to set up camp on Friday morning, to rolling out again on Sunday afternoon, it's simply absorbing and a great way to recharge your positivity for life in general. The people you meet, the spirit you encounter and the involvement of my whole family in the experience is unbeatable. It's so much more than a race.
Lining up for the Lakeland 1 with the kids and seeing them push themselves is fabulous. The weekend teaches them about determination and looking out for others.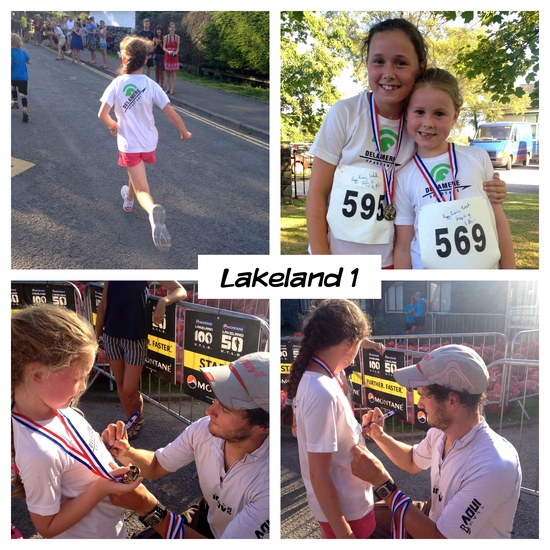 Ben Abdelnoor inspiring the next generation
My preparation this year has been good. Almost 1,400 miles in the bag for the year before race day. Circumstances have enabled me to train longer and further, with some respectable placings in trail marathons and ultras. A sub 10 hour finish in the awesome Highland Fling Ultra in April left me feeling capable and confident of performing well. Too confident maybe? I hoped not. I re read my blog from last years 50 to remind me of the errors not to be repeated. Make some new mistakes instead!
Maintaining nutrition and hydration were a major downfall for me last year. I have worked on different foods to use during ultras, practiced an 'eat early, drink plenty' philosophy and (largely) reined in the desire to push too far into the red in the early stages of a race.
So I came to the line on Saturday feeling like I had done everything possible to maximise my chances of success. Fully hydrated and fuelled up on the journey to Dalemain. Kit and race vest comfortable, strategy clear. No sitting down at a CP. Make good fuelling decisions. No stupid antics in the first 20 miles. No nagging doubts.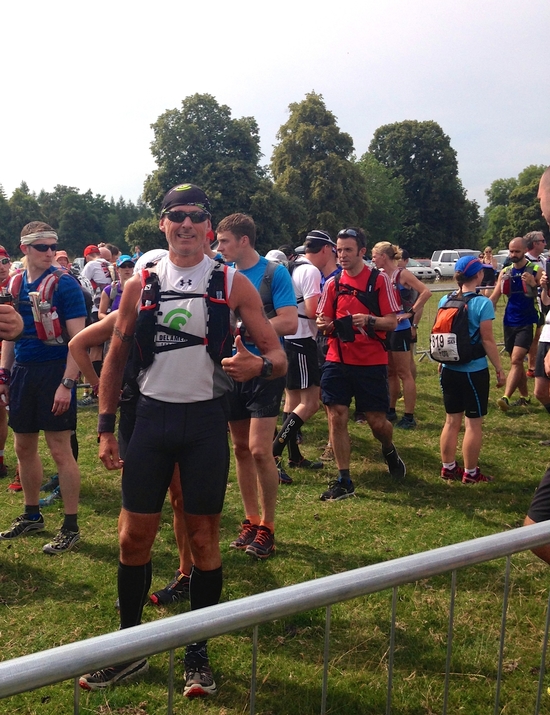 All Systems Go
Except for the weather perhaps.
Historically I don't do sun and heat too well in races. Last year being a major example.
This years longer races have made me a bit of a rain specialist. Two Ultras in heavy rain, two Trail Marathons in heavy rain. Just last month the Sandstone Trail Ultra started in a thunderous downpour! See a theme anywhere?
Knowing this, I have tried to train during the heat of the day whenever possible. I've run several 30+ and 40 milers on hot days, consciously keeping the fluids and fuel up, so the heat is just something to get on with now and not fear. I have stopped taking on gels to avoid stomach issues after about 3 hours, started using s-caps which have enabled me to keep eating and maintain a good electrolyte balance.
So, mental state good, visualisations of the journey strong. Marc's words at the briefing resonated with everyone. A 91% completion rate this year says that, despite the fact that this years conditions were hotter than 2013 when the dropout rate was something like 18%. I had a race plan, but I also knew how to modify goals on the move. Priority 1 is always to finish and the time will be as good as I am on that particular day. Sounds straightforward enough.
Devil on shoulder always interferes: "But I still need to be faster than last year!"
How did the race go then? In two words; Groundhog Day.
Started well, maybe a little too quick to Howtown, (36th place), but very comfortable and well hydrated. Caught up with some of our legends doing the 100 along the trail. Great over Fusedale, OK descending to Haweswater. Wheels fell off somewhere between there and Mardale. AGAIN. Manned by my club, the Delamere Spartans, I arrived looking like s**t, only worse coming into the CP.
Deja vu. Goddammit. Please can someone nuke that 4 mile section along Haweswater and wipe it from the face of the planet.
Stick or twist?
Some extreme projectile vomiting in that carpark has probably reduced my facebook friend numbers. I went and sat in the office to get my head screwed back on, emerged from the portaloo to clock the Never Surrender banner and headed out up the hill to pull it all back together. Thank god no photos of my zombie impressions of the next hour have yet reached social media.
One eternity later, I ran into Ambleside, where family and friends completed my rebirth and I seemed to wake up and remember that this was actually meant to be a running race.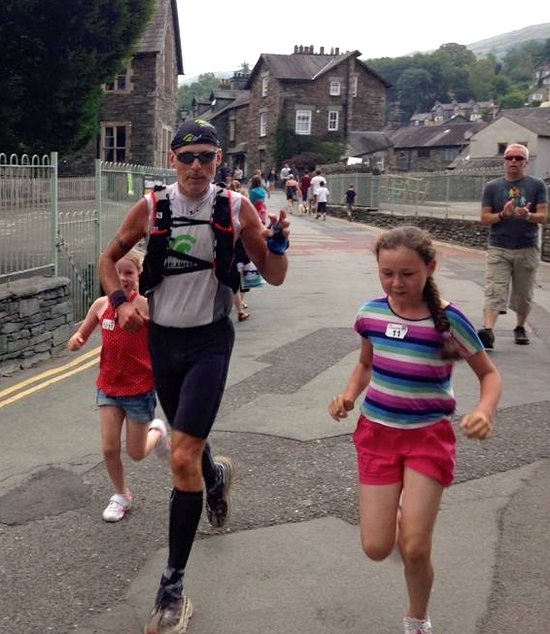 Cruising into Ambleside flanked by wing kids
Brief pit stop at Ambleside (now 116th) then I put my head down, knowing I could now complete what seemed an impossible task 3 hours earlier and from here I started to re pass runners at a steady and motivating rate.
At Chapel Stile I finally caught up with our last remaining 100 racer; Gareth. He looked fantastic, chilled and preparing himself for the last 10 miles. Chris was also there, first time I had seen him since the drop down to Haweswater. I quickly shovelled in some stew, avoided the comfy sofas, said my goodbyes and legged it.
The rain came as I approached Blea Tarn, just like last year. Awesome! No jacket required, my pace was keeping me warm enough. As the gloom deepened, I played headtorch chicken, surprising quite a few folks as I came up behind them in the dark, finally switching the lamp on as I ran down into Tilberthwaite. I hadn't enjoyed much of the checkpoint fodder during the day, but here I spotted a cup of rice pudding with a blob of jam on. Nectar! Cue a spontaneous party eruption from everyone in the CP as I apparently selected the spot prize food of the day, hilarious!
That kept me smiling as I headed out to The Steps and this kept me going happily on my own up the hill in the dark, with the rain finally giving up the effort. I caught up with several groups, all of whom seemed locked into the concentration of their own final efforts, so I forged ahead, on a mission.
A quick but hazardous descent on Hokas, then finally onto the gravel road and down into Coniston. I opened up and ran uncontrollably down the hill as flat out as my legs would allow, thundering down to the Black Bull, where I spied another scalp ahead. Hold on, that looks like Andy! We last saw each other on 'that' section into Mardale. I came past the pub where I was loudly urged on to catch the next runner. SPARTA!! I yelled as I headed over the bridge. Andy glanced over his shoulder and promptly got on his toes and legged it. We full on sprinted down the street and onto Lakes Road, crossing the finish line with our arms around each other. What an epic end to another unpredictable race.
11hrs 45 mins and 87th place. I caught and passed 30 runners between Chapel Stile and Coniston. My time into Ambleside was only 4 minutes faster than last year, but from there I beat last years finish time by 1 hour and 17 minutes. Goal achieved. Not my plan A goal, but that was never going to happen and it just took a while for me to properly realise that.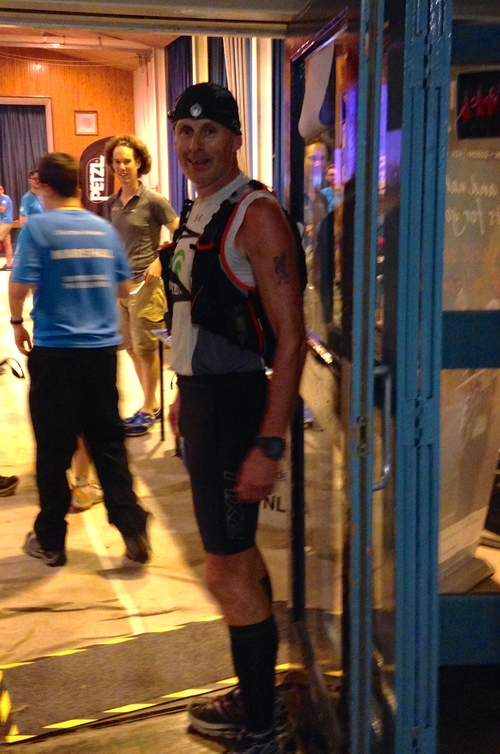 Where's the ice cream?
Last year the kids had gone with the in laws after seeing me at Ambleside and weren't at the finish. This year they greeted me with Sian as I came into the hall with Andy, who had Val and Niamh waiting for him. You can't describe, or bottle that emotional feeling of completion.
Last year I had the satisfaction of a first time completion of 50 miles. This year, after the elation of the moment had settled and I had ploughed through double helpings of ice cream and oranges, I was more interested in the outcome of my friends races, especially the 100 runners.
Rob was back, just ahead of us. Chris, Ged, Jason, Mark, John and Hannah were to follow, with Gareth, James and Jon to finish for the 100.
I wouldn't last to see everyone home, but having seen him with 10 miles to go, I awaited the arrival of Gareth and when he came into the hall, the roof nearly lifted in celebration of his 30 hr 38th place finish.
A hot shower and a welcome pint of Wainwrights, thanks Ged, then it was time for bed, definitely a long day, which only reminds me how the efforts of the 100 runners are amazing.
I have discovered even more about myself than last year, reaching a lower and vastly darker place, but coming out of it strong, to complete my goal. More lessons learned indeed.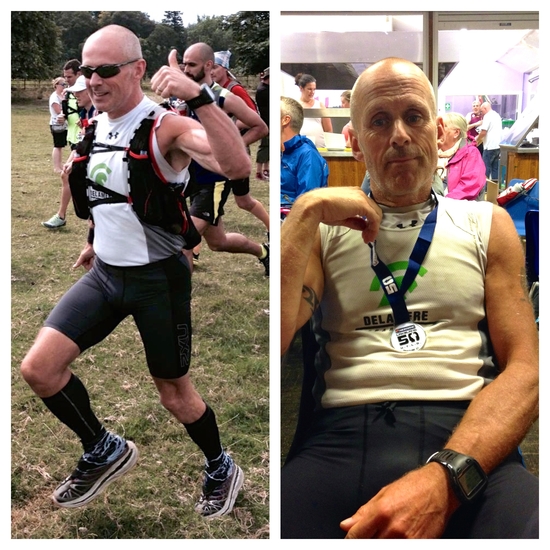 Another tough day at the office finished
Its a week now since the race and my focus is firmly on the RingOFire 135 miles race around Anglesey at the end of August. I cannot contemplate not being in Coniston next July, but in what capacity I don't yet know. I hit the big five oh in June next year, with an eye on the Joss Naylor Challenge as my number one contender. Who knows. I'm going to have to make that UTLD decision the morning after the Anglesey race, where my condition could keep my ambitions modest!!
NEVER SURRENDER
Categories: