Ultimate Trails 110k; All night and most of the day
Two things attracted me to this race; a distance challenge above 50 miles, having done several of those already, but below 100 miles, as I tend to be made of glass at times! Secondly, the midnight start gave me a chance to run all night and experience an endurance race on zero sleep. There is a third; I just love the Lake District!
I thought I should take some time to reflect on what went well and what I learned during this event. It is easy to forget it so quickly and so writing a blog gives me a great way to consolidate. As usual there were many lessons learned!
This is my 4th Ultra of 2015, halfway through a total of 7 events entered. My training has been inconsistent this year, with a couple of injuries sidelining me for weeks at a time and though my mileage is OK, I have not done enough hillwork in the mountains. Therefore my race ambition was deliberately modest before the start.
I'm going to start with my highlights and then reflect on what I will take with me into the Lakeland 50 in just 3 weeks time.
1. I finished feeling really strong, picking up places pretty much all the way from Borrowdale at 48 miles to the finish. That's always a good positive mental boost.
2. I used Tailwind nutrition sachets to boost my energy levels in the second half of the race. Bit of an untested gamble having only received them 3 days before the race though!
3. Running through the night and experiencing daybreak and dawn in the mountains was absolutely epic
4. Changing my shoes for the last 17 miles transformed the way my feet felt and allowed me to push on and not hobble home
5. I survived yet another mid race episode of feeling horrendous, nauseous, battled defeatist mindgames and came out the other end to finish well.
I set off from the start with Paul C, with the intention of running together to at least Kentmere and trying to keep the pace steady. With two big climbs in the first 13 miles to Mardale, the darkness would surely be a natural pace limiter. Wouldn't it??
The race start from Rothay Park was great, though slightly muted to avoid pissing off Ambleside residents with noisy runners at 12:15am!
The route follows the UTLD 50 in reverse to Kentmere and as we chugged up the hill to Troutbeck, Windermere was bathed in beautiful moonlight under clear skies. The early miles were crowded and Paul and I seemed to lose each other on the drop down to Troutbeck. I wasn't to see him again until after the race. So much for that plan, but I wanted to press on at my own comfortable pace.
My race card had a motivational piccie of the girls on one side and my rough target times on the reverse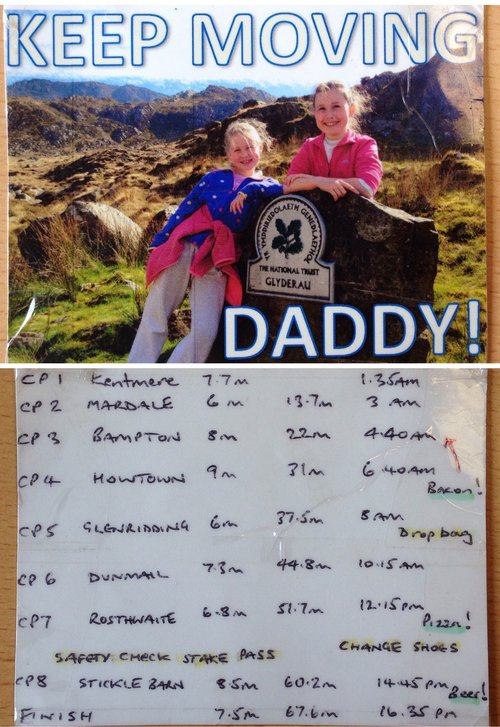 I put the timings together based on an assessment of the elevation for each leg, some course knowledge on certain sections and a bit of homework from split times from competitors in the 2013 race. The purpose really was to give Sian and the girls an idea of where I would be so they could hopefully catch a glimpse of me on the route.
Amazingly, my actual times were fairly consistent and though I slowed down a bit, I finished 10 minutes ahead of my original estimate. I never felt I was chasing splits though and I only consciously started to press on and pick off runners ahead of me once I started the descent off Stake Pass and then all the way to the finish.
| | | | |
| --- | --- | --- | --- |
| Checkpoint | Estimate | Actual | Time in CP |
| Kentmere 7.7m | 1:35am | 1:27am | 1 min |
| Mardale 13.5m | 3am | 2:53am | 90 secs |
| Bampton 20.7m | 4:40am | 4:28am | 4 min |
| Howtown 28m | 6:40am | 5:55am | 3 min 30 |
| Glenridding 34.3m | 8am | 7:30am | 10 min 30 |
| Wythburn 41.5m | 10:15am | 9:56am | 1 min 46 |
| Rosthwaite 48.2m | 12:15pm | 11:58am | 12 min 30 |
| Stickle Barn 57.6m | 14:45pm | 14:45pm | 4 min |
| Finish 65m | 16:35pm | 16:24pm | |
(Add on 15 mins to actual time of day as start was delayed to 12:15)
One of my goals was to minimise down time in the checkpoints and this worked well; less than 5 minutes in each and no sitting down. The exceptions were Glenridding where I changed my shirt and took time to drink some tea and fill a bottle with Tailwind and then at Rosthwaite, where I changed my socks and shoes.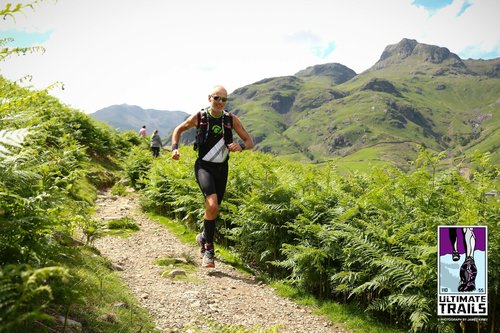 60 miles. Full. Steam. Ahead
Reflections after the race; I totally loved the night section. The clear weather and moonlight helped make the whole thing extra special. The sight of a line of headtorches tracking up Nan Bield was awesome and I loved watching the dawn slowly break as I headed up Haweswater. It was a real change for me to run this section and feel good, having felt like death along here for the last two years in the Lakeland 50!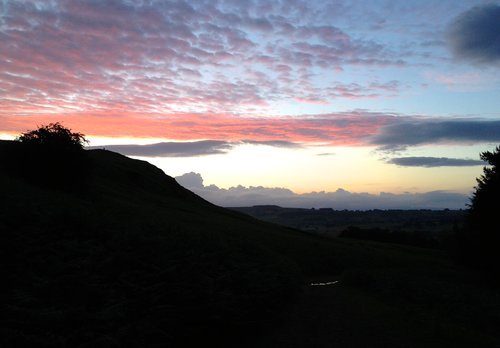 4.20am Haweswater
I did however have a real low point for quite a while after daybreak. I had a nagging headache and a sense of weariness that was basically me adjusting to the lack of sleep. This took a lot of mental effort to shrug off, as I just felt like lying down and going to sleep! It's moments like this that build strength and help you in future times and knowing that the feeling would surely pass, I struggled on, waiting for the energy to return. I was also pretty much on my own from Mardale Head to Glenridding, which sometimes is great but when you are low, some company can be a welcome distraction.
My lowest, slowest point of the day was the slog up to the saddle on Place Fell, which seemed to take forever. My eating had been pretty poor to that point and I was basically relying on some pieces of apple and flat coke for energy.
At Glenridding (35 miles) I decided to use the Tailwind energy sachet that I had brought. This delivers 200 calories into about 650ml of water, so I split the pack and put 50% in my 500ml flask. I hadn't tried this stuff before the race, but I couldn't feel any worse so gave it a go.
The long climb up Grisedale Hause is a bit of a slog on heavy legs, but by halfway up I was already feeling better and from the top I made good pace on the steep and tricky drop to Dunmail, partly fuelled by the Tailwind energy and partly by the fact that the girls were going to be at Wythburn.
I will definitely be using these sachets again for the Lakeland 50 and RingOFire.
My Scott Kinabalu Supertrac shoes worked really well and gave my ankles plenty of confidence on some of the tricky descents, especially in the dark. They also felt really stable running over the rough and boggy tussocks over Watendlath moor, but by the time I had hammered down into Borrowdale after 12 hours on the go, the soles of my feet were really burning and I was ready for a change to my Hokas for the last 17 miles.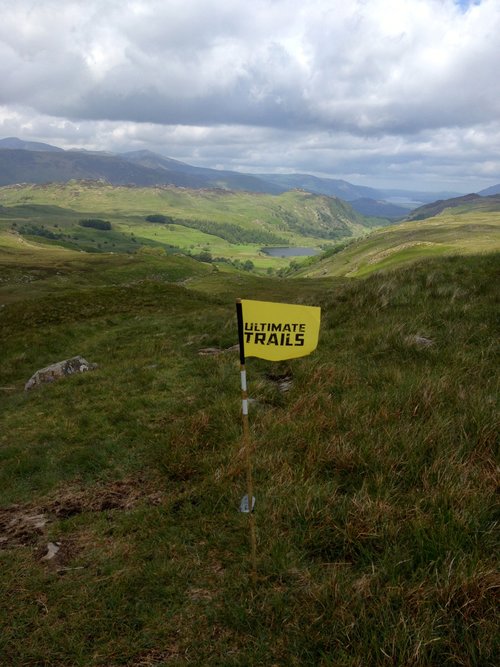 Over to Watendlath
What a new lease of life they gave me! Apart from turning my ankle after about 4 miles on the approach to Stake Pass, they felt like pillows on my feet. It's no exaggeration to say that changing to these allowed me to keep running strongly on the stony bridlepaths. That must have been worth a good 30 minutes to my finish time.
Descending Stake Pass was magnificent, with the view up the Langdale Valley laid out before me. From here I really started to make an effort, despite the heat of the afternoon. All I had in my mind was reaching Stickle Barn where I promised myself a drink of cider. I passed a few folks along this section and announced to everyone that I was off to the pub!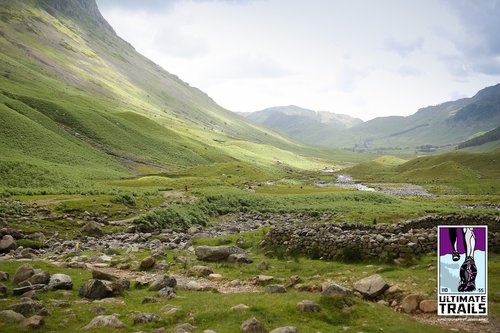 Langdale valley
Stickle Barn checkpoint was rocking. A busy sunny afternoon meant the place was packed and the atmosphere was great. The CP staff filled my bottles (sadly not with beer) while Sian dashed off to the bar to get my cider, which I happily swigged in the beer garden with the family, a super satisfying moment of the race. No time to chat for long or to eat, I was on a mission now.
As I ran off burping into the final section, the cheers of the crowd gave me a real boost and I could still hear them cheering runners as I made my way along the path to Elterwater.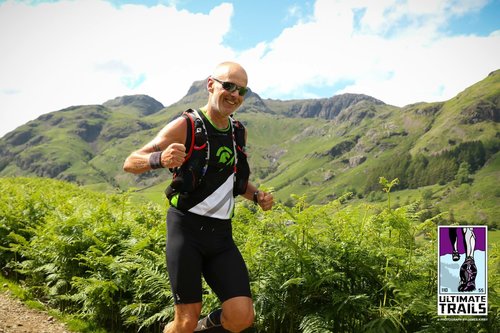 A quick happy fist pump to the course photographer and I blasted the last section, with a very giddy final 7 minute mile down the hill into Rothay Park and over the finish line to the sound of the drum band and cheering crowds. I wish I could bottle that feeling of utter euphoria as I entered the park. It is pure gold and impossible to describe really, unless you have been there yourself and so then you already know…..
What a great race and a beautiful course. Even the grim sections on the country lanes were forgotten and my memories are of the fantastic scenery, the brilliant marshals and camaraderie of my fellow runners.
I have extended my longest race distance to 65 miles and completed a race with an overnight start. More confidence banked for future adventures.
Unsurprisingly, more cider soon followed as I recovered. Paul finished around 90 mins later and we hobbled off for a great pizza that evening in Ambleside. I haven't stopped eating since the race, having burned about 8,000 calories and only consumed about 800 in the race.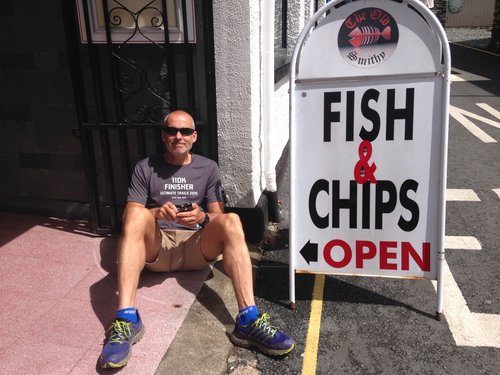 Next up it's back to Coniston for another Lakeland 50 weekend, which should be epic as always and then my sights turn toward the 135 mile 3 day RingOFire on Anglesey.
Saturdays race distance is basically the day 2 RoF leg, so more back to back training is firmly on my schedule!
Picture credits: James Kirby for Ultimate Trails
Categories: