The Three Peaks Race: Unfinished Business
Last year this event was one of my identified A races for the year. Me, Steve, Andy and Jason set off from the field in Horton, expecting a challenging but great day over the Three Peaks of PenyGhent, Whernside and Ingleborough. Unfortunately, a little over 40 minutes later, my race ended prematurely, as just after dibbing in at the first summit, I turned my ankle badly on the descent. I was devastated to DNF, but even after a trial hobble in an effort to carry on, it was clear my day was over.
For a while last year, I actually considered adding a warning sign to myself: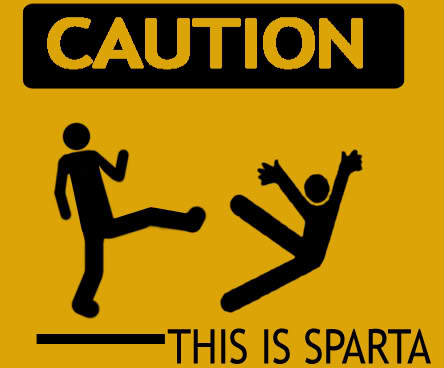 After hobbling back down off the mountain, I waited in the finish area and cheered the lads home. While I stood there watching hundreds of people finish this iconic, Blue Ribband FRA fell event, I vowed to come back and conquer the race in 2013.
This year it was me, Paul A and Gareth heading up to North Yorkshire, along with my colleague and long distance Spartan Tall Paul. We selected some suitable music for the journey as we came into Horton, with Highway to Hell from AC/DC blasting in our ears. (Picture a scene from Waynes World!)

I had put some of my demons to rest 3 weeks ago, when I came up and ran the race route on my own, reacquainting myself with the hills and respectfully gliding past the spot where I went down last year. I got to the key course checkpoints within cut off times and finished the route in 5 and a half hours; OK considering the snow that blocked the climbs, especially the total covering of snow on Ingleborough which needed crampons to get up, not Hokas!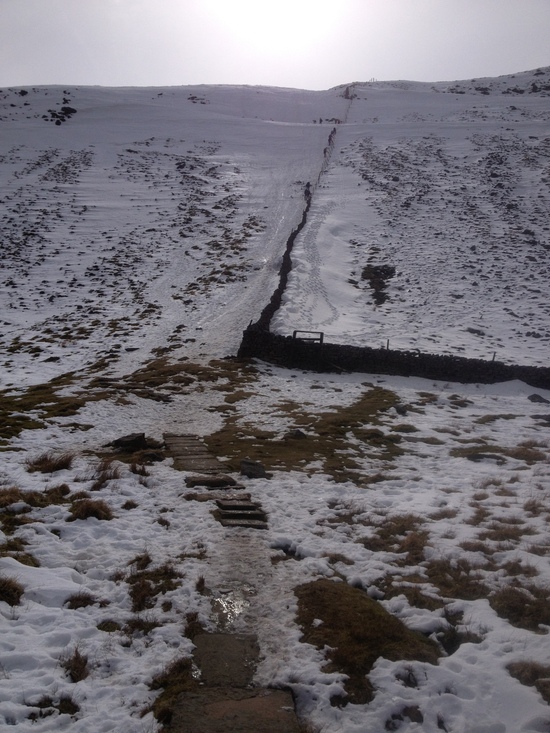 Anyway, back to today; we slid into the boggy field at around 8am and completed registration, activating our timing dibbers. Race on!
We all had our own targets and expectation for the day. With almost 1000 registered entrants, this is a big race and pre race nerves kept the portaloos busy.

This race attracts a quality field and I fully expected to finish in the bottom half. Strict cut off times ensure that there is no chance to take it easy up to the half way point. As Steve said to me recently, this race isn't one to run for your ego, but it's an iconic race to complete, the highlight of a fell runners race year.

My nerves weren't helped when the race tannoy constantly reminded competitors about how bad the weather was forecast to be; snow, hail and galeforce winds, what to do if injured, what safety kit to carry, etc. It generally conspired to pump me full of negative stuff I didn't want to hear, like; "if you sprain an ankle you will be glad of emergency warm clothing". Yeah, cheers mate!
10am came around all too soon and we shuffled up to the starting line, doing our best to dodge the mountain rescue officials carrying out random kit checks.
Despite a plan to hit a steady pace, the usual thing happened when the flag dropped. Leg it!! Spartans soon split and I didn't see the guys again until the end of the race.

After a short run down Horton High Street, we headed straight onto the rocky track up PenyGhent. The crowded path demanded full concentration to avoid obstacles and I didn't really look up until we hit the steeper section of the ascent and the pack thinned out a little.
As I turned up for the last section of the climb, Joe Symonds; the race leader, hurtled back past me on the descent. It puts you in your place seeing how the top guys make short work of the terrain. He went on to win in 2:54. Respect. A modest 41 mins to the top for me.
The next section from PenyGhent to Ribblehead was uneventful and I got my head down and tried to stick some solid mile times in while I could. I was pleased and a bit surprised to make it to Ribblehead in 1:45, a good 25 mins ahead of the 2:10 cut off. Positive energy increase!

Time for a drink and some gels, I hadn't drunk anything up to this point. Now the climb up to Whernside loomed ahead of me.
There isn't really a good frame of reference to use to describe how steep the climb up to the summit is. I guess if you took the Peckforton Hill railway climb and made it almost twice the incline, then covered it with grassy tussocks, followed by ankle deep peat bog and finally loose shale that would be close. It's impossible to get to the top without using hands and feet, like Frodo on his final climb to the summit of Mordor. Appropriately, Highway to Hell continued to play on loop repeat in my head.
Some 45 mins after passing Ribblehead, having covered just 4km, I hauled my burning quads up onto the top of Whernside, dibbing in at 2:30. Phew.
Another pause for breath and some Kendal Mint Cake and then I headed off down the rough descent, not helped by my feet being like blocks of ice from the wet climb.
Overall, I was still feeling pretty good after 12 gruelling miles and this was helped hugely by the knowledge that the final cut off checkpoint was just ahead.
I picked my way off Whernside quite carefully, glad not to be wearing my Hokas today as I watched several runners take a fall on the rough descent.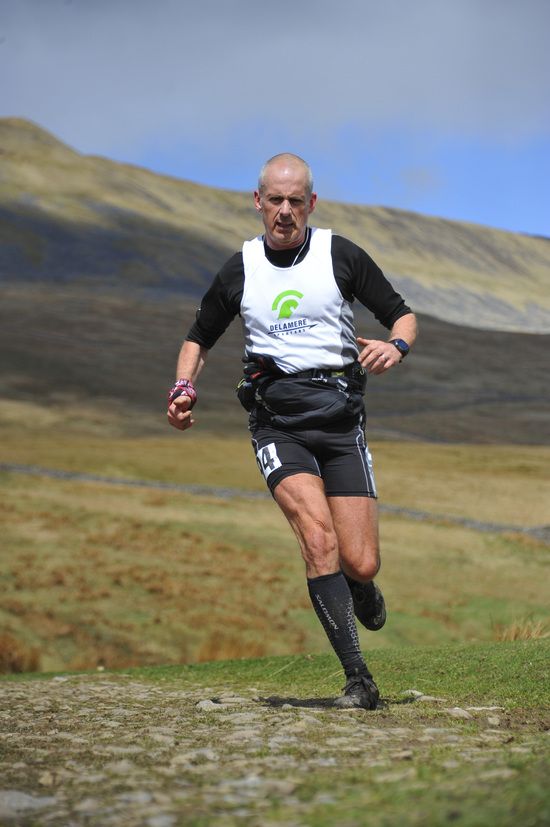 ©SportSunday
I reached the Hill Inn checkpoint in 2:58, elated to now be 32 mins ahead of the cut off. I was buzzing now.
I had stashed a drinks bottle here, so I took 2 mins to drink and stuff some glucose tablets in my face, before stumbling off up the approach to Ingleborough with great encouragement from the crowds at the checkpoint.
By this stage of the race, all thoughts of possible failure had gone, so I relaxed and ran / walked for a while, my quads felt pretty mashed but not cramping up (yet).
After a long drag on the approach, the final climb up Ingleborough is steep, with uneven rocky steps and my quads just burned on every upward step, despite using my hands to push against my thighs to help out. I reached the top of Ingleborough in 3:44, the flat summit being battered by a strong wind blasting across it.
Three climbs done and heading for home, a realisation dawned on me that I had a good chance of being inside my loose 5 hour time goal.

The last 4 miles to Horton can be a miserable slog when you are running on empty. The only thing spurring me on was visualising the finish field and beating my goal time. I swapped places with several runners and passed several more stranded on the trail stretching out cramps. I wasn't the only one suffering then!
My run in was a pretty modest pace, but eventually, after the seemingly endless moorland bogs, there is a point where you crest a hill and catch a glimpse of the race marquee and the finish area and this gave me a last boost to push past a few more people.
The race route diverts from the public path before reaching Horton. It heads under the railway line and through a private garden before crossing the main road and into the finish field.
The owners of the house that the race passes through were sat in their garden, drinking beer and cheering everyone on. Quality! I gave them a wave; perhaps they would offer me a swig of beer?
Into the field now and time to pull the Wishart 'sprint finish pin'. S**t, the pin came out 2 hours ago! OK, next best thing; grit teeth, swing arms and look menacing while shouting Sparta.

I stumbled into the dibber control point, somehow managed to register my time, while a St Johns Ambulance volunteer hovered, spotting my tell tale wobbly legs and anticipating a new customer.
I gave him the slip and grabbed some water, pouring most of it over my head.
Race done, job done; 4:30. It was just as well no one was at the finish that I knew; otherwise I might have been emotional.
I was 349th, later strangely adjusted to 351st, predictably p-nowhere, but that was one of the most satisfying achievements of my recent running career!
I kitted up, had a drink and grabbed a spot to watch for the lads coming home. Before long, into the field came Paul, recognisable mostly due to the Turner and Hooch dribble swinging from his chin. A blast of 'SPARTA!' sent him into a frenzied dash for the line to beat a young upstart sneaking up behind him. The Persian failed.
4:44 for Mr Atherton, utterly awesome result and he barely even looked grey
Next up was our Gareth, cruising in and looking cool in 5:05, right on his expected finish, another awesome performance, especially as he wore his Hokas which sported about as much grip as a greased banana on an ice cube.

Three Spartans home, safe and sound. Now we just needed Tall Paul to finish. Pangs of guilt surfaced in my head. I only goaded him into entering the race at Easter, his training had therefore been short and sharp. Especially the short bit.
Gareth had spotted him struggling with his hip at Ingleborough. At 6'7", Paul doesn't exactly have the classic fell runners physique, but to our relief and his delight, a truly Spartan spirit meant Paul made it home in 5:18. Wow, determination or what.
The tannoy announced a runner finishing his 30th Three Peaks Race. That's truly impressive; I have 1finish under my belt now!

So that wraps up my tale of the Three Peaks race. A bit of an epic ramble for an epic race; just short of 6,000ft of ascent up and down 3 proper mountains in a little under than 24 miles. No prizes for placings, but a massive sense of achievement to notch this one as; "been there, run that!"

Next stop the Sandstone 50K. See you there!
Categories: