Snowdon and the Glyders; be back home in time for lunch!
So that was the challenge Steve and I had set; to make the most of running in glorious weather in Snowdonia, get as much ascent and descent in as possible but be home by lunch time.
Err, no problem at all……….
Our challenge was laid down after deciding to spend Saturday night at the climbing club hut in Nant Peris so we would be ready for a good morning run up in the mountains. On the drive over, a rogue idea to run all through the night briefly surfaced, until we realised we had no headtorches. Damn! Next best thing then; set the alarm for silly o'clock and be out at first light for maximum mileage in the time available.
So at 04:30, the two intrepid Spartans bounced off down the lane in vests and Hokas, laden with hopefully enough water supplies for the warm morning ahead.
To avoid running right into Llanberis, we bushwacked a little to find a route over the hill and eventually broke onto the ranger path and set in for the climb to the top. All thoughts of a quiet and peaceful early morning run to the summit were soon dashed as we came across scores of walkers on Welsh 3000's / 3 Peaks attempts. Passing someone with a washing machine strapped to his back at 5am did seem extreme, even for a popular crowded route like Snowdon!
3,300ft of uphill slog and 90 mins later, we stood on top of Wales and enjoyed stunning early morning views in all directions. Even the Lake District peaks could be seen through the distant haze. Today was definitely going to be a day not to obsess with a fast time, but make the most of the views in store.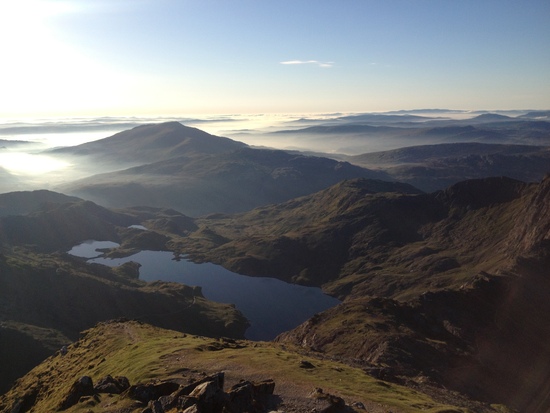 Summit fun complete, we headed onto the Pyg track descent to Pen y Pass for stage 2; the Glyders.
Having set the pace on the uphills, it was obvious that hanging onto Steve on the downhill was going to be challenging. Thankfully, photo opportunities halted his progress enough for my ankles and knees to be grateful.
We headed off the mountain via the already packed car park just after 7am and carried on down the pass to pick up the trail again just beyond the Pen y Gwryd Hotel.
After a little navigation re calibration on the lower slopes, the climb was on and another 2,500ft of uphill grind ensued up to the summit of Glyder Fach. In direct and welcome contrast to Snowdon, we encountered just 2 walkers and a dog during our passage over the Glyders.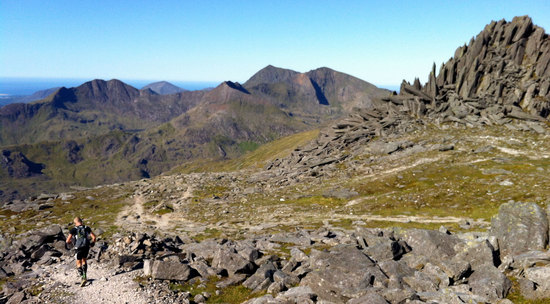 The views from the tops are arguably even more stunning. Tryfan and the Ogwen valley to our right, with the entire Snowdon horseshoe to our left, magnificent against a clear blue sky. I took some photos looking down to Llyn Idwal, a special place for Sian's family, with fond memories of her Taids.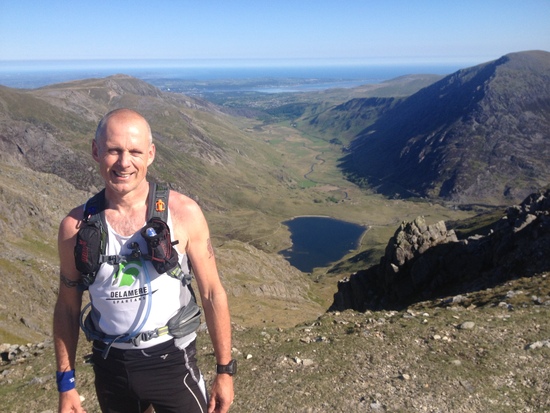 It was tempting to dwell here for some time, privileged as we were in such a peaceful setting, but after a little picnic on Glyder Fawr (and tales of the Welsh 3000's from Steve….) we aimed ourselves homewards.
One last mad descent / slide off Glyder Fawr and a sharp slog up Y Garn as the final ascent of the day. Then a run out towards Elidir Fawr, cutting back off piste down the valley with some boggy bushwacking to finish the day off down into Nant Peris.
We paused briefly for a drink, load the car, reflect on an epic morning adventure then dash home back to our families, just dipping inside the lunchtime return deadline, phew!
20 miles covered, 7,000ft ascent in a little over 6 hours including frequent photo opportunities and a bit of a final detour!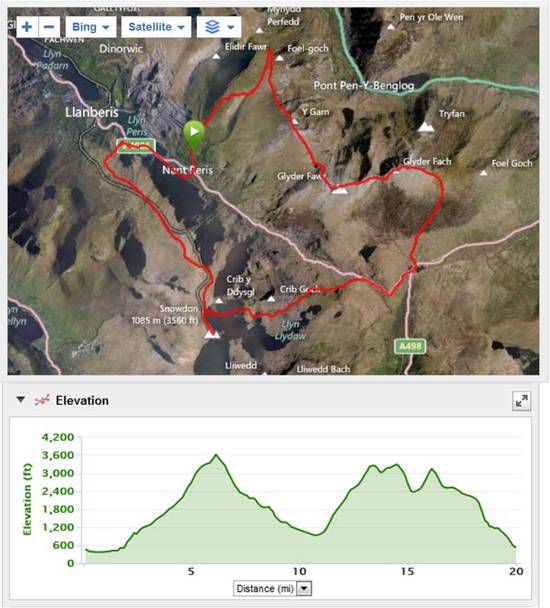 Thanks Steve, let's do that again without any finishing deadline next time!
Categories: