Sandstone Trail Challenge 2013
"Ten, nine, For Sparta, eight, seven, six, For Sparta, five, four, three, two, one, go", we were running. Our pack funneled out of a Whitchurch car park. 33 miles and Frodsham were waiting for us. See the video - http://www.youtube.com/watch?v=IP76ykuefgs
"Keep it in first gear, there's a long way to go", I said to myself as people passed me along the canal. Checkpoints split the challenge into six sections, my plan was to push harder in each section and run everything but the uphills. "Blisters. After 2 miles. Both big toes. Are you serious?". All the other Delamere Spartans passed me, but Jaynie stayed to keep me company and we ran together for miles. We overtook Martin taking a wide line round a marshy bit of field and almost joined up with Clare and Emma. But soon all three of them were out of sight in front. Straight-lining the marshy bit of the field left me with soaking feet. "Strange, my blisters don't feel so bad now. Keep going".
"Look Jaynie, recognise that flag?". A quick wave and thank you to all the supportive Delamere Spartans manning the first checkpoint. I didn't need anything and we pressed on.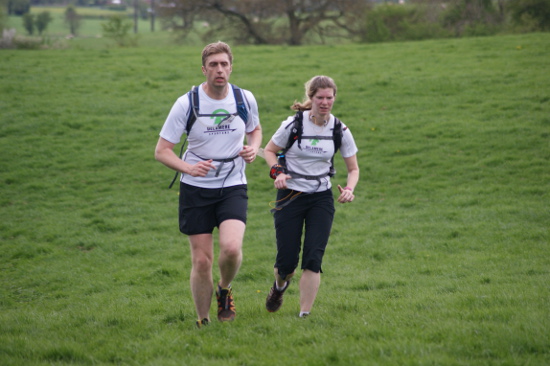 We caught up with Dave C when we started walking up a hill, I took the opportunity to sort the food out in my bag and eat something. I'm not a fan of gels, they don't taste nice and I always seem to cut the edges of my mouth on them. I'd gone for baby food pouches (3 banana, 1 bolognese), a peanut butter and jam sandwich and a Scotch egg. After a banana pouch and a bush stop I was behind Dave C and Jaynie again, but slowly caught them up. Passing Dave C who was slower than normal due to a knee problem in Heather Wood, I think. I was now running with Jaynie and a large group who looked to be running together. "I'll be waiting ages if we hit a stile.".
At checkpoint 2 they all stopped to eat and I just pressed on as I still had loads of water and food. "Section three, select third gear and up the effort". On the next hill, I looked back and saw that Jaynie was a little behind me and I hoped she would catch me and we could continue running together but I didn't see her again. I was running with no-one in sight for the first time. The views along Raw Head were great and I was happy with my running rhythm. "I hope this cloud cover and light rain stays, this is perfect to keep me cool." I was overtaken by a couple in red but I overtook them again when I didn't stop at Checkpoint 3 at Beeston.
Entering the field where the Sandstone Trail 10 mile race starts in Beeston gave me a huge lift "I've run from here. I know the route by heart now. Time for some music". With "Everlong" by the Foo Fighters in my ears I had to do stop myself running up the hills. I was really motivated and enjoying every step. I crossed the fields with Bowie singing "we could be heroes, just for one day", a big smile on my face.
Surprisingly I came across Matt who looked a bit worse for wear. I checked he was OK, wished him luck and pressed on. The fields went by, singing along to 'Behind Blue Eyes' by The Who and 'Time To Pretend' by MGMT. I was losing my running rhythm so I walked for a few seconds and that helped a bit. But I decided to get my poles out a couple miles early as I really wanted to get some weight off my legs. A few fields later and disaster. I kicked a pole and my right calf muscle seized. "****" The muscle was now a solid block and higher up the bone than I'd ever seen it. "I can't move my foot". I was just standing there balancing on one foot and two poles with my right foot pointing straight down. The DofE kids in the field must have thought I was practicing a bit of ballet. "Is this 'Game Over'?", after about a minute my muscle relaxed and I slowly walked the rest of the field. At the fence I stretched out my calf muscles and felt much better. From then on, every 30 minutes I'd stop and stretch my calf muscles.
I was looking forward to the hill up to Rock Farm as it meant walking instead of running and I was glad of the change. It was also near the fourth checkpoint and I was almost out of water. I powered up the hill to 'A Forest' by The Cure and refilled my water and downed 6 Jaffa cakes. 'The Bitter End' by Placebo and 'Brighton Rock' by Queen got me up the slog of a hill to Summertrees. "This is brilliant. I don't want the end to come. This is what I should do every Saturday afternoon.". 'Flux' by Bloc Party was playing through Primrose Hill Wood.
"Where'd they come from?" the large group I'd passed earlier overtook me just before the set of four kissing gates on the way down to Gresty's Waste. "Typical. Time your running so you don't have to wait." I quick "Hello" to Dave C's other half at Gresty's Waste and it was '1979' by Smashing Pumpkins up the hill on the other side. "Get into a rhythm again John". The gentle downhill section along Old Pale was lit up by the sun coming out and a soundtrack of 'Fire' by Kasabian. "This is great". Big smile.
I'd saved my last banana pouch for an energy kick up the little hill just before the railway bridge. "Wow, I wasn't expecting to see you guys here", it was brilliant to see Spartans at Barnes Bridge Gates, it was an unexpected lift that really drove me on. Thanks Zippy, Claire and Fay for standing out in the cold for us. By the way Zippy, it was 'Cowgirl' by Underworld that was blaring out at you from my phone. More Jaffa cakes and a chocolate bar.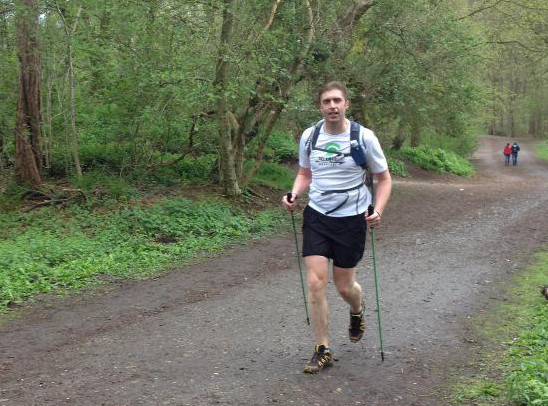 "Just enjoy the moment and take it all in." the forest passed by and more Jaffa Cakes were eaten at check point five. "One section to go. Push on". Over the fields I tried to pick up the pace a little as it didn't cause my legs to hurt more. I was getting more and more euphoric as the miles to Frodsham reduced. "I can see the estuary, I can see for miles. This Sandstone trail is great.". I hit another moment I'd been look forward to when I texted Mrs K to say I would be in Frodsham in an hour. The slog up Fox Hill Wood was really hard work but I knew it was the last climb, almost. This section is wonderful but concentration was needed to pick my footing through the roots and rocks.
Now for the final climb up the metal staircase with 'I'm Not Okay' by My Chemical Romance giving me the aggression to stamp up the steps. 'Run Like Hell' by Pink Floyd was next and had me bouncing along to the Frodsham Hill monument and its stunning views. I was high as a kite and got higher when I received a text from Mrs K saying she was in Frodsham. The idea that the family was waiting for me spurred me on even more as 'Bonkers' by Dizzee Rascal filled by ears. "Just go for it now". "Foose the legs" (A Marathon Talk podcast term, as a goose is like a duck but bigger). With both poles in one hand, I felt like I was flying down the hill into Frodsham. Just before getting to the main road I saw two runners in the distance, and I was gaining fast. I wasn't in this for racing but I was just feeling great and it felt like I was using different muscles to run at this speed. "I haven't seen anyone for about two hours and now I'm about to pass two people in the last 500 yards of the course". I went past when the alleyway opened and just enjoyed stretching my legs knowing the end was near. My 2 year old son, Mrs K and my mother-in-law were by the side of the track with yards to go. "Stop and see them. No. I should finish first" Into the hall and finish. Buzzing. "What now. I just want to keep going. Do something. Stopping doesn't feel right. Find the family again. Found them. They are fine. Must do something. Try and calm down. Other Spartans. Must find them. Found them. They are fine. Excellent. Keep going. Do something. Drink something? Tea. Calmer. Tea. Calm. Let's Party"
Thank you very much to Helsby Running Club and Scouts for organising the day.
The party "Sparty" afterwards was brilliant and it was great to see everyone and congratulate everyone. Thank you very much to those that organised it.
PS The Scotch egg made it all the way uneaten, I hope that means I win the category for Scotch egg transporting. And I say I'm not competitive.
[Finishing time 7h 32m]