Mud, sweat and clouded judgement
25th Cloud Nine Hill Race (Congleton, Cheshire)
11am, Sunday 4th March 2012
My first race back from two months out with injury was always going to be a tough one. I'd seriously overdone the miles the weekend before with a 17 mile 'taper' on the Sandstone Trail. Perhaps not the most sensible for a 9 mile race.

In my head, if I didn't rest too much in the week leading up to the race I wouldn't be able to put too much effort in on the day and not crock myself again. Regardless, this was never going to be a gentle one, especially as I was still suffering from DOMS in a big way. The heavens had opened on the Saturday and we knew that the fields would be unforgiving. Just to heighten anxiety, rumours were rife that 'full body cover' was mandatory. For a 9 mile race this seemed a little OTT, but being organised under FRA (Fell Runner's Association) rules they had every right to demand this. In fact, in time it would emerge that apparently anything went so long as you weren't wearing an iPod. Not my ideal, but not worth disqualification either.

I collected Nick from his house and headed to the Bosley Cloud. Despite the heavy rain, Nick would run in shorts and Spartan vest. Of all Spartans he's one of the most battle hardened. He's warterproof, Teflon coated and just the company you need to boost your PMA. I'd opted for more winter friendly attire. 3 degrees was plenty cool enough for me. As we headed towards Congleton, the Cloud emerged in the distance, shrouded in fog and rain. A good hill and a worthy challenge for the ten brave Delamere Spartans who made the start line.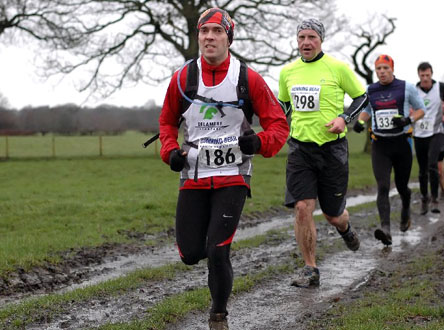 After some good banter with the lads and the obligatory 'it will be slippery and dangerous' talk from the host, we were off. Nick and Jason shot off at the start guns fully blazing. I took off at a steadier but still speedy pace, gradually picking off some of the 400 or so starters and speeding up gradually. I can remember stealthily sliding past Andy and Paul fully expecting regret it.

The first couple of miles were straight forward enough and quite flat. Ankle deep mud to next style, cross field, repeat. Stopping at each style was hard, but I fully appreciated the ten or so breaths I could grab at the bottlenecks. I needed them. Gradually the Cloud drew nearer. My quads were a barometer for just how steep this hill was – after not too long they were screaming. At the point that Andy and Paul cruised past me, my legs just felt empty and my morale sunk deep into the Peak district mud. I remember thinking that my mental strength wasn't a patch on where it was in October.

As the terrain got steeper, my speed declined to a trot and my spirit was non-existent. Simultaneously, rocks turned to boulders and rain turned to snow. There was even a little settling on the ground. My stride was now decimated – my legs just wouldn't carry a run to the peak. I slowed to a strong stride and began to think that I just wasn't ready for this kind of return. I took a single look at the stunning view from the top and then prepared for the descent.

I began to pick up speed and heat. The Buff came off and I tangled it around my wrist. It was a descent that I won't soon forget. Rooty, rocky and muddy, steeper and longer than anything we have in Delamere. Half tangled in Buff, I attempted to use my arms for balance. The seasoned fell runners began to fly down, leaning forward and staying well off the brakes. I followed suit as best I could. Growing in confidence I began to love every second. I let fly, gaining more speed than I'd dare on my mountain bike on such narrow technical terrain. Concentration required was immense, with my head repeating the mantra – "don't break yourself!".

We emerged into open fields and another ascent. I wasn't sure how my legs would cope with this. I hadn't treated them with respect this far, why should I start now? As I reached the top of this one and onto a small lane I realised that the descent had somehow energised me. I felt great and all of a sudden I caught a glimpse of Andy turning his head as we turned the bend - no doubt looking for other Spartans. I stayed in his blind-spot and edged ever closer. With a (regrettably too enthusiastic) slap on his back - sorry Andy - I edged past him and took on the next long descent at max speed.

With little regard for my reserves I kept up the ambitious pace and drew level with Paul C. Surprised to see me return after passing me way back when, he generously offered me advice - "save some for the fields". Still feeling strong I chose to ignore him and pressed on through the farm buildings. I then pleasantly surprised myself by catching Jason. He'd fashioned his Spartan top into a rather fetching 80's teenage girl crop-top! Not the most conventional but it gave me a smile and probably a few others too. Needs must! Now I was off and high as a kite on adrenaline. I pushed hard to the end and managed to hold onto my position, 2nd of 10 Spartans / 120th of 406 serious runners. It was a great day for me and the icing on the 2 month old injury cake. As I crossed the line I high-fived Nick who unsurprisingly had crossed the line first.

We kicked back at the finish line and watched every Spartan over the line. The spirit of Sparta grew strong and our howls gave Clive impetus to gain an extra place. Ten Spartans went out and ten came back stronger than before. A proud day for Sparta!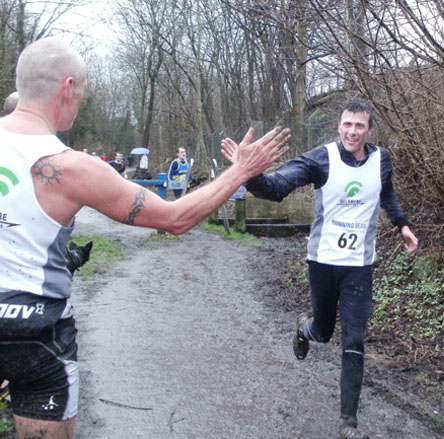 The Cloud 9 Hill race was brilliantly organised and incredibly generous. For seven quid we got entry, a buff type thing, banana, soup and a roll, tea, edible goodies and ridiculously cheap and lovely cakes. We even got Tesco bag footwear. Finally, a note to the organisers: if it seemed like I was going to shed a tear when you told me there'd been a mix up with t-shirt printing, it was the exhaustion and not a criticism of your event. Lovely stuff.