Long Mynd - Hard work for Hobbitses
Today has been a day of contrasts. It started in a hotel in Reading. Throat all dried up from air-con, I looked towards the window and remembered – no natural light, just a view down to some corporate types at a breakfast meeting. They had got up rather earlier than me. A 10 minute hotel breakfast and I was off to a client meeting for more air-con inhalation.
The Master Plan
All being well I would set off home around midday, making a detour to Shropshire. It's not quite as direct as I'd recalled but nevertheless that was my plan. I had targeted Long Mynd, a favourite MTB haunt of mine when time was easier to come by. I often reminisce of trips there, eating Hollies pies on the hills with my buddy Rheadster. It's not all that far from home, being the next county along. Liz had said that if I turned up to my meeting in Lycra it might speed things along. She was right and it wasn't long before I was on my way.
Shropshire
Shropshire is a funny old place. One minute it's all non-descript and flat, then all of a sudden you spy a series of massive great hills that were seemingly put there by some geological logistics error. 'Mynd' is Welsh for mountain apparently, and it's easy to see why JR Tolkien took this great scenery as inspiration for his weird series of books about diminutive hairy people. Naturally, I feel quite at home there.
The Loop
I parked at Carding Mill Valley National Trust car park (bring £3.50 cash!). Instantly you're in some of the most scenic countryside England has to offer. Sheep roam freely and it's all really lush and pleasant. This spot was tailor made for picnics.
The loop I'd created doesn't mess around. Straight off, a long climb to the summit. With a massive work/driving headache I wasn't sure how this would pan out but it disappeared in a flash. I splashed through fords and up the valley at a fairly slow pace. The sun was beating down and the sweat was pouring from my brow as I trundled over the sharp rock tracks. It's definitely time to ditch the winter Spartans shirt. Much of this is only passable by foot, by which I mean not the foot of an average civilian. It's hard under foot and I have come away with very sore feet.
When you hit the top you see the open heathlands that Long Mynd is famed for. It's wide-open, beautiful, purpley green and remote as you like. The views are stunning and only get better the more you explore. If you're looking for a tree to pee behind, forget it, you would literally be 'whistling' into the wind.
One great thing about Long Mynd is that a narrow road climbs right the way to the top making it accessible to all. It's a great place to go and just be. One day I will take my kids there and cunningly imprint the great outdoors in their minds without the need to make them suffer a big climb – we'll work on the climbs later. Today I saw a group of French kids. They always wear backpacks, don't they? Mind you, people in glass houses and all that.
Minton Batch

Once at the top it flattens out, but I had created an ingenious loop that took me up and down a few times, taking in some massive undulations and epic 360 degree views of hills and farmland. In 3.5hrs I barely saw another living sole or sign of civilization. Bliss. All this, of course, comes at the price of some fairly taxing hill work.
The descents are incredible. You can fly downwards for over a mile at a time. Today's penultimate descent, Minton Batch, starting at the gliding club, was undoubtedly my favourite of the day. It's regarded as one of the greatest MTB singletrack descents in the UK. It really is too. Tackling it on foot on this occasion was equally brilliant if marginally less likely to end in broken bones. Still, you really have to keep your eye in. It's a full 1.5 miles of descent. One thing Long Mynd excels at is technical descents, the kind that leave your eyes watering and mouth wide open. Not to mention your quads screaming when they thought they might have had a rest. It's winding, rocky, and uneven underfoot. You really can't put a foot wrong if you want to stay on the higher ground.
Ashes Hollow
Minton Batch flattens gently descends into Minton for another mile or tow. After some very pleasant, remote country lanes, comes a very long final ascent through Ashes Hollow. It tracks a stream and several waterfalls right back to the top of the Mynd. It's hard going at 17 miles in but payback comes in the form of a final uber technical descent all the way back to the car. At one point I had to question my sanity as a non-climber, sliding down a treacherous 'footpath' on my backside. Fortunately it wasn't slippery today.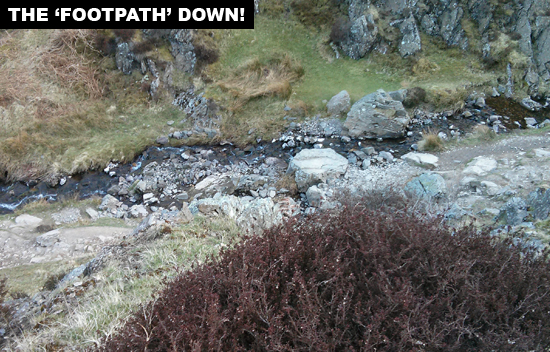 What a great day it turned out to be, I'd even honed my map reading skills a little. It was a shade over 19miles and over 3500ft ascent. Topped only by the discovery of 'Nice & Spicy Chicken on a Stick' at the BP garage. Mmmm protein lolipop.
* Shout me if you want the GPX. Highly recommended. *
Here's a cool video of some MTB dudes descending Minton Batch. You can see that I'm not exaggerating!