Lakeland 100 - Never Surrender
I consider myself pretty resilient both mentally and physically, but I can't test that theory sat at a desk all day. I have to rely upon my own means to take myself out of my comfort zone, otherwise I get a little bored. Last year I ran the Lakeland 50 and loved the experience. The Lakeland 100, actually 105 miles with 23,000ft ascent, is not the next logical challenge. Physically and mentally it's many times harder and is considered to be one of the UK's toughest challenges. Every year it crushes 40-60% of participants into submission.
2014 will be no different - temperatures soar to a fierce 33ºC. I do my best to stay out of the blazing heat until the race briefing at 4:30pm in advance of a 6pm start. The briefing is not at all the uplifting speech I'd anticipated. Marc Laithwaite launches into an honest and eye opening routine - "shake hands with the person next to you… one of you will fail". There is more to come: "Most of you are here seeking a challenge. You're likely to discover that this by far exceeds the challenge you think you want". Such painful truths minutes before the start will hurt many and drive others on.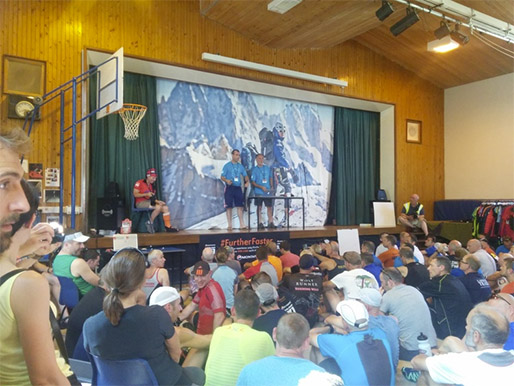 On the start line stand over 300 brave trail runners; each having worked so hard to be there. An opera singer blasts out Nessun Dorma ("None Shall Sleep") and we head off through Consiton to rapturous applause. Surprisingly I'm completely calm, having spent the day alone relaxing. My nerves have jangled enough over the last ten months and earlier in the morning. They are done jangling by this point.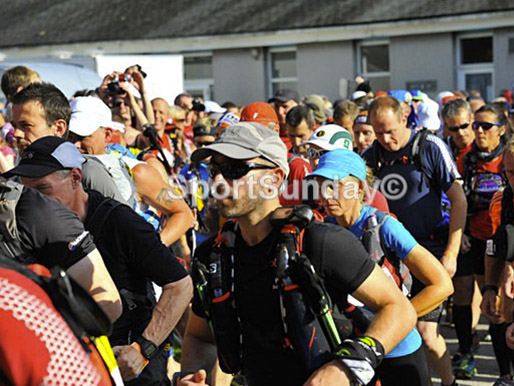 Consiton to Seathwaite
Distance between checkpoints: 11.3km (7miles)
Ascent: 659m (2162ft) Descent: 606m (1988ft)
As we ascend towards Walna Scar Pass, I assess that it's unwise to go out too fast. I'm troubled by the fact that I've not seen my mate Jon - we've headed out on this epic journey without sight nor sound. At the first gate I hang back and let hoards of runners pass me by. I still can't see Jon and decide to push on. As we head over the first few miles of rocky ascent I get chatting to a friendly guy named P.K. I like his pace and he oozes positivity. The last thing you want to do is spend time with runners who have one iota of doubt in their mind. Before you can achieve, you have to believe.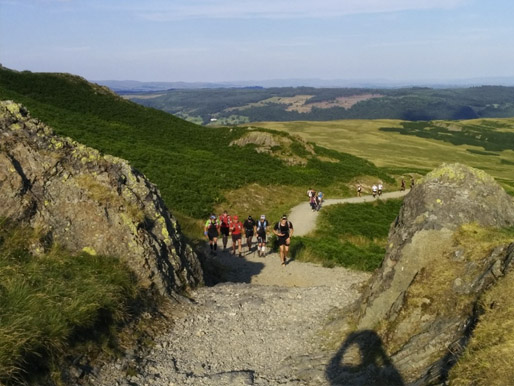 P.K. and I make a good team, and so we crack on together for several miles over dusty, rocky terrain, enjoying good conversation. Whilst the sun continues to try its hardest to put us out of the race, we head into the tiny village of Seathwaite to the first checkpoint. Absolute chaos ensues with the hundreds of runners arriving at the same time. At this point I see Jon and we continue on to CP2, seven miles ahead.
Distance covered so far: 11.3km (7.0 miles)
Seathwaite to Eskdale (Boot)
Distance between checkpoints: 11.1km (7miles)
Ascent: 385m (1263ft) Descent: 419m (1375ft)
This section is largely undulating farmland, not without some significant leg work and good climbs. Jon and I run together on and off, keeping to our own pace. We laugh our way through sections where we got horrendously lost and grumpy on our recces - navigation is so easy at this stage with so many runners around. In time we will inevitably spread enough for critical errors to become a real possibility.
I head into Boot with P.K., Jon somewhere nearby. There are snacks available but I just want to push on so drag Jon away from a cup of tea.
Distance covered so far: 22.4km (14.0 miles)
Boot to Wasdale Head
Distance between checkpoints: 8.6km (5.4miles)
Ascent: 297m (974ft) Descent: 287m (942ft)
This section is short but begins with a steep climb onto open fells. We head across remote and desolate land past the spectacular Burnmoor Tarn. It's evening but barely any cooler. We're toying with the idea of headtorches now. It's always tempting to rely on 'carrots' but as we descend into Wasdale I nearly take a tumble on rocks and it becomes obvious it's not a risk worth taking.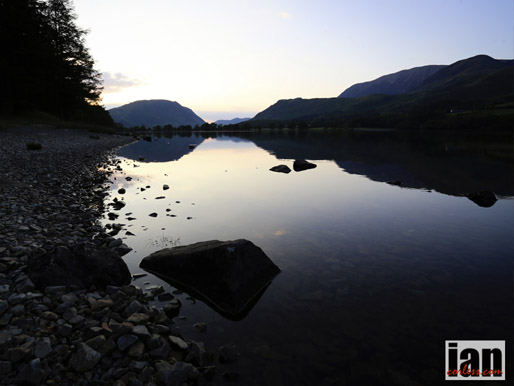 After about 16 miles, and a load of climbing, the hunger pangs have started. I eat a folded third of pizza that I'd ingeniously cooked on my camping stove earlier in the day. You've got to keep fuel in the tank. Let the hunger get too aggressive and big trouble will follow. If you can't eat solid food whilst running you have no place on an ultramarathon.
After a short road section (there can't be more than a few miles of tarmac in the whole route), we head back onto trail and into CP3 under cover of darkness. We're in for a treat, it's Woodstock themed with colourful lights, hosts in fantastic fancy dress and Hendrix blasting out. And they're serving soup. We stop for 10 mins to fuel up, grab a bag of sweets and head on out.
Distance covered so far: 31.0km (19.4 miles)
Wasdale Head to Buttermere
Distance between checkpoints: 11.0km (6.9miles)
Ascent: 712m (2336ft) Descent: 667m (2188ft)
At this point I know what's ahead. The next section is brutal beyond belief and I have a feeling like I just want to put it behind me (mentally and physically). The main feature is a long climb over Black Sail Pass. It's epic. Time and time again you think it's over and it goes on again. It's inconceivable that you could run this section. By comparison we've had it good so far.
I become blinkered in my intent to just get this section done and unintentionally put some space between myself and Jon whilst chatting away to some other guys. As we ascend we look over our shoulders - a spectacular line of head torches spreading out as far as we can see, like a giant string of fairy lights. The sky is stunning. Not a cloud in sight and peppered with more stars than I ever recall seeing.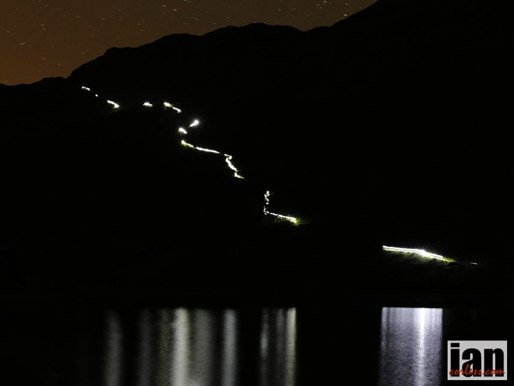 Jon catches me up a couple of miles before we descend to Buttermere, a little perturbed by my disappearance on the only section he's not recced. It's not my only selfish act of the run. In this situation you're constantly making decisions, consciously and subconsciously. Every choice you make with pace, nutrition, the company you keep will ultimately decide glory or DNF (Did Not Finish).
Glad to see Jon again, we run as a team around the lake towards CP4 at a good pace. The first of four marathons done, we're having a great time, doing what we love and feeling relatively unfatigued.
Distance covered so far: 42.0km (26.3 miles)
Buttermere to Braithwaite
Distance between checkpoints: 10.5km (6.5miles)
Ascent: 573m (1880ft) Descent: 613m (2011ft)
Jon talks stats but I'm keen on ignorance. Just get more miles behind us and to get to Braithwaite in good shape. Close my ears, keep racking up the miles.
As we were leaving CP4, Jon offers to team up with Jo. She's been running in a group who have decided to linger at a checkpoint. Like us she'd rather keep moving before we succumb to the chills of a very clear night. The three of us head out into the darkness along several technical wooded sections. It starts out kind but ultimately this section is little more forgiving than Black Sail Pass. Aptly it is known as just Sail Pass. A little less black perhaps.
We head along a track that forks left. It just feels right but there's no one in front to follow. I've not looked at my Garmin once yet and I know something isn't quite right. We look behind us to see if there are head torches on the lower fork. Amazingly there aren't. Some 30 or so runners are following us in the wrong direction. Fortunately we're able to push on over a gill and find the track meets with our intended destination. It's a strong reminder that being lackadaisical about navigation can be disastrous.
After another enormous climb we rally together and are running well; all three of us a similar pace and getting on like a house on fire. The checkpoint at Braithwaite is a welcome sight as it marks the beginning of a flatter section.
Distance covered so far: 52.5km (32.8 miles)
Braithwaite to Blencathra Centre
Distance between checkpoints: 13.7km (8.5miles)
Ascent: 478m (1568ft) Descent: 305m (1001ft)
Time to clock some easy miles. Perhaps not. Jo is looking decidedly green around the gills. She's eaten something at the checkpoint that's that's giving her stomach convulsions. We push on regardless persevering briefly along the A66 and onto a disused railway. It feels odd running on the flat and incredibly tough with so many hills and miles in our legs.
The flat section doesn't last long. Jo and I find ourselves drifting ahead of Jon and we decide he's happier running at his own pace. I don't expect to see him again. As daylight begins to emerge we spend what's probably hours running and chatting, then at some point Jon comes flying by with a grin on his face. Something in his music collection has clearly revived him and he's forging his own way ahead now.
At some point further on we crash his party, having a burst of energy of our own now. Jo and I are flying up hills and really cruising along well whilst Jon is reaching the end of his second winds. We reach Blencathra Centre in good shape and tuck into a hot dog - one of those lovely processed eyeball sausages from a tin with ketchup. Really hits the spot. Jo makes a call to her boyfriend which lifts her spirits and we're off again.
Distance covered so far: 66.2km (41.3 miles)
Blencathra Centre to Dockray
Distance between checkpoints: 12.3km (7.7miles)
Ascent: 417m (1368ft) Descent: 252m (827ft)
This section is relatively long. It has more disused railway and on paper it's not as hard as many others. However it has a definite sting in its tail. On this section I make a couple of my worst decisions that have potential to put me out of the race.
The sun is getting really hot and we must be well into the morning of the second day. I can feel myself cooking and it bothers me. With the knowledge of just how hot the previous day had been, I'm really concerned about getting fried on the Old Coach Road. It's flattish, very technical and deceptively gruelling. Yet the fatigue I feel prevents me from making sensible decisions - I leave my hat and sunglasses in my bag. Just too much faff involved.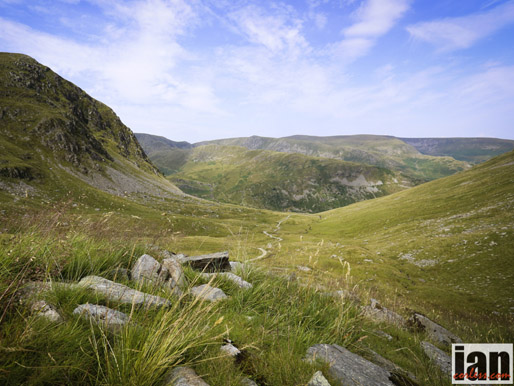 Blinkers on, I get my head down, thoroughly determined to get beyond the God forsaken Old Coach Road. I forge marginally ahead of Jo with a sense of purpose, thinking that our journey together is over. At this point I completely blow up. The heat, an intense hunger and infamous Old Coach Road are crushing my spirit and sapping my strength. My pace is reduced to a shuffle as I head into Dockray alone.
The last section has hurt me. I feel destroyed mentally and physically. Time to enact emergency procedure - I down a double hit of Dioralyte and scoff a handful of chocolate covered coffee beans. This combo is an absolute trail running elixir that I rely upon to revive me from dark times. Darkness goes hand in hand with ultra running. You have to endure extreme mental lows just as you have to taste the exhilaration. It's the deal we make with the devil.
The marshals provide great support, serving me a cup of soup and sandwiches. I take out my stash of passport photos - Elliot, Mylo and Felix put a wide grin across my face and I'm good to go. During my stay Jo has caught me up, having only ever been 40 seconds behind me. I cursed myself for abandoning an awesome running companion. Idiot.
Distance covered so far: 78.5km (49.0 miles)
Dockray to Dalemain
Distance between checkpoints: 16.3km (10.1miles)
Ascent: 370m (1214ft) Descent: 638m (2093ft)
This is a ten mile section. I remember exactly nothing about the first seven. Somewhere along the line Jo and I begin running really well again. We both have a real resurgence and spring in our stride, picking off as many runners as we can, never once getting overtaken.
We catch Spartan Paul who is looking strong but clearly working through the pain at 57 miles in. I tell him Jon is probably only half a mile behind and hope they meet to drag each other along. Jo and I push on at speed along a long country lane that gives plenty of opportunity to stretch the legs out. I feel almost completely fresh and at times consider that I feel no different than I generally do after ten miles. Every step I take is new and unknown, beyond my previous best of 50 miles. Jo and I seem to be pulling each other along now in equal measures, each encouraging the other along when the lights go out.
We blast into Dalemain, absolutely brimming with positivity. The rapturous welcome from many makes it feel like the finish line, not the just over half way point which is quite dangerous in itself.
This is a special point in the race, it's synced with the Lakeland 50 and we arrive 27 minutes before they are due to set off. Perfect. The routing means we have several miles advantage on the 50 runners. A chance to meet and greet many friends who were taking part in the shorter race.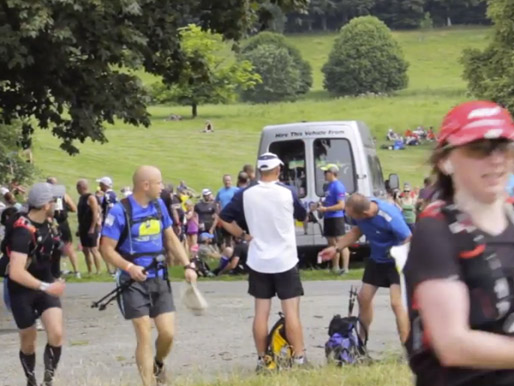 Dalemain is also a much welcome stop as we're allowed a drop bag. My plentiful supplies of everything in my drop bag (clean kit, shoes, food) go unused. I'm content with checkpoint tucker and stash a packet of Tangfastics. At around 20 minutes it's probably our longest stop, mainly due to my faffing and chatting with friends.
I'm fortunate enough to bump into Marc Laithwaite, the race organiser who accosts me, looks deep into my brain and says in no uncertain terms "those who sit down do not get up". Wise words. Before I set off I look around and clock several train wrecks sleeping in foil blankets. Dalemain is all too tempting a drop out point for some.
As we leave civilisation I 'help' recently arrived Jon by offering him some alcohol gel for his massively blistered feet. He accepts and applies with a bloodcurdling yelp.
Distance covered so far: 94.8km (59.1 miles)
Dalemain to Howtown
Distance between checkpoints: 11.5km (7.1miles).
Ascent: 294m (965ft) Descent: 285m (935ft)
Jo and I leave Dalemain still on a high. We're soon joined by Mark who is to become our new Jon. The three of us set out across the Dalemain farmland estate feeding off each other's positivity. We will finish. We have to finish. Naive lambs to the slaughter, perhaps, only just over half way. Our pace is borderline reckless at times. We certainly have mountains of self belief and we ride the wave before it inevitably smashes into the shore.
We flow beyond Pooley Bridge taking runnable stretches of trail to Howtown. The 50 runners begin to pass us. We're delighted to experience the sharp end of this prestigious race and to see such talented athletes storm by. They should sell us tickets, this is a steal.
Their fresh legs pull us along, probably slightly faster than my sensible side deems sensible. To the bemusement of those that pass us, we find ourselves cheering them on.
Shortly before Howtown we pass my friend Jim doing the ultra shuffle. It was self evident that Howtown would be his last stop.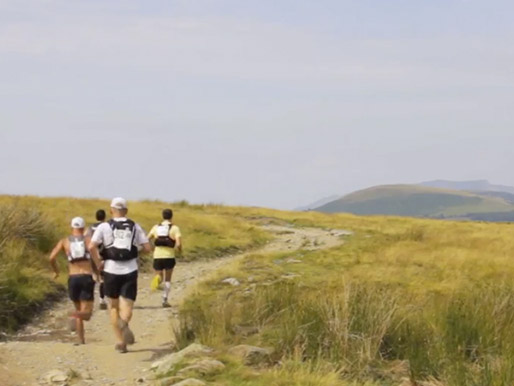 Distance covered so far: 106.3km (66.2 miles)
Howtown to Mardale Head
Distance between checkpoints: 15.2km (9.4miles)
Ascent: 765m (2510ft) Descent: 672m (2205ft)
This section is horrendous. I have previous with this section, having spectacularly blown up on it during last year's Lakeland 50. I'm determined not to make the same mistake again, though it feels inevitable given the length and difficulty of what lies ahead.
We hatch a plan to physically split this leg in two and vow to rest halfway. We climb the enormous Fusedale (two steep ascents totalling 2.5k feet). Suddenly, I'm again dangerously ravenous. Mark feeds me up on biscuits and I just about manage to keep pace.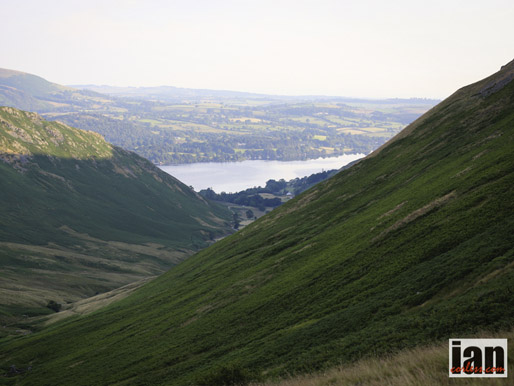 Following the descent we sit at a lovely flowing stream, our self styled checkpoint. As the sun bakes us we drink copious amounts of fresh water, soak our hats. We're becoming ever more at one with nature, adapting and finding ways to survive. We share my packet of Tangfastics which remind us we are human.
The second leg is a notorious rocky scramble of about 6 miles around Haweswater. It's barely runnable. We decided to treat it with utmost respect and strategically lower our pace to a super-fast stride. A good move that leaves us feeling strong; we're confident heading into Mardale, not broken. We pass Spartan John K, clearly suffering but not short of his usual strong determination.
We head round the lake and into Spartan manned CP10. A great boost to see good friends and to have some bread and a brew. The sense of positivity is so high and our team spirit remains strong.
Distance covered so far: 121.5km (75.6 miles)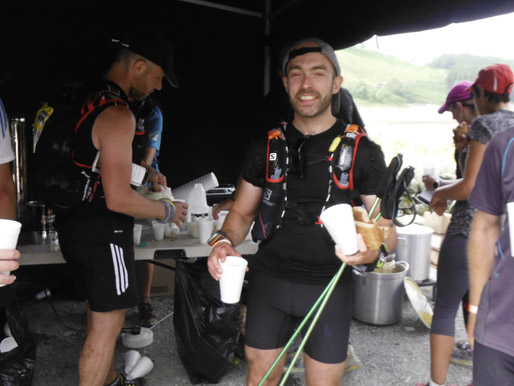 Mardale Head to Kentmere
Distance between checkpoints: 10.4km (6.5miles)
Ascent: 511m (1677ft) Descent: 589m (1932ft)
As Three Amigos we head immediately up another brutal climb. But now my head drops. I struggle to gain momentum and my legs feel like lead as they always do after 10 mins at a checkpoint.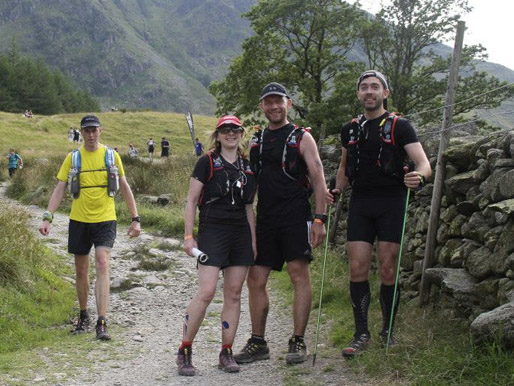 I battle my way up Gatesgarth Pass losing traction on my new found friends. I resign myself to the fact that I will need to go it alone from this point. Realisation hits me that Jo and Mark are experienced athletes way beyond my humble achievements and it is starting to tell. They wait at the top and I tell them to leave me. The retort is a swift "no" followed by another swift "no" at my protest. It's a humbling moment to have made such loyal companions and so I stop protesting.
I find yet another resurgence, we all do, and resume what feels like a swift pace. We continue with our driving force, 'scalping' as we call it, basically reeling in other 100 and 50 runners and overtaking them for our own gratification. It's a risky business given that the aim of the vast majority of entrants should simply be to complete it. We cruise into Kentmere, eat pasta and drink fruit smoothies.
Distance covered so far: 131.9km (82.1 miles)
Kentmere to Ambleside
Distance between checkpoints: 11.8km (7.3miles)
Ascent: 491m (1611ft) Descent: 602m (1975ft)
We head out of Kentmere and continue scalping for long stretches. We're having brilliant fun. Threats of rain turn into cold, heavy rain. Daylight is fading fast, adding to a now very real risk of hypothermia. We tough out some difficult miles then descend through the woods into Ambleside. I now have an intense stabbing pain in my knee with every stride on the descent.
Hitting Ambleside is a big rush of adrenaline. There are huge banners and awaiting crowds cheer us on. Jo is keen to see her boyfriend Chris who's waiting at CP12. We sprint through town at immense speed. In an instant, overwhelming joy turns to pain and pain turns to darkness. I can barely raise a trot into the CP. I'm holding back tears now, caused by pain and this constant needling from the devil.
I take some food and have a word with myself. I beat myself mentally, having come so close to throwing it all away. Despite this, I find myself in the gents giving a pep talk to a guy who's 99.9% broken. I take some encouragement from Mark to step away from the warmth of the CP. I've no intention of throwing in the towel, never surrender, never, but I'm experiencing a level of discomfort I've never been to before. How much can I cope with? We've now been running for nearly 28 hours.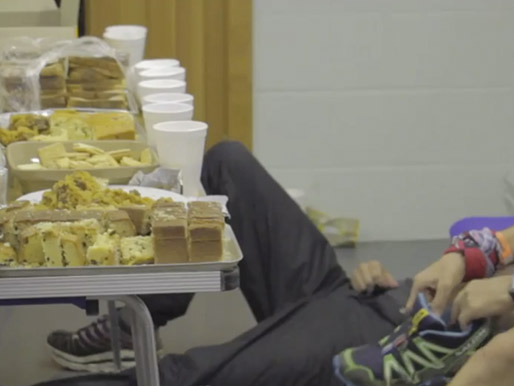 Distance covered so far: 143.7km (89.4 miles)
Ambleside to Chapel Stile
Distance between checkpoints: 9.0km (5.6miles)
Ascent: 234m (768ft) Descent: 213m (699ft)
We now have only 14 miles to go. The discomfort is immense. In my mind the next section is to be as flat as a pancake. I've clearly forgotten about the rocky fells before the flat bit. We find the inner strength to carry on, all three of us now heavily flagging. Conversation drops to little more than grunts of encouragement.
It's dark, wet and miserable when we hit the flat, getting on for 11pm of our second night without sleep. It's now all about relentless forward progress. Dig deep and just keep on keeping on. We march along the river at an incredible pace. Even though we can rarely lift our pace, we've learnt to stride at such a speed that it can easily be described as a fast jog, just in a less painful posture.
We're glad to arrive at Chapel Stile, a marquee lit with fairylights serving beef stew. Not wanting to get too comfortable, we sit on the damp cold grass outside the tent, away from the casualties waiting for the sweeper bus. As we shiver, Mark inspects his bare feet. Beef stew in one hand, my other hand steadying a bandage against his foot: Mark's using it to re-apply a large flap of skin. To my right Jo is also tucking into her stew whilst a guy is repeatedly projectile vomiting only feet away. We're all beyond caring. We've seen so many similar casualties already today.
We get away just before the cold claims us. Ten miles to go.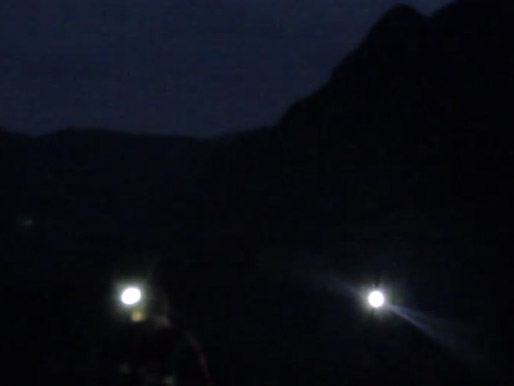 Distance covered so far: 152.7km (95.0 miles)
Chapel Stile to Tilberthwaite
Distance between checkpoints: 10.6km (6.5miles)
Ascent: 387m (1270ft) Descent: 323m (1060ft)
There's nothing flat about this section. It's a lengthy slog over boggy fells and boulders. We've got food in our bellies but tiredness is becoming a problem. Mark has his head down trying not to think about pain and just moving forward. Jo is hallucinating, seeing faces in rocks, I'm losing balance and starting to get confused about which way is up.
One step at a time we make our way forwards. My feet are now so sore I can feel a mattress of large blisters squelch beneath them. I make an executive decision not to tend to them, for the little difference it could make. Every step is a shock of pain. The best I can do to relieve it is to keep moving enough that the pain becomes a slightly more bearable constant. Distracts from my knee pain at least.
Trekking across the wet boulders is starting to feel dangerous. I'm feeling extremely cautious as we fall into stride with a bunch of fresher 50 runners. Jo gets chatting to one of them and as her spirits lift she starts to break away from Mark and me. Across a boggy field and on to an unmanned checkpoint we dib in and Jo's there waiting. She's not realised we we're not there. Our team status is cemented now and there's now no way we'll be parted.
I'm now sure it's only a short stretch of road to the next checkpoint, but I've completely forgotten about the next few miles of torturous fells. All three of us are now utterly destroyed, but the level of determination is still high. We never doubt ourselves, our ability to survive. We vow to complete this one step at a time. We will not fail.
Distance covered so far: 163.3km (101.5 miles)
Tilberthwaite to Coniston
Distance between checkpoints: 5.7km (3.5miles)
Ascent: 283m (928ft) Descent: 385m (1263ft)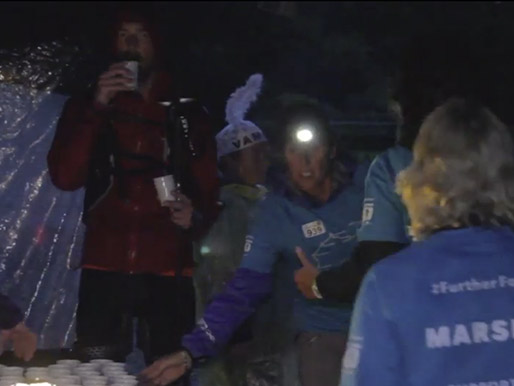 Finally we make it to Tilberthwaite. The organisers clearly feel that we were so nearly there we don't need more than basic nibbles. I manage to get a crisp sandwich together and decide it will have to give me enough energy to take the last, extremely tough section. I'm kidding myself. My stomach is burning calories like a furnace. I know by now that max time to starvation is 2 hours. At the rate we are travelling it's anyone's guess how long the last 3.5 miles will take.
This last section is basically up and over Tilberthwaite fells. It is very very steep on both climb and descent. Of the people heading over, it's far from a party atmosphere, more a string of long suffering tortured souls moving like zombies.
The terrain is particularly brutal, at times we scramble on both neverending ascent and descent. The three of us just keep moving, one painful step at a time. The only thing that now stands between us and victory is the craggy dangerous rock descents. With serious caution we lower ourselves tentatively into Consiton. Finally we reach a relatively smooth double track where a guy shuffles along barely compos mentis and shivering. We promise to pass on word, hoping he will not DNF half a mile before the end.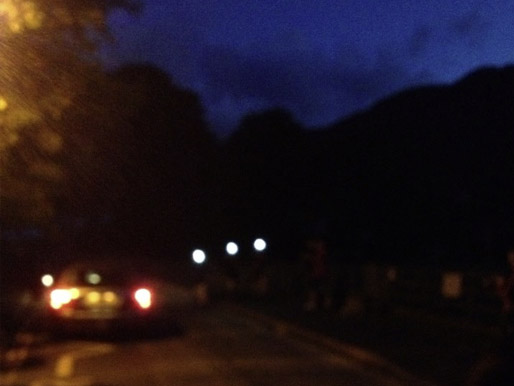 As we stride into Consiton. We remember how to run, meeting Jo's Chris along the way. He cajoles us along through town. I'm expecting rapturous crowds but its 4am and not so lively. Beyond the petrol station we
break into a sprint finish at John Ruskin School. A relief more than anything. Completely devoid of emotion except for hugs shared with my two new friends. I just head for bed and save tears for the morning.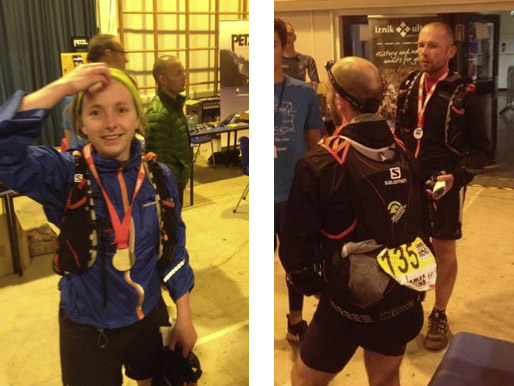 Final distance covered: 169.0km (105.0 miles)
Total time: 34:20
76th of 309 (of which 192 finished)
For me The Lakeland 100 was a stunning insight into human nature when faced with adversity. Jo, Mark and I (and Jon who also completed) worked intelligently as a unit. We all had our strengths and weaknesses but we were resourceful and found a way to succeed against incredible opposition. I'm absolutely honoured to have shared my journey with these guys. I look back on the memory of their astounding strength, resilience, determination, kindness and friendship - so immense it just does not compute - it will be etched on my soul forever. If you think that sounds a little over the top, you need to run 105 miles and find out where it takes you.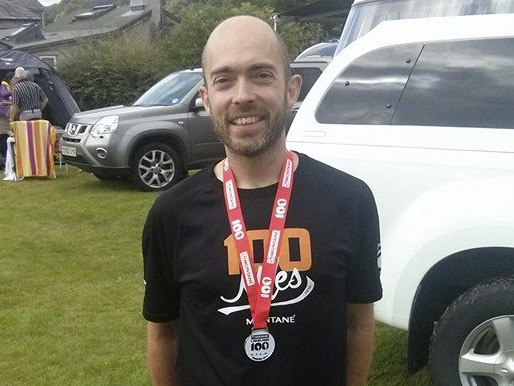 I'm overjoyed to have completed the Lakeland 100. For me it was a journey of self belief where failure was never an option. I believe it will inspire me in many areas of life and I hope I've inspired a few of you too. I'm an ordinary sort of bloke with a strong belief that if you really, really want something you can make it happen. It's not a bad ethos to live by.
Thanks again to all those who sponsored me. Together we've raised over £1k for Breakthrough Breast Cancer. http://uk.virginmoneygiving.com/hackos
Thanks also to my enduring wife and ever-awesome Spartans.
Never, ever, ever surrender.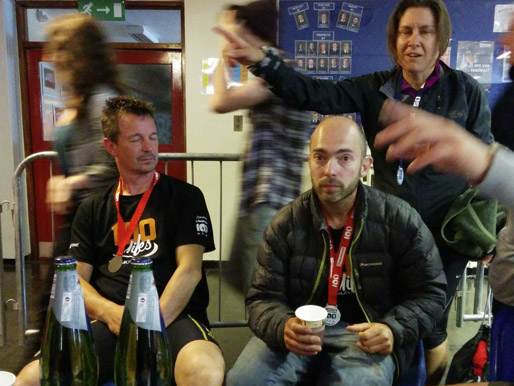 Categories: