Inov-8 Ultra 290 shoe; first impressions
When I started focusing on off road running, I discovered Inov-8 and they quickly became my shoe brand of choice. Shoe countback totals around 8 pairs so far I think. Lightweight, low drop and super grippy are the main benefits for me. So in bringing out a more 'conventional' type shoe, what will the compromise be? These are my first impressions of the new Ultra 290 having done one 11.5 mile run in them.
Firstly the background to my own particular shoe ponderings. We are all different and choice of shoe is very personal.
I have a problem with my right foot, with something called hallux rigidus. Basically its a load of unwanted bone growth all around the first meta tarsal (ball of my foot.) After repeated pounding, it hurts like hell and swells up, plus the movement of my big toe is restricted. For this reason minimal shoes are only good for me up to a certain distance and certainly not on hard ground. I have run a couple of 40+ milers in my Fellraisers recently and the day after is never a happy one!
My running shoe armoury consists of; Inov-8 Mudclaws & Roclite 295, Salomon Fellraiser, Hoka Stinson Evo & Mafate 3. I also have odd pairs of trail shoes picked up at good prices from Asics and Mizuno. I very much select the shoe for the terrain, whether it is fell or trail, ultra, marathon or short distance. The issue comes when needing to combine ultra distance with more technical terrain.
I acquired my Hokas last year, about one hour after seeing a foot surgeon at Wrightington Hospital, who told me that my running days were quite literally numbered. Yeah, right mate thinks I…!
On the way home I called in at the Endurance Store to buy my first pair. Now I can train on consecutive days even when my foot is sore because the cushioning really helps protect my foot. The only drawback is that Hokas separate you completely from the terrain and feedback is non existent. They are treacherous (for me anyway) on uneven ground, particularly lumpy fields or where any contouring is needed. Their place in my armoury is becoming very focused.
I wanted a shoe that could offer more protection than my fell shoes, give greater feedback and stability on rough ground than the Hokas but not have as big a drop as regular running shoes. Enter the Inov-8 Ultra 290 shoe.
The carbon footprint of these shoes isn't admirable, having bought them via the USA, albeit at a lower price than UK retail! I opted for size 9 / 43, the same size as my other Inov-8's. I run a size 44 in Salomon shoes as they are a narrower fit.
The fit is described as standard. My Roclites are also standard fitment and these feel similar around the heel, snug and comfy, but there is a wider and slightly taller toe box, allowing room for foot expansion on longer races but without letting the foot slip around at all. The tongue is a nice soft neoprene material. The upper material is also soft and comfy, there isn't much in the way of a protection in the rand, though this isn't really a shoe designed for hitting technical terrain.
Minus points for me are the laces, mine ALWAYS come undone without multiple knotting and then you can't get them off when you are knackered after hours of running. Quicklaces would just be a great addition. Also, a lace housing would be a neat way to keep them clear of snagging when on singletrack. There is a specific gaiter available for the shoe, this would cover the laces but wouldn't stop them undoing.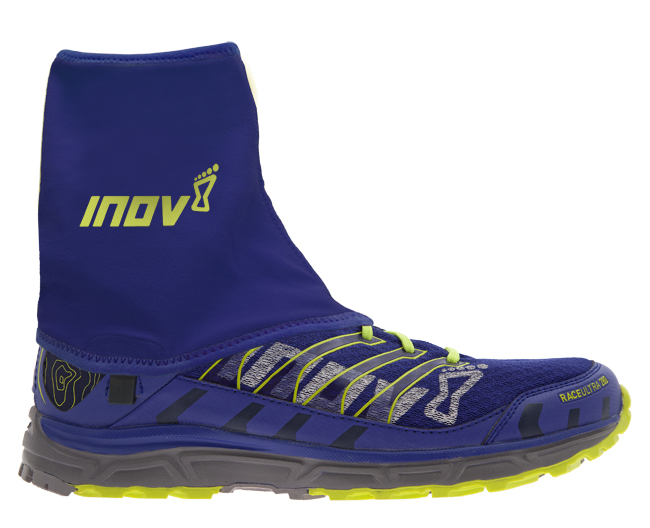 Gaiter fits lugs on sides of the shoe
On todays run, the trails were fairly compact, some soft ground, rocky stretches and some hills but a low level run, so no mountain terrain trial.
The ride immediately felt comfortable, super lightweight considering the additional cushioning. The shoe does feel much stiffer and flatter, but there is enough flex for you to still run on your toes. The heel cushioning might come in handy as tiredness sets in on long days. The additional volume in the midsole gives much improved protection against sharp stones underfoot but you still connect to the ground in a way that my Hokas cannot. For anyone with any foot niggles, this will be a big bonus over shoes like Roclites or Fellraisers and also Speedcross.
The grip on softer ground on the downhills was just fine, but don't expect the grip you get from other Inov-8 shoes. The lugs are shorter than usual and made from endurance rubber, so they will last the distances but still give a reasonable performance. The product blurb states there is sticky rubber at the edges and harder rubber at the heel for wear improvement. It's a compromise to bear in mind when deciding what you want to use the shoe for, but I think it will be about right for the purpose, with mixed terrain, including sections of roads an inevitable part of most ultras. It's not going to be a shoe for sloppy winter trails!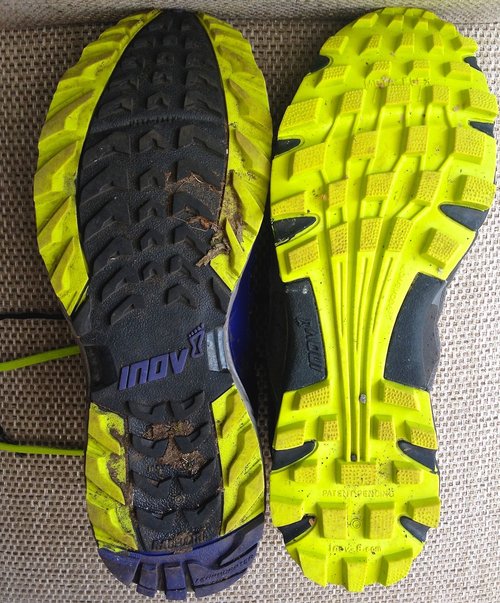 Ultra 290 next to the Roclite 295
With a heel drop of 8mm, this shoe seems to hit a good balance between getting a little more comfort and not losing too much stability, without going to the greater heel drop of regular shoes.
It has two arrow cushioning, which could be confusing until you work out that they have changed the system. Usually, each arrow represents 3mm of drop, so my Roclites with two arrows are 6mm. The 290's have two arrows, but this means 8mm of drop as I believe Inov-8 are switching to a system with each arrow representing 4mm.
I didn't get chance for any full on steep descending this morning, but I did 4 loops of a short climb and descent, where it was easy to get onto the toes for climbing, so the stiffness of the shoe isn't intrusive. On downhills, my toes did push to the end of the shoe, but to be honest I think that's unavoidable unless you upsize and then you run the risk of a sloppier fit and potential for creating blisters.
I'm looking forward to getting more miles into these shoes and am encouraged by the first run out in them. If you are looking for a shoe to cope with distances and give a little more comfort but still have the features needed in a trail shoe, this shoe ticks the box. It doesn't feel like a compromise to the values Inov-8 have created for making responsive footwear.
Let's see how they perform carrying me around Anglesey next month at the RingOFire.