Half Iron Hack?
The nerves were not jangling too badly. I'd arrived at the campsite in good time, conveniently located on site at Nottingham's National Watersports Centre. Jon and I somehow managed to miss most of the epic 1hr race briefing but, er, I'd already conceded that there was likely to be someone in front of me whose lead I could follow...

We chilled out in the sun, spoke to some dudes, every one of which was clearly pretty well experienced in the field of insane endurance endeavours. As a relative newbie, naturally I felt bit of a twonk. Luckily there were a few other twonks around me. Not least the guys getting in a last minute 20 mile training ride. Actually there seemed to be people panic-training everywhere. Yeah that's gonna help.

We sank a beer with a dude in the bar and then headed over to Jon's car to ogle his swanky new time trial bike. A thing of astounding beauty. As the sun beamed down, Jon took a rain check to his folks' house and I headed back to my 5* accommodation (a 1 man tent not even big enough for a small Hackos to stretch out in).

What no pasta party? Fortunately I was well prepared. I dined alone by butane then retired to bed early for a 5am start. The campsite was completely silent by 9.30am with triathletes looking to get some good kip. By midnight the non-triathlete caravaners had cranked it up to 11. Sleep looked futile amidst an army of chavs crooning "I-love-yoooobaybee…". 5am soon came round having had little more than a rest.

The swim (1.2 miles)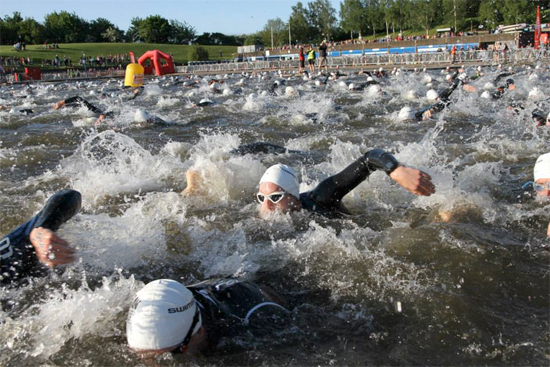 Bleary eyed I arose from a puddle of condensation to see a crow dragging away 2 lovely steaks from my neighbour's 'outdoor fridge'. I had brekkie of my own and headed down to the transition area at 6am. Met with an enormous double bend queue, the panic set in. Eek, swim start at 6:30! I racked and suited up with 3 mins to spare. I was straight into the water right in time for a 30 second warning. No time to be nervous, just swim.

Another glorious day, the swim conditions were perfect and the water felt way warmer than the 12 degrees I'd been training in. There must have been around 300 swimmers in my wave alone so there was a good scrap but I'm becoming accustomed to this and even starting to quite like it. I worked hard to keep good form as I headed towards the distant buoy.

All the mags talk about the advantages of drafting other swimmers. I'm an average swimmer at best so I hung onto people where I could. Not sure there was any significant gain other than a few bruises. My main focus was now on keeping brekkie down - my stomach seemed a little angry at me.

Around the buoy and straight back to where we came... I felt it was going ok but there are some great swimmers out there. I was remarkably relaxed and thoroughly enjoying the trip. Jon had said of himself the day before - "I have a single swimming speed that uses up almost no energy". Those are wise words to a triathlete and I a was similarly pleased to leave the lake feeling fresh.

The bike (56 miles)


Into transition and then straight onto the bike (transition took me about 4mins). Immediately GPS failed due to user error. I spent the first mile tinkering with it and wasted a bit of time. A little effort and I was back up to speed.

The next 56 miles are a blur of beautiful countryside. I put the effort ina and did my fair share of overtaking the 'proper swimmers' but there was no avoiding getting overtaken by many a 'proper biker' with their super-awesome time trial bikes and tree-trunk legs. There's something quite cool about the sound of super aerodynamic wheels whooshing by.

With GPS back online I was able to break the ride down into psychological chunks and it all seemed to pass fairly quickly. The bike ride seemed a great opportunity to refuel. I reckon I could digest steak and chips whilst on a long ride. I had to make do with a ham and cheese roll and a couple of energy bars. Having a picnic at 20-30mph was one of many new experiences of the weekend.

The final third of the ride was really gusty and headwinds meant a concerted effort. A couple of gels consumed helped to keep fatigue at bay. Electrolytes would have been nice but unfortunately I had accidentally picked up water at the checkpoint.

Despite the last mile or so of speed bumps and pot holes I managed to maintain an average of 18mph over the entire course. This was pretty satisfying having only completed a couple of similar distance rides so far on the bike.

The run (13.1miles)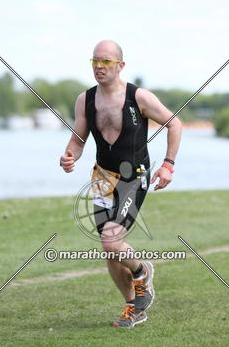 Transition was equally poor at 4mins. Need to improve this. Nevertheless I was good to get out and running before I knew much about it. The sun was now high in the sky and surely one of the hottest days of the year. I set out at a good pace of around 7min/mile. It was immediately apparent that running off a long ride like this was going to hurt a lot. In hindsight I liken it to trying to run a half-marathon having been up all night with the toilets.

I guess I was fairly well dehydrated by this point and my quads were contracting with an incredible force low down. I guess these are bike muscles that I've not really worked this hard before. Running through the pain was not easy, but inevitable. I revised my target pace to sub 8min/miles and managed a good 6.5 miles at 7:45 pace. I was pretty pleased with this given the pain, overtaking swathes of proper bikers on the way.

Now cooking, literally and metaphorically, I was in a dream-like state. I'd found myself running with a young fella, pleasant guy keen for me to pace him round the final 6.5 miles. Like everyone else I spoke to over the weekend he claimed to have "done no training". Come on please. A good guy he was, but running with another felt like a weight around my neck. I hung back at a drinks station feigned death and waved him on. To give him credit he was running strong and I bet he ran a good time.

The last 6 miles really were agonising and I was jsut tryign to hang in there. My stomach was ruined with gels and flat coke swishing around. There was now a real threat of involuntarily purging whatever mess was in there. Everyone around me was dropping, flaking, gasping, one even puking. It felt like slow motion. We were all running though treacle. Another guy latched on to me, looking to finish together - "yeah ok dude", I said. By this point I'd become quite ruthless and when his calf spasmed I regrettably wished him well and took the opportunity to drop him like a stone. I hope it worked out for him.

Each drinks station now became an essential opportunity to regroup, get some cola down me (the only solution to teh burgeoning pain that I now had) and push on through more pain. 2 miles to go and one final gel. Then I remembered the caffeine bomb I'd been stashing. I pulled the pin and sank it. These taste worse than any others, like eating an ashtray filled with fruity gloop adn cigarette butts. My fix didn't take long to kick in and I was away. I picked up my legs now rather than dragging them, and kicked on for a strong finish. Done in 5:52hrs to a stadium style finish line. Of the 1000+ people I happened to cross the line with the same dude we drank beer with the night before. It was good to see a friendly face at the finish line. I was destroyed and burnt to a crisp, but elated with sub six. An emotional few moments, hours maybe, followed - I don't think I'll forget in a hurry.

What a day, what an awesome medal. One that I will treasure. An exceptionally well organised event. I2 months to train now for my next big adventure, 140.6. Bring it on. For Sparta.
Categories: