Get to Mardale and everything will be alright
"I want to stop", "Must keep going",
"I want to stop", "Just another couple of minutes and you'll be at the top",
"I feel sick", "Just count your steps 1,2,3,4,1,2,3,4",
"I want to lie down", "Come on keep going",
"I want to go to sleep", "Keep pushing",
"I must stop".
I stop.
I turn around and suck in air as fast as I can. I'm standing 300 yards from the top of Fusedale. I've never felt so lacking in energy before. Looking out over the beautiful Helvellyn range I resigned myself to the fact that I need to get to Mardale and it is going to be a long walk.
"Positive thinking", "1,2,3,4,1,2,3,4".
"Enjoy the view", "Keep plodding".
I'd set off from the last checkpoint, Howtown, with 2 litres of water. Two miles to Mardale and I had about 300ml left. James and his gang walked past me. Two small ascents left to Mardale, but only two mouthfuls of water left. 500 yards to go. What's that I can feel on my neck, it feels like something is cutting into it. I run my finger up the skin of my neck and a layer of salt comes off. It was rubbing like sandpaper. I think I need to rehydrate a touch. 100 yards to go. I can't stop smiling. I've made it to Mardale. I've made it, woohoo!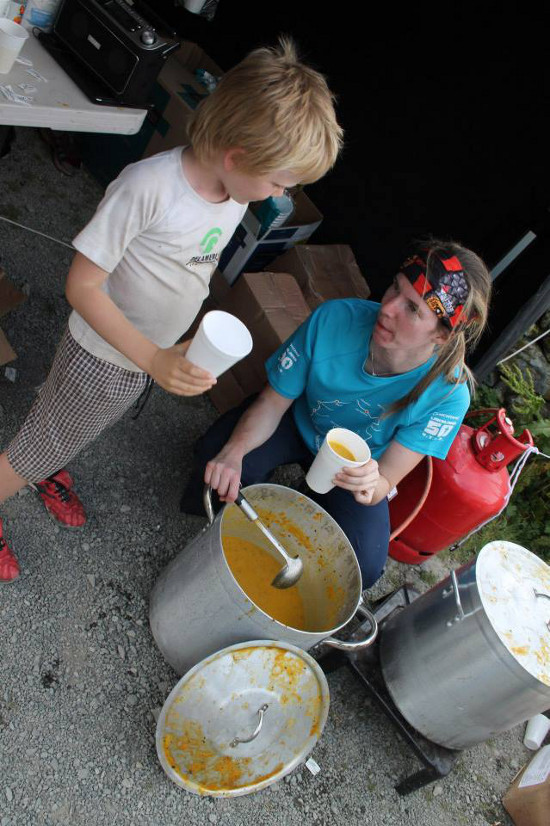 Oh the soup was amazing. The flat coke an energy sensation. The sandwiches divine. Sandwiches dipped in soup even better. Spartan Marshals you are the best. You saved my race. I sat there thinking how getting to Howtown had been so easy. What fun it was to run with Mark, Ged and Jason. Seeing the Whittakers' Spartan flag at Pooley Bridge, inspiring. I was going to sit here and eat and drink until I was ready to give the final 30 miles a real go. After what must have been 40 minutes I got up and said my goodbyes. Tim shook my hand, looked me in the eye and said "Finish it". Right, let's get on with this.
I made up 95 places from entering the Mardale checkpoint to the finish. The highlights were hooning down into Kentmere and Troutbeck with arms out wide to help me balance. The aircraft noises I hope I kept to myself. Running into Ambleside to the applause of people sheltered from the rain in doorways was very special and uplifting.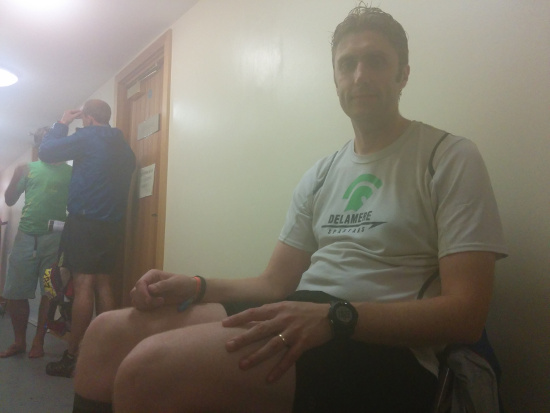 At Ambleside checkpoint I bumped into James again. He left before I'd finished getting my waterproofs and headtorch sorted. And so the charge started. James has 50 more miles in his legs I should be able to catch him. I should say the Chia Charge charge as this flapjack was the only thing I could stomach. When walking on the flat I tried to eat until I had enough energy to run. I was still finding the downhills very runnable. I caught James and gang coming down off Loughrigg, had a quick chat to check they knew how to navigate down to Skelwith Bridge then I was off. We met up again at Chapel Stile checkpoint, when I was leaving and he was coming in. So to the last 10 miles, dark, rainy, fun, awesome, tiring, inspiring. Sitting in the Tilberthwaite checkpoint buzzing with energy but finding it difficult to lift a sandwich to my mouth. The last run down into Coniston went so fast, I just couldn't stop smiling. I just couldn't stop running. Bounding along the streets at 3am was surreal. Over the finish line. Yes. Yes. Yes.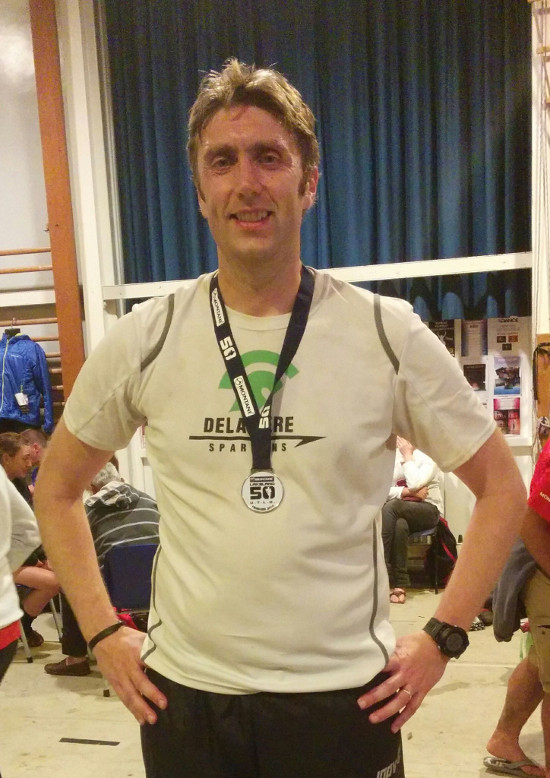 Lakeland 50 organisers, marshals, helpers, supporters, you are legends. To the Delamere Spartan family, you made the weekend. I hope we have many more like that.
[Lakeland 50. 50 miles. Almost 10,000 ft ascent. 15h 35m. Position 326 of 600 odd]
Categories: