The Day Hell Froze Over
It was on my 3rd Delamere Spartan run that I was first introduced to the hills of hell. Club numbers hadn't yet reached double figures and although there had been one other female on my first outing who had promised to return, she hadn't been seen again since. Running along a pleasant flattish fire road James beackoned me over to the forest edge asking 'Have you seen the hills of hell?'. I looked down the seemingly sheer drop and listened to James explaining the hills and bogs of 'Hellrunner up north'. 'You'll have to try it one day' James claimed. 'Yes, the day hell freezes over' I thought and suddenly I was questioning the sanity of the company I was keeping (& mine!).
Some months later and my first encounter with the hills of hell was an embarrassing one. By this point we had around 12-15 runners on a Tuesday evening and team girl-sparta had doubled! Tagging along at the back team girl-sparta reached the top of the first of the 3 hill sections but turning into the decent and what lay before us looked far worst! 'I'm not going down there' Jaynie announced. That's OK I thought confidently, I'm sure I heard one of the guys say if we didn't like it we could loop back a different way -'Follow me' I said confidently.
To date we are still the only Spartans to have ever got lost in the forest, bringing a club run to a halt and requiring search runners to be sent out to our cries of 'HELLO! We're at no brains' – of all forest signposts to stumble upon!
(and yet I was still asked to become a club leader… have I mentioned questioning the sanity of these people?).
Saturday 3rd November 2012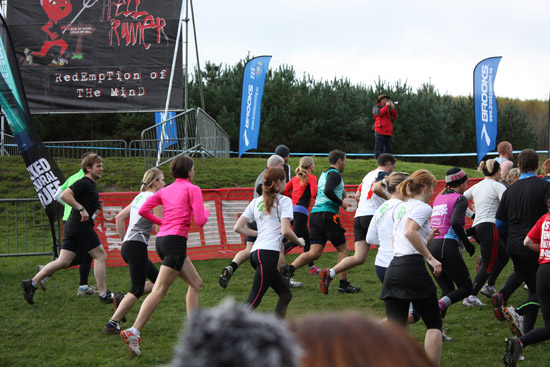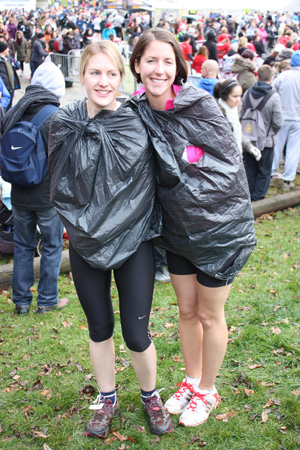 I don't know about you but I've always been under the impression that Hell is a very hot place. Believe me, stood at the start line in reported temperatures of 4 degrees in my vest, shorts and a bin bag (Nick's fashion advice) there was nothing 'Hell' like about it. Perhaps hell HAD frozen over. I was not ready for this but as usual the Spartan spirit was high and the drummers and smoke created a great atmosphere as we set off from the start line.
The volumes of people restricted the starting pace but as I jogged up Old Pale with my honorary Spartan friend Sarah I was feeling very proud of our forest and as people complained about the size of the hill I was proud of all Spartans as Old Pale is no stranger to us!
The first 6 miles felt like a super-sized Spartan session! Hundreds of people weaved through our undulating forest trails. The sun was glistening through the trees and as the blood returned to my numb hands so did my faith in Nick's guidance.
In all honesty the 12 miles past in a bit of a blur but here are my seven deadly signs of a hellrun…
1) My first highlight was the bog of peril. Wow! What fun. When else as an adult would it be OK to squelch around thigh deep in thick peaty mud? Throw in the green smoke, music and fellow high spirited hell runners and we were having a party. Next up number 2) the stream run, a welcome wash as the mud filled trainers were getting heavy.
At number 3) is the exhuasting task of clawing on all fours up the second mud bank. A Spartan domino game almost ensued as I slid down towards Phil. I'm very sure it was the most unattractive position I have ever been seen in so Phil I can only apologise!
Number 4) The Hills of Hell!!! This is what I'd been waiting for! The forest banks I'd seen from above all those months ago. It was time to test out my 18 months of Spartan training. I imparted my training knowledge to Sarah saying 'on your toes and dig in' to which she replied 'After you' and then joined the queue of people walking their way up hill one. I happily bounded past the queues on all 3 hills. I got some funny looks though when I then let them all pass me at the top as I waited for Sarah.
The 5th and most deadly sign is the 200m Lake of Lucifer! As we queued ankle deep in shockingly ice cold water, I began to panic. A debate on race etiquette has since been played out on the hellrunner website and for all those against the splashing queue jumpers 'I'm sorry'. However, this queueing wasn't good, it was going to take ages and I was sure I'd have hypothermia by the other side. I needed to keep moving. All I required was for Sarah to say 'for my sins I'll follow you' and the decision was made. We were scrambling chest deep through the 'Lake' (AKA flooded Spring of Sparta). OK so now my entire body was tingling and I could no longer feel my feet but at least we made it to land quicker and many of those edging their way along the ridge in the middle fell in regardless! Now we had to keep running in order to regain some warmth. It was a tough 2 miles with numb feet!
Finally the Bog of doom! Number 6). I never thought I'd ever be in a position where I was relieved to see a 100 meter stretch of bog before me! Knowing we were nearly there I plunged into the
mud to the sound of the devils disco and cries of 'be careful it's really deep …' too late. I was swimming in mud! Just my luck that at the point I accidentally found myself the wrong side of the route rope, a team of early finishing Spartans were positioned to inform me I was cheating. A sidewards jump and I was back waist deep in mud. A few more meters slip slid their way beneath us and eventually we emerged from the forest, only to find getting to the finishing line involved a full lap of the starting field – cruel.
7) Hosing down by the fire brigade???? Seriously where were the firemen????
16 year old fire-girl cadets was not what I had in mind.
Claire's top tip for bringing flasks and hot-water bottles for a rinse off at the end was priceless. Whilst the firegirl's water felt warm compared to the lake of Lucifer, we were shaking with cold and tipping the contents of a few hot water bottles over each other felt amazing! The space blankets were also essential.
I had no idea what time I completed it in… that really wasn't the point. If you do want a good time you need to get ahead of the crowds as besides the lake fiasco there was a lot of pointless bottle necks with people trying to avoid the mud!!! I've since discovered it took me 2 hours 38 minutes and 40 seconds and I came 837th (74th female). It's a crazy event which has to be experienced.
Would I do it again??? The real hell came from the resulting 48 hour bog of doom stomach bug – not something I'd like to experience again. And seeing Hannah's face literally blue with cold was a shocker. So, 'Yeh, the day hell freezes over'!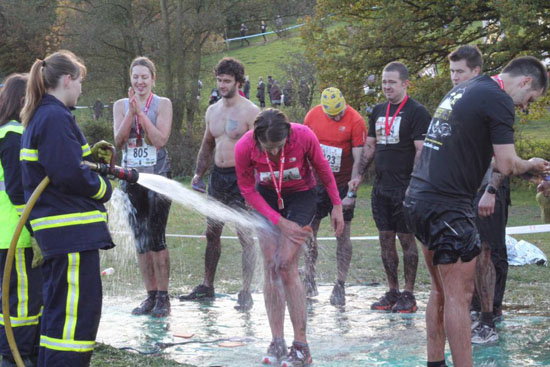 Categories: