UTLD 100 2016 – An Epic Adventure.
Whilst this event is still fresh in my head I want to get down as much as I can to try and make some sense of what just happened.
Be warned though – you will be entering my mind, you may not like everything you read!  Some of the content maybe out of order, it's difficult remembering 105+ miles!
For anyone not familiar with this event, it's the most spectacular long distance trail race within the UK, covering a 105 mile (5 miles for free) clockwise loop with 4 mile of total elevation in the Lake District starting and finishing in Coniston.
It fills up within minutes of opening, is limited to 400 entrants and there is qualifying criteria to weed out any crazy people.
I was planning on doing it last year but last minute panic training put an end to it even before I left home so this year I was determined to complete it.
The Delamere Spartans man one of the Checkpoints at Mardale, aka Spardale and I got a free guaranteed entry for their contribution supporting the race – many thanks and I will be returning the favour.
Training had been inconsistent with work and life, I had got a few good sessions in, visiting the Peak District, Clwydians and the Railway when I could and hoped this was enough.  I'd done a couple of 100 milers before although they were flat and no kit was required but at least I had some kind of idea of going for 24hrs and grinding it out.
In races there is always a goal of what you want to achieve, be it time, place, completion,…  For this event they were:
1)      Complete,
2)      Finish sub 30 hours,
3)      Do not deviate from the above plan.  Ever.
That was the mission, complete was the total and overriding goal and I had to stick to it.  Sub 30 was a nice to have but at no point can it ever be the main goal.
Complete, complete, complete.  Stick to the plan.  Complete, complete, complete.  Stick to the plan.
I got to Coniston Friday morning having dossed at Coniston Hall the night before, registered, had my kit checked and met the rest of the Spartans and their support crew.
As part of the registration they weigh you, I came in at 81.8Kg, I didn't think anything about it until I met the rest of the Spartans and other runners I knew.  I was at the top end of all the weights, some were sub 60Kg – I'd be lugging round at least an extra 20Kg than some, that's like carrying around a bag of cement.  It appeared that I was already at a massive disadvantage before we even set off, at least I had a lot of reserves to draw upon!
We had the pre-race briefing at about 16:30 where the organiser Marc went through the event and tried to encourage us all to complete the event.  I was sat right at the front and could feel my right quad tightening up, I'd twinged it a couple of months ago and aggravated it on the railway, I hope I hadn't blown it for a 2nd year.
Fast forward to the start where there were 344 others ready to go with a record 10 Spartans – Chris, Nick, Andy, Gaz, Ged, Avo, Jetpac, Jon M & Hackos (as a pair).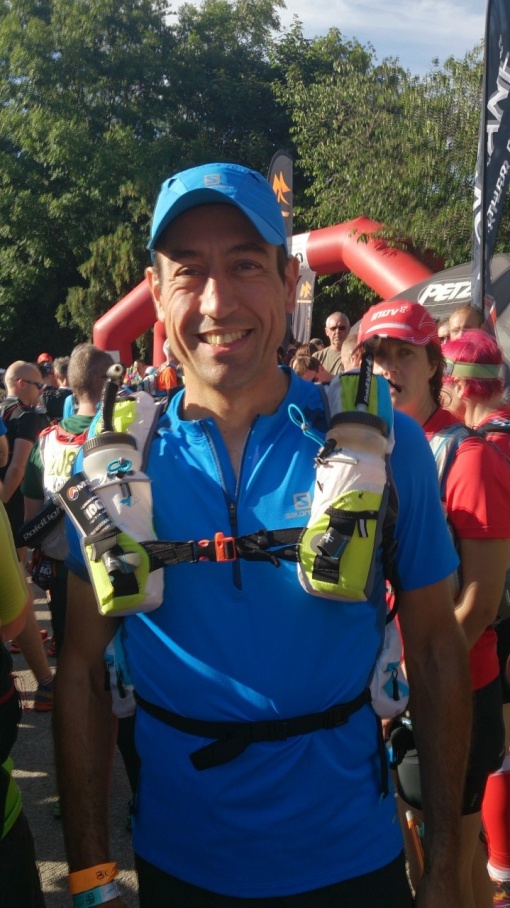 The anthem of UTLD 100 'Nessun Dorma' (loosely translated as 'None shall sleep') was sung:
We wished each other well and then were off:
The runners quickly dispersed.  I wanted to run with Chris, we did some good training sessions before, helped each other out and we had about the same speed and endurance.  We hadn't formally agreed to stick together, I knew Chris was stronger so didn't want to hold him back if I started to flag.
We started the first ascent along Walna Scar Road being the 2nd highest climb on the route and the field quickly thinned out.  I was close to Chris, Gaz and Avo.  Nick and Andy had shot off ahead and then Chris peeled away.  I was disappointed that I wasn't with Chris but pleased that he was running strong.
The weather was perfect, mild with some cloud cover but with beautiful views across the valley:
I got to the 1st CP at Seathwaite Village, no sign of Chris or Nick.  Andy had come and gone.
No rushing allowed, complete, complete, complete!  Well fuelled up I carried on.  The next section had some really bad bog and a bit of gnarly technical descending.
I got to the 2nd CP at Boot just behind Chris, Nick was just leaving and Andy was nowhere to be seen.
More fuelling up and me and Chris set off together just as Gaz was arriving.  Gaz had been with Avo and we were concerned that Avo wasn't with Gaz anymore, we hoped he'd be okay.  I put my headtorch on ready as it was now about 9pm and would be getting dark soon, I didn't want to faff about getting my pack off again.
The first two sections I had never done before and took them real steady.  Boot to Wasdale has some elevation (297m) and is fairly tame, I'd done this and the next section before but in the snow and a few years back.
We caught Nick about half way along and didn't quite make it to Wasdale without turning our headtorches on.  We caught a couple of runners who were still trying to play headtorch chicken and had a laugh at them as it was now about 10:30 and pitch black.
At Wasdale we met Andy and then Nick and Gaz came in and we re-grouped, it was a great feeling.
We took it steady out of Wasdale ready for the Blacksail Pass assault.
Ascending Blacksail was amazing, there was a steam of headtorches as far as you couldn't see and the stars were twinkling away.  Gaz stopped at the Beck crossing to fill his water, even though we'd just left a CP, I took this as code for 'you go ahead', which I did.  The group then started to fragment with me and Chris pushing on.
We got to the next CP at Buttermere where we fuelled and stocked up.  I was on a real high, the pace was slow and steady.  I felt liberated as I didn't have a watch so had no idea of time or distance, there was no hard pressure to compete, I took the UTLD 100 as an adventure.
Just as me and Chris were leaving Nick came in, I could tell he wasn't happy, he put on a brave face but I could tell something was wrong.  Now this was tricky, I didn't really want to say anything in case it made Nick feel conscious and make it worse.
Me and Chris gave our regards and headed out along the next section to Braithwaite.  It's got some runnable bits in but there was some single track over Sail Pass which we passed over at a steady pace.
On the recce that we did a few months ago I went on my arse on the grassy descent near Braithwaite which Chris took great delight in reminding me about.  This time I had some grippy trainers on (S-Lab Speed) so stayed upright much to Chris's disappointment.  We had a good laugh about it and were in good spirits.
Next up was a road section along the A66 towards Keswick and then the compulsory check on the Cumbria way.  As we were running along the A66 we promised not to screw up this section, we were doing well and feeling very positive.
Then we screwed it up, having such fun we missed our exit and ended up in the streets of Great Crosthwaite.  I hadn't packed my GPS so actually had to use the compass and take a bearing.  We kept our cool and found our way back on track, the detour maybe adding another 15 mins or so.
As we started contouring Latrigg we caught another runner which Chris latched onto and I started to drop off the pace, not a lot but it was the first time I wasn't by Chris's side.
We skirted round, did the compulsory check and landed in Blencathra as dawn was breaking.
I had some of Little Dave's Mum's cake and fuelled up.  It was baking in the CP and when we left I was really cold but then soon warmed up.
As we contoured round Threlkeld the sun was coming up and it was just amazing, more positivity.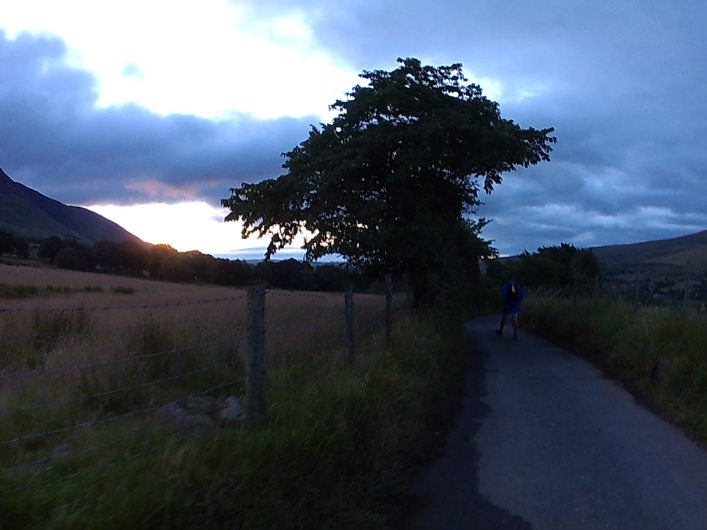 We dibbed our dibber at the compulsory dip point on the A66 underpass.  Then along the bridlepath I was treated to an amazing view of the sun directly in front silhouting Chris.  Unfortunately I was too slow with the camera to catch it fully and got a bit of shaky cam.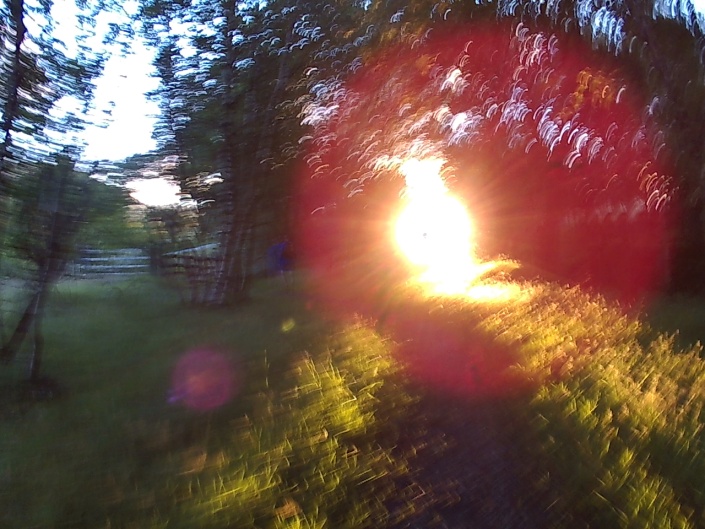 We made our way up the boggy section below the coach road which was just bloody awful.  Then along the next four miles to Dockray.  Chris was running much better than me here and was clearly pulling away.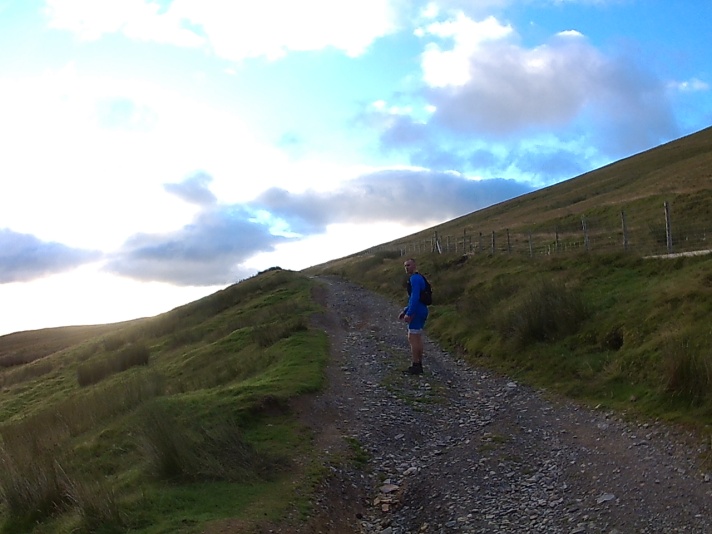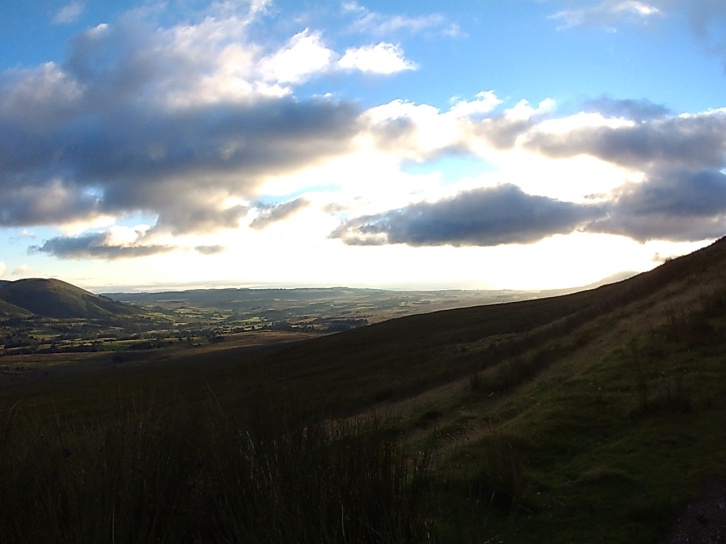 We got to Dockray where Laurence Eccles greeted us and the team helped to fill our bottles and fuel us.  After the boggy section Chris decided to do a sock change.  We were informed that the lead runner had been through four hours ago – how is that humanly possible?  A lad I raced with at the Conti Lightning Run, Nathan Walsh, was attempting his 5th completion and he was two hours ahead which I was pleased about (he went onto finish his 5th UTLD100 out of 7 attempts).
Chris tucked his wet socks into his pants to dry them off, it's amazing how resourceful you can be!
We set off on the longest section being 10.1 miles to Dalemain, the 'half way point'.
We made good progress down the initial road section and were wondering where the elevation was on this section then we remembered as we hit the climb going North from Ullswater.
We caught some other runners and one tagged on with Chris who was setting the pace, which I felt was at the top of my comfort threshold, I wouldn't be able to sustain it but whilst the terrain was okay I kept with it.
I was trying to work out the distance as I hadn't got a watch nor checked the Route Foldie.  From when I recce'd Boot to Buttermere I knew it was 26 mile from Coniston to Buttermere and Buttermere to Dalemain was 33 mile which doesn't equal 55 mile.  I worked backwards thinking 105 mile less the UTLD 50 is 55 mile so where had 4 miles gone?  I checked the road book and it said Dalemain was at 59 mile and the 50 does a little loop at the start.
This was a huge boost as instead of being slightly over half way I was nearing 2/3rds of the way round.  I'd only have 46 miles to do when I got to Dalemain.  Happy days J
Then we got to the road section on the approach to Dalemain where Chris opened up and ran on ahead.  I was now in ultra shuffle mode.  It wasn't fast but I found it an efficient way to run.  Chris stopped and waited for me at Dacre, 'what are you doing Chris I protested, just keep going', 'just resting' was his reply.
It was now clear that I had been consistently falling behind Chris and his pace was unsustainable for me, the elastic kept on stretching and it was getting close to snapping.
I said to Chris that he should go on ahead, I'd been to Howtown before but after that I hadn't done any of the route until Ambleside.  I'd be alright.
At Dalemain we were greeted by Leah and Wallman who were reprimanded for helping us by the marshalls, meanies!
I did a sock change, had a RedBull and unpacked my poles which had been strapped to my back for the last 59 miles.
We probably spent about 20 mins at Dalemain and then headed off toward Howtown.  Good thing Chris was with me as I thought the exit off the estate was different.  An uneventful run led us to Howtown where by now Chris was staying strong and I really struggled to match his pace.
I met him at Howtown and told him to go on ahead but he said that I didn't know my way over Fusedale which I didn't, he insisted on guiding me over.
This next section to Mardale I didn't know at all, sometimes ignorance is bliss and today it was.  We hit Fusedale, it hit me.  We slogged our way up it, my poles not really being much help as they just got sucked into the soft ground.  It went on and on, it was madness, it was just so insane you had to laugh and I did, several times.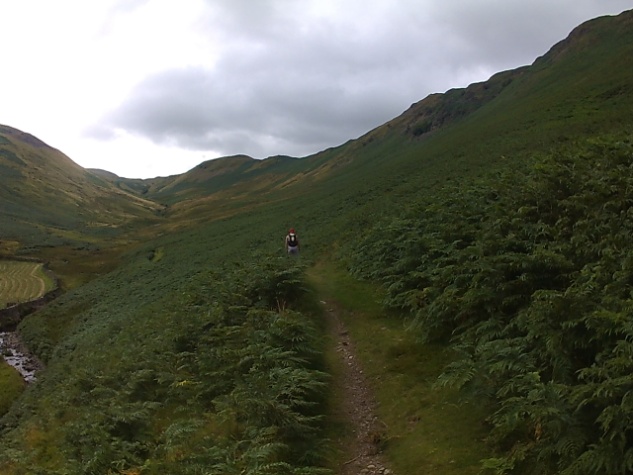 I was really looking forward to getting to Spardale to see the Spartan crew.
Eventually we made it over Fusedale and down to Haweswater.  I was hoping for a nice easy trot along to Spardale but I was wrong.  It was a hellish 3 miles beating along gnarly single track that killed my feet.  By now Chris had disappeared which I was glad about, I'd been slowing him down too much and he needed to crack on.
I cornered 'The Rigg' at the bottom of Haweswater and the most amazing sight and sound hit me – Spardale, a magical oasis in the middle of madness.
I got my camera out but it'd got condensation (aka sweat) in and wouldn't function properly, I was gutted I couldn't take any more memories.
As I made the final approach into Spardale I was filled with emotion seeing Paul and Richard shout me in and then the rest of the crew, I nearly broke down into tears, I just had to sit down and hide.
The support I got was just amazing, I cannot thank you all enough, you all looked after me and fixed me mentally after Fusedale broke me.  Luci helped with smoothies, soup, pop. Stu and Richard, Beck and Matt, everyone was utterly amazing.
I owe you all big time and would love to help at Spardale in 2017.
By now Chris was ready to leave, he asked if I'll be okay.  This is the point where the elastic snapped.  I told him to go, he'd stayed with me too long and I was holding him back.  It kind of felt liberating not being a burden to Chris and I felt more relaxed.
I picked myself up and wobbled my way up Gatescarth Pass towards Kentmere.  I knew that if I'd made it to Spardale I'd make it to the finish.
By now the UTLD 50 runners were starting to come past which was also ace, I got loads of support from them as they went by.
Matty Brennan caught me as I descended from the pass, I was surprised to see him so far back, he had pulled him back before the race – kids!  Unfortunately Matty would retire at Kentmere.
I soldered on but took a wrong turn coming into Kentmere, only an extra 5 mins, no real damage.
At Kentmere, Marcus Scotney greeted me on the door, I thought he was racing the 50 and as I was tired and he was in fancy dress I thought I was seeing things but no, it was Marcus.
More fuelling and back out towards Ambleside.  Tracy Ent and Pete Ackerley passed me.  Quick chat with Pete and wished him well.
I had a brief low as I descended into Troutbeck, I thought I was approaching Ambleside but that was still another climb and 3 miles away.  Oh well.
Then as I came into Ambleside disaster struck, I caught Chris.
Whilst I was happy to see him I was gutted that I'd caught him.  I'd been walking the ups and running all the flat and downs (and maybe a little bit of ups).
Chris was struggling, his feet were battered.  I slowed to a walk and we walked through Ambleside together, it was amazing.  People out in the streets, shouting, high fiving and giving us thumbs up and massive support, it felt like we were in the Tour de France.
We got into Ambleside and Steve Mee was there which was also another amazing surprise, a real boost.  Chris then went to patch up his feet whilst I refuelled and chilled.  Jim Moreton was there who would then help Chris.
I had to keep moving, I was getting cold, shaking and starting to cramp. I got the okay from Jim and Chris and headed out on my own.
Jim K caught me as we were dropping into Skelwith Bridge and he had a posse of followers, he looked so fresh and strong, unbelievable after 35 miles!
A truly dull shuffle along Elterwater led me to Chapel Stile.  I was looking forward to more hills after that section.
As I didn't have a watch I had no idea of time, I had to go old skool and use the sun.  I reckon based on recces that I wouldn't get to Tilberthwaite before dark, it'd be close so I put my headtorch on ready.
I now had to change my plan.  With 10 miles to go, pending a total disaster, completion was inevitable and I now put sub 30 hours as the target.  I guessed I had about four hours.  So 2 ½ mile an hour would do it but it'd be tight.
As I was chilling in Chapel Stile, Andy A caught me and we had a quick chat.
I cracked on and was now pegging with some 50 runners, they'd catch me and I'd latch onto them for a good while but they would eventually drop me.  I was making good progress and Andy A caught me again on the road section after the final self clip.
About 1K out from Tilberthwaite visibility was becoming difficult and I got a big scare.  In the briefing at the start Marc had talked about an article in the Westmoreland Gazette about a tourist being scared by a 'panther' near Ambleside:
http://www.thewestmorlandgazette.co.uk/news/14655304.Tourist_stunned_to_spot_a____panther____in_Lake_District/
I wasn't far from Ambleside and there was this large black cat figure on a rock above me, startled I turned my headtorch on and it was actually a black goat.  Still, I got a laugh out of it.
At the final CP, Tilberthwaite I was surprised to see Jaynie Turner, but a nice surprise.  A quick couple of colas and off up the Tilberthwaite steps of Mordor I went.  It was a struggle to get up the first step but once that was conquered I kept up the momentum.  I was keeping a good pace ahead of some 50 runners but they eventually went past me.  I asked one what time it was, he said they should get in at about 23:45.  Oh no, I thought, they may do but it'll be very tight for me.
I pushed on and caught a 100 runner who was barely moving, his headtorch just about on.
As I descended from Tilberthwaite onto the track I turned right instead of left, no time for extra loops I thought, just the one loop this time.
I then picked up speed knowing Coniston was less than 1K away and as I came into the town I heard people shouting my name then Jon Moorhouse came up beside me and guided me in saying that there was another 100 runner in front, so I legged it.  A sprint finish after 105+ miles - I wouldn't have it any other way!
I crossed the line in 63rd place in 29:21:23, a very happy man and 4Kg lighter.
Leah and Wallman were there and I could barely speak, I was more an emotional than physical wreck.  It had been a rollercoaster of an adventure.
I'd like to thank everyone who helped support, whether clapping, high fiving, fixing me when broken, training before the event, marshalling, the entry, it really does mean so much.
Amazing efforts from everyone who even gets to the start line, you are all legends.
Will I do this again?  Probably not, the journey was unbelievable, I was on a high pretty much all the way round and I want to remember it for that, I don't think it will ever be as amazing.
Could I have gone any faster?  I think so, there were sections where I did take it easy but I'm more than happy with how it turned out and that's just being greedy.
Montane vid (see 48-55 secs in): https://www.youtube.com/watch?v=MXDH1p7uOYw
Results:
Location
Time of Day
Leg
Elapsed
Position
Pre-Start Consiton
Fri 17:45:03
00:00:00
-00:14:27
Start Coniston
Fri 17:59:30
00:14:27
00:00:00
CP1 Seathwaite Village Hall
Fri 19:33:26
01:33:56
01:33:56
153rd (345)
CP2 Eskdale Corn Mill
Fri 21:08:23
01:34:57
03:08:53
115th (342)
CP3 Wasdale Head
Fri 22:29:47
01:21:24
04:30:17
106th (334)
CP4 Buttermere Village Hall
Sat 00:48:01
02:18:14
06:48:31
96th (329)
CP5 Braithwaite Church Hall
Sat 02:44:55
01:56:54
08:45:25
86th (323)
Glendeterra
Sat 04:30:58
01:46:03
10:31:28
81st (304)
CP6 Blencathra Centre
Sat 04:56:52
00:25:54
10:57:22
83rd (309)
A66 Underpass
Sat 05:30:24
00:33:32
11:30:54
83rd (302)
CP7 Dockray
Sat 06:53:13
01:22:49
12:53:43
79th (305)
CP8 Dalemain
Sat 09:04:26
02:11:13
15:04:56
64th (299)
CP9 Howtown Bobbin Mill
Sat 11:02:21
01:57:55
17:02:51
65th (275)
CP10 Mardale Head
Sat 14:09:13
03:06:52
20:09:43
64th (271)
CP11 Kentmere Village Hall
Sat 16:30:11
02:20:58
22:30:41
67th (257)
CP12 Ambleside
Sat 18:40:48
02:10:37
24:41:18
66th (244)
CP13 Langdale
Sat 20:09:41
01:28:53
26:10:11
67th (234)
Wrynose
Sat 21:25:57
01:16:16
27:26:27
67th (231)
CP14 Tilberthwaite
Sat 22:08:25
00:42:28
28:08:55
64th (232)
Finish Coniston
Sat 23:20:53
01:12:28
29:21:23
63rd (232)