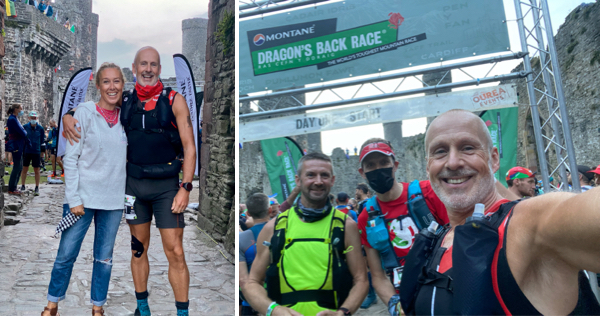 I'm lying on the pavement at Pen-y-Pass, hiding in the first bit of shade I have had since 7am. A film camera appears in my face as Montane media attempt to interview what must look like a train wreck beside the road. Not sure what I said but it probably won't make an editors cut….
The Dragons Back Race is a fearsome challenge and rightly proclaimed as such. To make an iconic mountainous journey from Conwy Castle to Cardiff Castle in 6 stages is all the motivation needed to drive me onwards. Traversing stunning brutal terrain makes it an expedition and awesome journey rather than a race for most, me included.
Leaving Conwy Castle at 7am with some very good friends around me, I wave goodbye up at Sian watching from the castle ramparts with a lump in my throat but with no sense of trepidation, just an overwhelming sense of embracing the adventure ahead.
The only uncertainty is how to pace such a challenge, when every day is a worthy ultra effort in its own right? I know I am not the only one and this is a topic of conversation with several other runners as we head for the Carneddau in the early mist, hoping to make good progress while the sun is tucked up above the mist.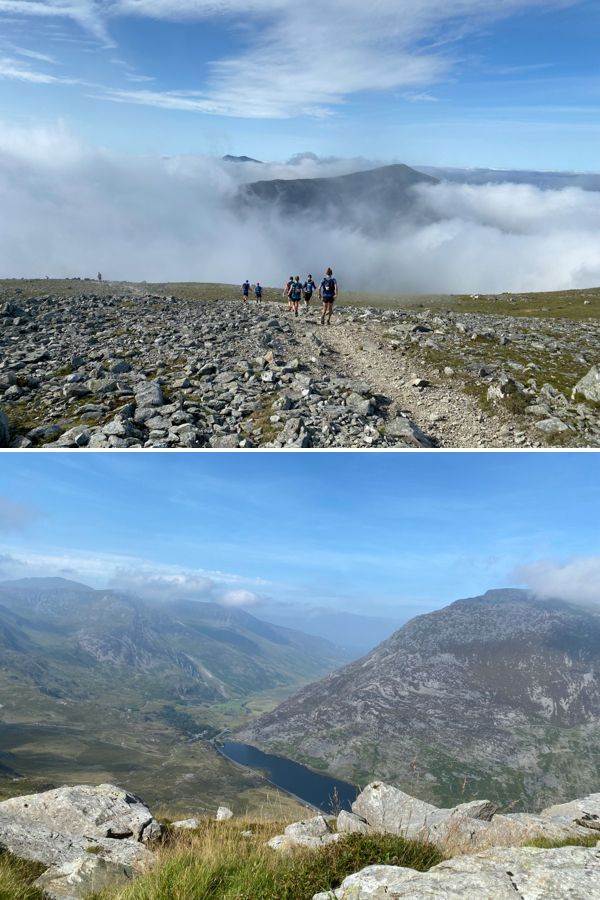 For me the added concern is the forecasted very hot weather for the first 3 days. Great for photos and tourists, potential disaster for me, especially when water sources in northern Snowdonia are extremely scarce. During hot races, water sources on the route help to keep my core temperature down.
Coming into Ogwen support point at 12pm, I was already a bit too hot and out of water but feeling pumped after descending Pen Yr Ole Wen. Refuelled perfectly from my dropbag, bottles refilled, the next challenge is a mighty ascent straight up Tryfan. 1,800ft up in one mile, but no surprise, having been up here this year a few times already. 
However, as I begin the slog uphill, suddenly I have zero energy. It feels like I have been unplugged. 
After a big effort so far, taking on too much food and water at the CP has possibly had an impact? The increasing intensity of the heat definitely bites and as I reach the scramble to the summit, both my adductors go into full spasm, bringing me to an excruciating and paralysing halt. My worst nightmare and my achilles heel with a known history of tendinopathy and weakness after bi-lateral hernia surgeries.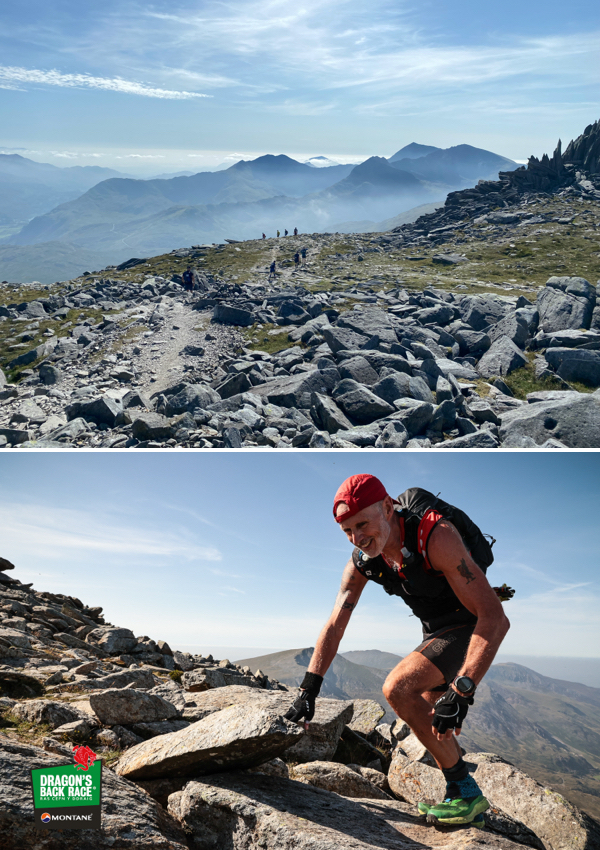 Only sheer bloody minded stubbornness got me off Tryfan and up and over the Glyders in-between hanging onto rocks during constant bouts of intense cramp. As I reach the water point at Pen Y Pass, it has taken a whopping 4 hours to cover just 5 miles as my dehydrated legs and body just shut down.
After 9 hours and 9,000ft of rugged Snowdonia mountain terrain, the heat has consumed me.
8 months of obsession with hill training were intended to offset the usual negative elements of my increasing chronic issues, adductors in particular. This year I have bagged 415,000ft of training elevation preparing for this race, to fortify my legs and prevent such spectacular meltdowns, but now I can't stand up without my adductors going into spasm. Even with over half an hour left before the cutoff, I know it won't be safe or responsible to head onto the final horseshoe section when I cannot rely on my legs to support me on exposed ridges and so that's my race done. 
Back in camp via a short minibus ride, I dib in and head to tent 30, home for the next 6 days with 7 camp mates. It hasn't quite sunk in yet. Cramp continues to bite, every muscle takes turn to kick off. Quads, adductors, calves, feet, fingers, toes. I yawn and my throat cramps. I head to the river and just sit in the freezing water, limbs twitching.
Day 1 would consume around a third of the entire field, including 3 race favourites as well as us adventurers. It doesn't lessen the gloom. That night as I lie in my sleeping bag trying to sleep with twitching cramping legs, someone is outside the tent retching violently for what seems like an age. Welcome to the Dragons Back Race.
Day two starts at 4:30am as the camp wakens. The cramps are still there and just standing up provokes more spasms. Despite the devastation with how yesterday ended, I still have a strong desire to complete the rest of the journey. I'm just not sure how to do that right now and not feel a complete fraud but I just can't face leaving. 
It is obvious that I haven't rehydrated enough despite forcing as much food and fluids into me as I could stomach. Starting this morning from camp isn't going to work and so I watch the others leave. It is another tough moment. Gareth will be going home today from tent 30, his knees let him down yesterday. 
Dragons Back is a somewhat unique race in that you can continue in a non competitive format if you retire or time out and so I decide to re-join the race by inserting at the support point at Cwm Bychan. That gives me a couple of hours to force as much food and fluid into me as I can manage. There are about 25 or more runners taking the same option, transported to the support point and we wait in the shade, trying to shelter from the baking intense heat of the day. 
Starting here the race heads straight up the Roman Steps and onto the tough Rhinogydd section. I still feel deflated and sit on my own, not interested in engaging with anyone else. 
We are released onto the route at 12:30. I haven't made any kind of plan, but I head off up the climb at a good pace, determined to push myself hard via some kind of penance and retain at least some semblance of inner credibility, despite feeling like a fraud by starting from here. So, I leave the others behind and see none of them again that day. After a mile I decide to leave the obvious race route and vanish up an alternate line to climb Rhinog Fawr from the western approach around Lyn Du that I had reccied with Gareth a week ago. 
My legs settle and although the heat is merciless, I reach the top of Rhinog Fawr alone, feeling much better and importantly no cramp. The views are stunning and my positivity tank starts to refill as I immerse myself in the spectacular terrain. I have already stared deep into my soul yesterday. 
This is why I am here, re focus, readjust priorities and live in the moment.
The aptly named descent of doom takes me down the infamous rugged boulder field and amidst the intense concentration required to move swiftly and safely, I speculate how quickly I would have been moving with another 20 miles in my legs.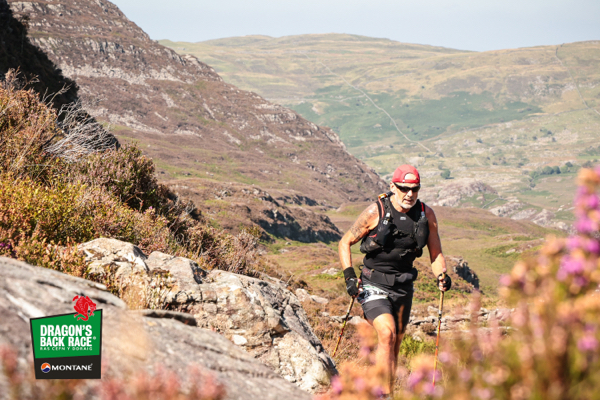 The heat is now really intense, reflected back in my face from the giant rocky boulders. There is nowhere to hide and no streams to cool myself in. The mountain is empty, only a few mountain goats watch on as I near the summit of Rhinog Fach. On the summit I see Lowri Morgan from the film team who last saw me sprawled on the ground yesterday afternoon. She comments that I look much better today, I am the first to summit the Rhinogs but it just reawakens my imposter syndrome. 
I see my first Dragon of the day between Fach and the climb up Y Llethr. It's the race leader, Russell and he powers past me. He comments that he is searching for more water to throw himself into to cool down.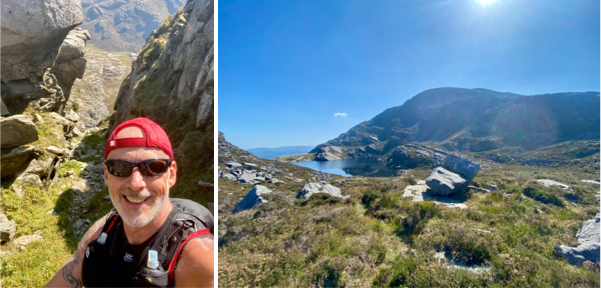 Onwards towards the last summit of the day at Diffwys, I divert into a spongy bog to douse myself. On the last push up to the summit trig Simon Roberts catches me, feeling the heat a little himself but pushing hard as he chases Russell down. Respect, these guys are on it.
Then I am back in my own company for the remainder of the run down into Dolgellau. People are applauding me as I cross the Toll bridge and run to the camp 2 finish. I do my best to put them right and it is a very odd feeling to be pushing myself but to what purpose? I need to sort my head out.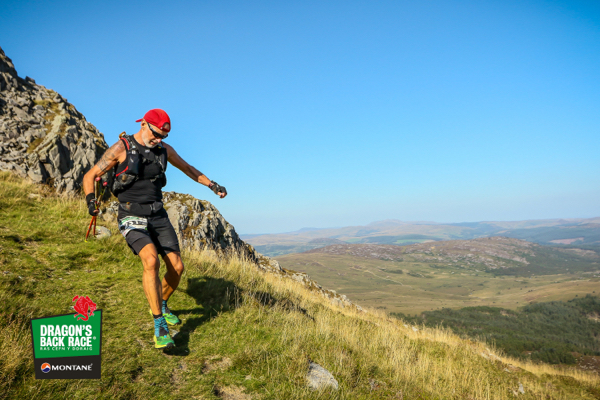 Over the line and then back to the tent, suitably tired and scorched despite the shorter distance. I see Dave sat outside. He and Jason have been timed out earlier in the day, the brutality of the heat that topped 30 degrees today. It's another blow to morale. 
Another river wash in the heat of late afternoon, the only option to get clean, followed by the ritual of forced maximum calorie intake and fluid replenishment. 
Just being part of this event, where the daily logistics of uprooting the tent village and its catering army with 9 tonnes of food is a mighty impressive thing to be a part of. I try to re immerse myself as a legitimate participant in the event.
Day 3. Another restless legs night, a 4:30am wake up and today I am determined to get out on the hill from camp. Cadair Idris beckons. Some debate with others about the days plan, plus a load of wasted time cramming my 59L kitbag means I end up setting off much later than planned and I know that will bite later. As well as the relentless nature of the running, the need to be on top of camp admin should not be underestimated. Each day involves kit check and weighing of drop bags, it eats crucial time. 
Another big mountain day and more heat lies ahead.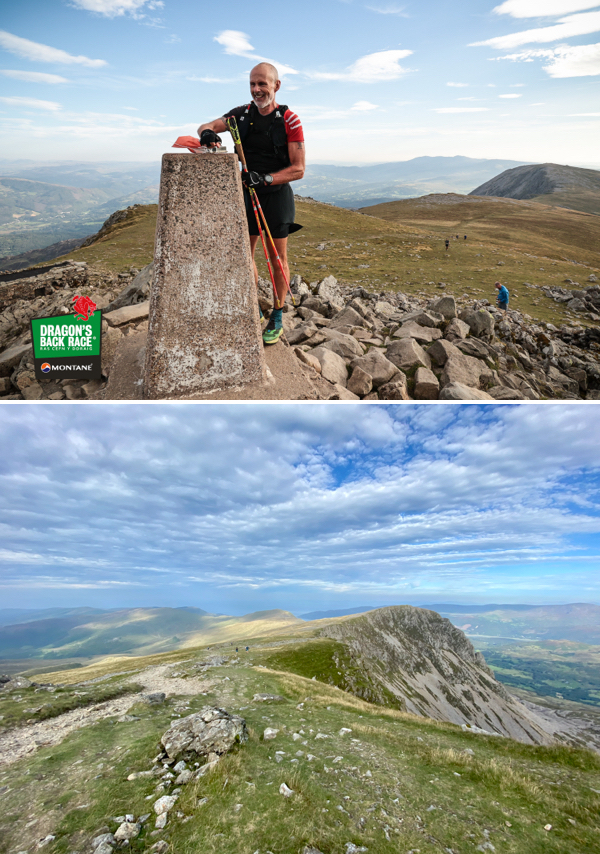 A couple of hours in and by 9am I have summitted Cadair Idris and feeling OK. As the day heats up my pace slows. Time is the hidden enemy. I have been anticipating the slog up Tarrenhendre but it still dents my pace. A niggling new recently acquired hernia and the usual right knee issues don't let me make use of the downhill sections and then gradually everything becomes hard work as I realise dehydration is creeping in again. I have had one toilet stop today and that was the first one, not of the day, but of the week so far.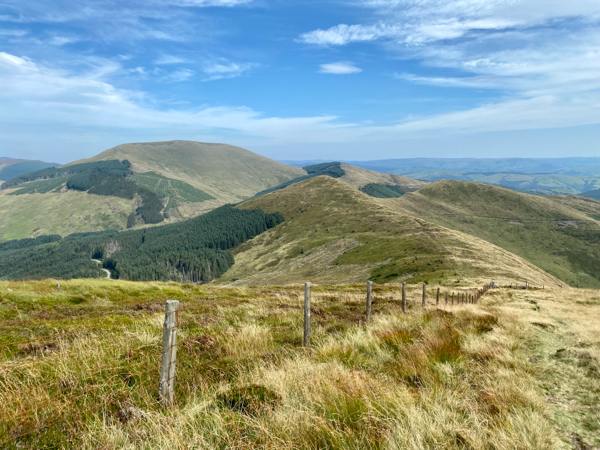 Heading onto the out and back climb of Tarren Y Gesail my 'live in the moment' spirit is properly tested. The long descent into Machynlleth needs a pick up in pace. I have run out of water and stop to find some streams to cool down and get me moving. By the time I hit the town I am limping on my right knee and time is running out to clear the cutoff at the support point. 
Everything changes when you are no longer in the game. Instead of racing to clear the CP, I make a decision to refuel properly and regroup for tomorrow, by hitting the Co-Op. If I had started at 6am I would have had enough time, instead when I reach the CP I have to retire. 
Can I get my body sorted out to carry on, without that extra inner drive of the dragon prize, it is very conflicting. Another day running entirely on my own bar the odd interaction here and there, I am lacking some positivity. Inspiring and tough surroundings should give me drive, but is it enough and despite the effort, another day ends short of expectation.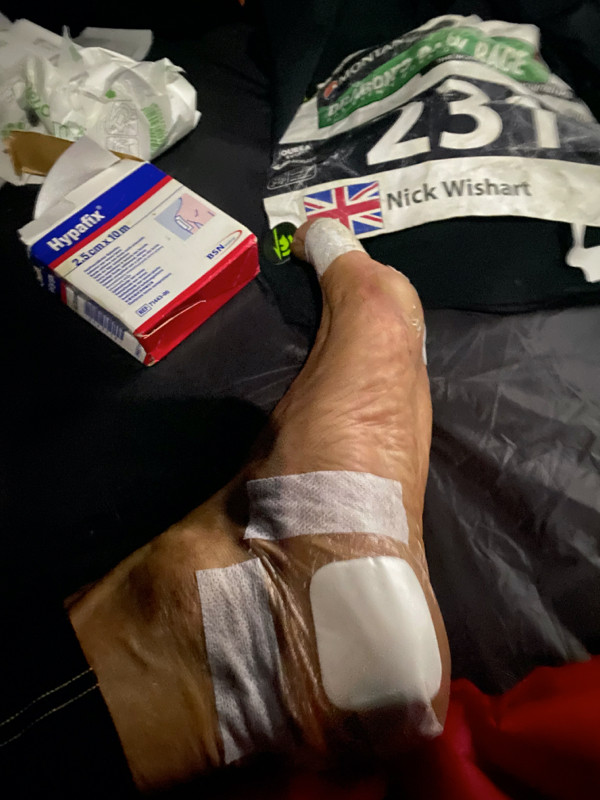 Back at camp, our tent is down to 6 and numbers drop to 5 when Dave leaves that evening. Iain and Richard are doing well, myself Dan W and Dan H are non competitive and held together with sticky tape.
Day 4 and the first significant rain arrived overnight but has now more or less stopped, leaving low hanging cloud but crucially it has washed out that heatwave. I have picked up my admin speed, though finding dry kit is becoming more of a challenge. Feet are tearing up a bit but manageable. 
I am up and out by 6:20am, not brilliant but better. Today takes us into the remote depths of mid Wales. 
Last night I was broken, this morning I am running. Camp is a strange place. In the evening you see so many hobbling athletes, the medic tent always busy. The mood is generally upbeat but there is still too far to go for anyone to be contemplating a guaranteed finish. By the morning, all these warriors miraculously transform back into runners, though the first mile uphill out of camp is an 800ft climb to ease the legs in!
As a non comp 'imposter' I keep my own aches and pains to myself and get my body moving.
The keyword of the next two days is tussocks. Huge hairy mounds of unstable grass that conspire to ruin my ankles with any lapse in concentration. There are also stretches of tarmac and fire road today and I surprise myself at my ability to switch off and run at every opportunity that presents itself.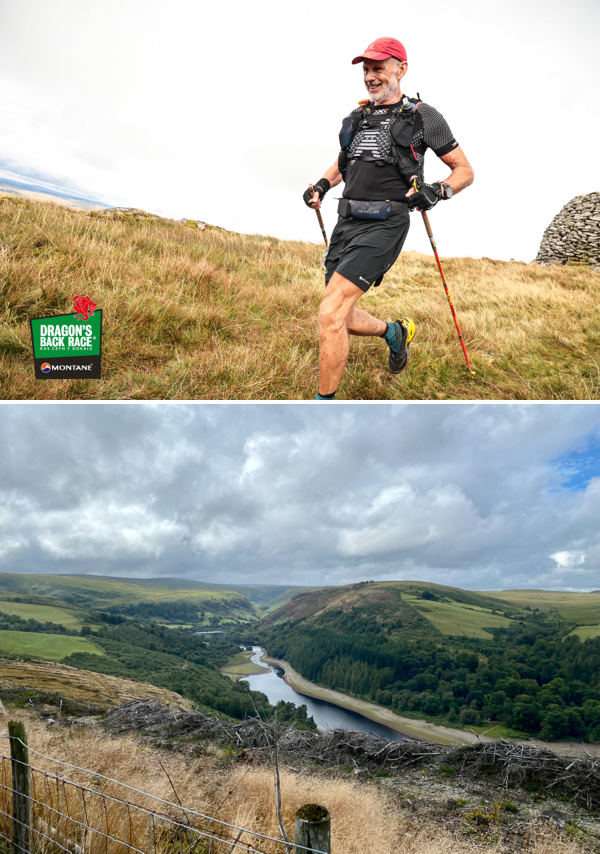 Today doesn't have any notable mountain summits but still packs over 7,300ft of ascent. With over 22,000ft in the legs so far, it is a grind at times, but I know I have the fitness and am solid in the conviction to get the day nailed, especially conscious of minimising wasted time. It is also noticeably cooler today and that helps me personally a lot. Not a sign of cramp all day.
Beyond Elan Village and an efficient support point refuel stop where I am conscious to not sit down, I head into unchartered territory, my training recce runs went no further south than Rhayader. 
The Cambrian Mountains are truly stunning. The last 10k is all on tarmac lanes to camp 4. Simultaneously a relief from the need to concentrate but also a real slog, however the scenery it winds around is awesome. I fall into step with Zoe and we distract each other from the pain of the road and manage to have a good laugh to the finish. We are joined by Dafydd, a very enthusiastic local who is out supporting the runners and he follows us in his car, stopping to take lots of photos of us set against the backdrop of a beautiful early evening. He was a delightful man and his enthusiasm for his homeland is infectious.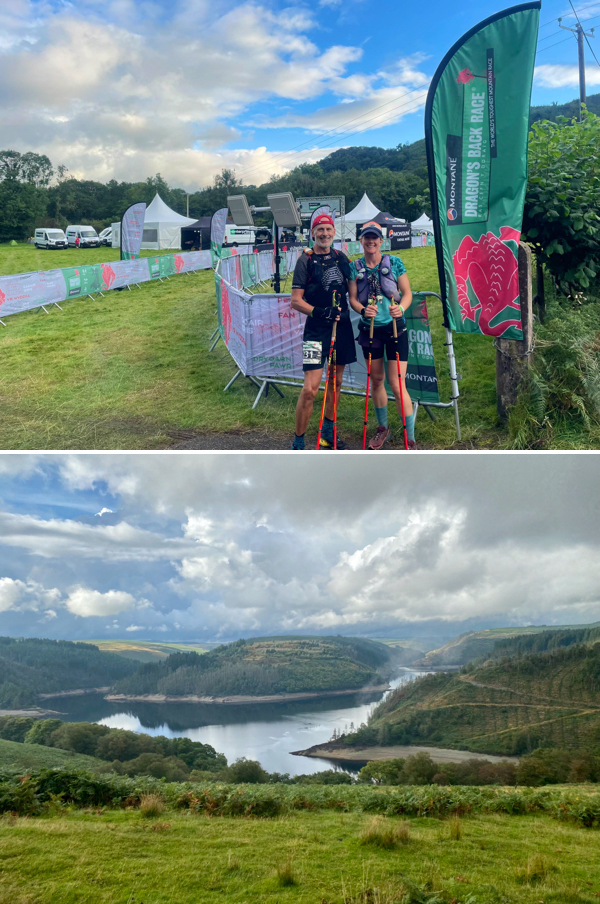 I have finished an entire day and the small personal victory masks the very uncomfortable feeling in my right knee that now feels like a bag of spanners. Today's stream wash is particularly bloody freezing cold and I am desperate to get into the food tent to fill my face. I compare with Zoe what she has been eating each day and what I have eaten. She concludes I must be running on fumes. I can't disagree as she has eaten today what I have probably had in 4!
Day 5. Widely billed as the crux day. A monster that takes in the entire Brecon Beacons range and apprehension is evident around camp. I am up and about before 5am, but immediately alarmed that I still have a painful limp. My feet are now also feeling very battered. I take some time with my admin, vital footcare with a scalpel to open and dress the heel blisters. The ones on the soles of my feet just get some tape that really won't do anything other than appease my need to 'do something'.
I really want to complete the last 3 days in full. Yesterday I almost felt worthy of still being here.
I am more desperate however to make it to Cardiff Castle. If I have to bail here, in the middle of nowhere, self extraction is not a very pleasant prospect and Sian won't be coming for me. It is my own personal pride on the line here, nothing more. I reluctantly decide to take the insertion option to Usk reservoir, thus avoiding a very roady first 15 miles and hopefully be able to limit the tarmac pounding on my knee and complete the challenging Beacons section.
I for one am delighted that the weather today is pants, better late than never! 
Finally I am in my domain, give me wind and rain over relentless sunshine any day. 
Once again, I am the non-chatty fella at the insertion point, deeply uncomfortable about skipping a section and just eager to get out on the route and merge with the race. 
It is one of those jacket on / off days. Some people around me are in full waterproofs. After a few sweaty miles in patchy rain, grimacing as my knee complains, I decide to ditch the jacket. 
5 minutes later the rain decides to return and give us a proper show as I start the climb up Fan Brycheiniog. OK. Jacket back on and I am rewarded by the distraction of strong wind and driving rain in my face while battling to the summit. 
This is ace and I am in my element for the first time this week. Witness my smiles in the photos, this is more like it. Knee issues evaporate. The only disappointment is a distinct lack of view for my first outing here, but stunning wild terrain nonetheless.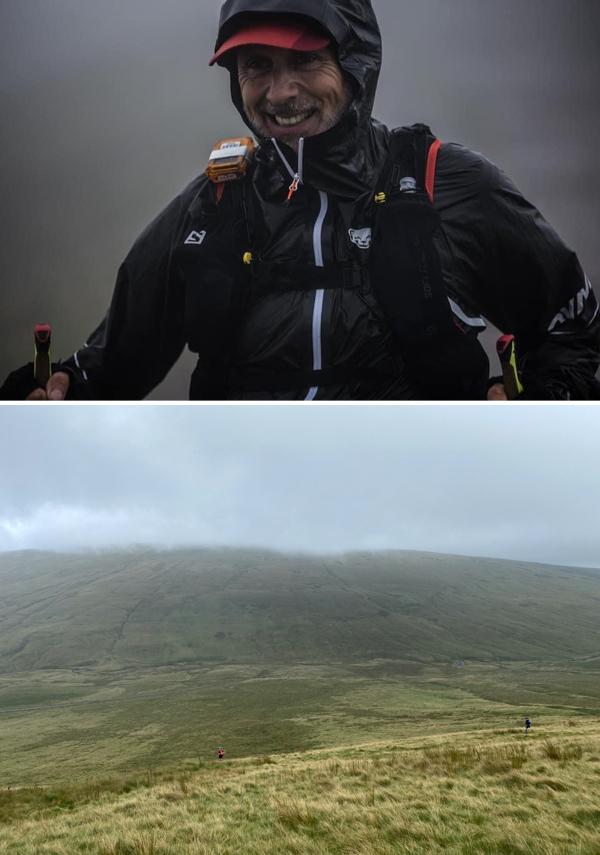 I swap places with another runner over the next 3 Fans where we make slow progress up and down pathless, rough very steep hillsides. Then on an innocuous stretch of ground somewhere off Fan Llia, I let my concentration slip for a second and go right through my left ankle, which makes that horrible pop / crunch noise that will be familiar to anyone with a history of ankle sprains. 
Swearing and shouting startles my running buddy who offers a little gesture of sympathy before leaving me to curse and swear behind him as I try to run it off. Given that we still have almost 20 miles of bloody rough pathless and steep terrain to go, it is fair to say I was concerned. The sharp pains eventually dull, aided by deliberately immersing my left foot into every puddle I can find, of which there are no shortage today. Concentration levels are now on overdrive to protect my ankle. It does make my downhill progress on the rough steep, slippery tussocky ground even slower.
I catch up with my companion as we drop out of the mist down to the A470 and Storey Arms water point, where the prospect of the burger van lifts our spirits. Having been on veggie food all week in camp, a bacon butty is a real treat and I march off towards Pen Y Fan with a can of coke to wash it down.
Pen Y Fan obviously seems to attract the same calibre of outdoor folks as does Snowdon and as I yomp up the well trodden path, I am passed by folks wearing the usual t-shirts and trackies coming down. Visibility is pretty poor and the summit is cold and shrouded in heavy cloud. 
It feels like a milestone has been reached. A few Montane media folks are around between the summit and Cribyn and I babble some happy nonsense to them along the summit ridge. My ankle seems settled for now if I just take care.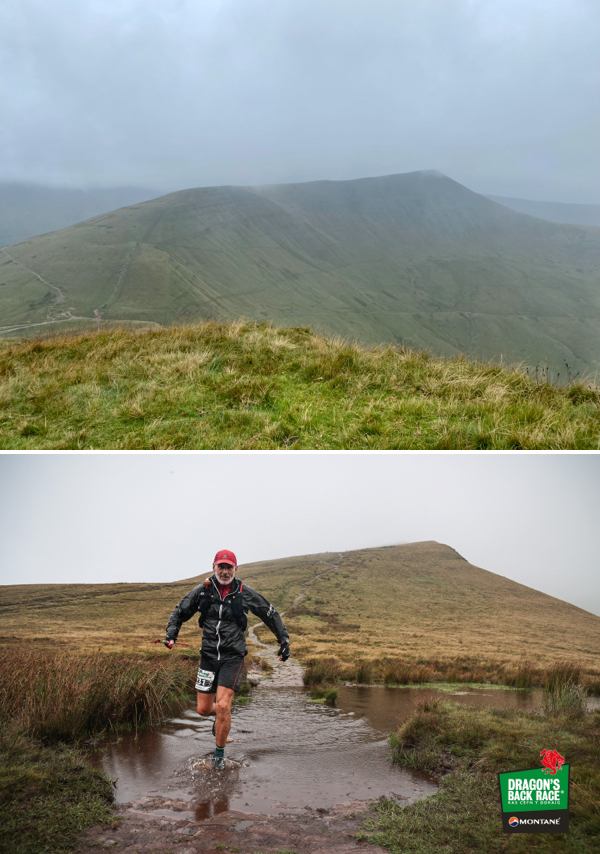 Occasionally the mist lifts and the characteristic shape of the Beacons is teasingly revealed before vanishing again. There is some respite from the rollercoaster climbs as I head around the summit ridges for about 3 miles before the final long descent into the valley and a very muddy and tricky if it was dark final couple of miles into camp.
The mood in the camp finishing day 5 is noticeably up beat, though finishers keep trudging in late into the night. I have been progressively hungrier through the week as my body recovered from the heat of the first few days. Tonight is a cauliflower curry and I think I had at least 4 bowls of it. This would have serious repercussions for anyone running behind me on day 6…..
I debate which is the most important first task; visiting the medical tent with my buggered ankle or getting the calories in. Food wins, before heading to see the physio to get a patch up job that will see me through the last 40 miles tomorrow. The ankle is very sore, not swollen because it just doesn't do that anymore, but thankfully also a little bit numb from the relentless time on my feet.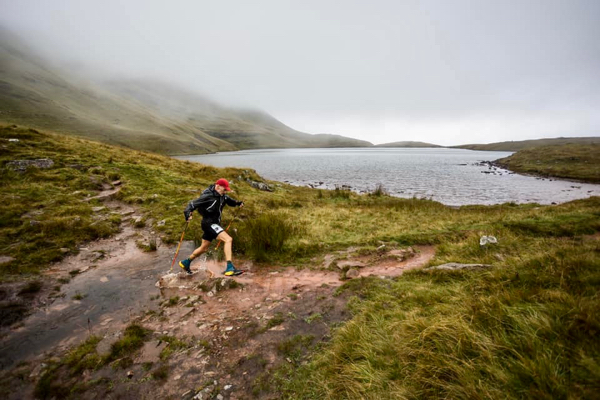 A first class job with plenty of expertly applied zinc oxide tape gives me some reassurance for the lateral instability. I think I also made an impression showing off my hypermobile ankles, not exactly an envious attribute for a mountain runner.
I get my admin squared off before sleep for once, desperate to be ready and faff free for the final day. Re packing my kitbag, reloading my race vest and selecting the least wet and smelly kit left to wear. Same shorts, underwear and my day 1 top from the bottom of the kitbag should make me suitably unpleasant to be around in Cardiff. The aroma in our tent is difficult to capture in words. 
And then there was 4. Only Iain and Richard remain competitive in tent 30. Iain has damaged shins and is very late in on day 5, weary but over the crux day. Richard still looks like he has done a daily parkrun and is cruising in 10th place overall. Dan W leaves us and Dan H has a lot of unpleasant foot damage but will try again tmrw.
Day 6. A beautiful red sky heralds the final day. I set off at 7am on the final 40 miles to Cardiff, very sore and feeling a bit queasy after a force fed mega breakfast, but determined to complete the journey that seemed impossible on Monday afternoon.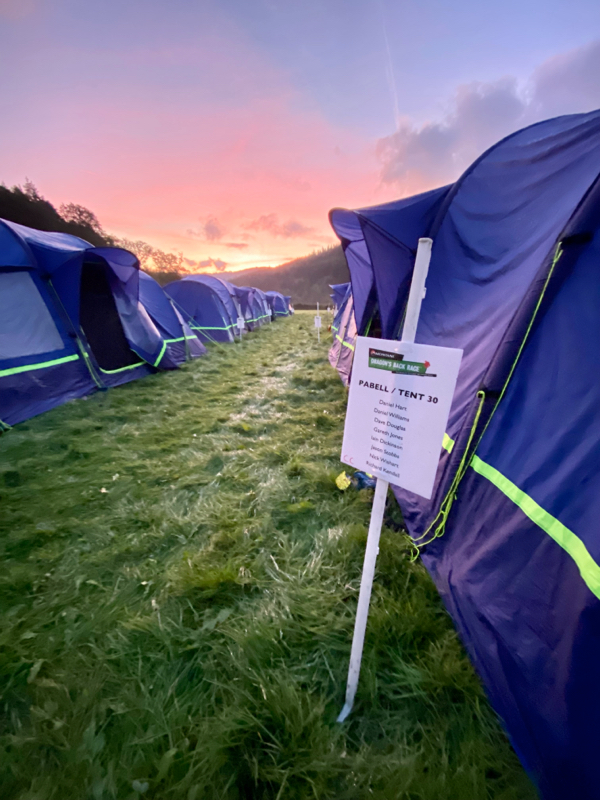 As I climb out of the valley above Talybont reservoir, I switch my phone back on and call home. We have been in isolation from the outside world all week, but I decide I need to hear Sian's voice. The emotions are high, fuelled by extreme tiredness that amplifies everything tenfold. Call made, I get my head down and keep my focus firmly on the task ahead, suitably nervous about protecting the ankle which gives twinges of sharp pain every now and again to remind me.
I catch Iain up who set off earlier than me today. His shins are giving him gyp but he has that look of determination that will see him march to the finish no problem, so I head onwards.
Passing through Merthyr I come across the aftermath of the local parkrun, getting a few happy cheers from the runners at the finish. I am on the lookout for a shop, desperate for a milkshake treat or some fruit. Somehow I navigate the entire town without seeing a single shop!
Today is a mixture of urban and country trails, with the odd little climb up nearby hills to remind me this is a mountain race. I have switched out of grippy fell shoes into my Hokas, my legs and knees are thankful, though the grip is lacking when needed.
The support point is at 20 miles, time for bottle refill and a rice pudding. It's warming up.
A few miles further down the road around midday I pass through Nelson, the sunshine is starting to take effect, the last thing I need. Ahead is a Co-Op and I make a beeline for it, along with a few other runners. 
What to buy!! A litre of Applejuice, a massive Yazoo milkshake and a big carton of watermelon pieces is my swag. Christ that watermelon never tasted so juicy. I probably should have bought some proper food but why break with tradition now…..
Mynydd Meio is the final summit of note. From here I can see the sea and Cardiff Bay. What a buzz that was. Ahead at 30 miles the final waterpoint is conveniently right next to the pub. Rude not to, so I take time to buy a cider and a packet of crisps. This seems a world away from what we have all endured in the last 5 days, but it signals a return into civilisation. From here it is mostly the Taff Trail, good underfoot and a chance to make progress for the last 10 miles.
I start to pick up a bit of pace as the trail becomes busier with walkers, families and cyclists, many of whom give a welcome cheer as I go by. I'm moving at more than 5 mph! I pass a few runners in the last couple of miles, everyone tired but smiling. The final mile feels like a sprint, the lump in the throat is back. The castle walls loom ahead and the final few metres are quickly consumed before crossing the finish line and a name check from the PA announcer greets me.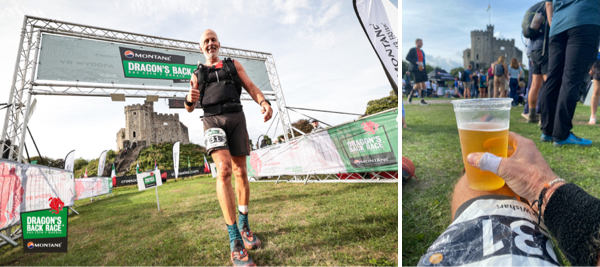 Relief and joy wash over me but is quickly dampened and replaced by that inevitable sense of loss and I move quickly away from the finish line where exhausted runners and happy families are reunited. While I was still running I had something to focus on. Once the journey was over there was nothing left other than to congratulate my friends, face time babble with Sian and Bella and then drink some beer. 
Massive well done to Iain and Richard my tent mates, to Lee and Zoe and to everyone else I shared some miles with. Well done to all that stood on the start line for this immense and awesome challenge.
Over 178 miles completed in 6 stage days and 42,550ft of ascent for me. Torched by the dragon certainly, but also a survivor. My goal was to make the epic journey castle to castle, north to south and after some emergency reassessment it was a goal completion for me and I am proud to have pushed my body to the end. The only regret is that I didn't enter the DBR a few years earlier, at least it was only 5 days then!
If you have read this far then you may just be looking for words of wisdom on how to slay the dragon. For what it's worth from me; obvious ones; It's unlikely you will arrive here underestimating and undertrained, so fitness shouldn't be the worry. It's the other stuff. Ability to run tired and damaged. Train on the terrain if you can because you need resilience in ankles and knees. If not, find rough, steep ground wherever. You can't complete this race by walking, be aware of cutoffs, they will eat you up. If you are slow it means 6am starts and late finishes. That takes its toll. Equally important is camp efficiency. A late finish means less time to eat and sort your kit for the next day. A 59L duffel needs completely unpacking and repacking every day, mostly in the dark. Kit weight counts. 8 people in a tent can be challenging to manage space. Know what you can eat on the hill when all else fails. Be kind to your feet long before you arrive. For me with bad arthritis in my knee, poles were an essential tool to help offload impact. Make sure you know how to use them. Finally, pray to whatever higher element you have faith in!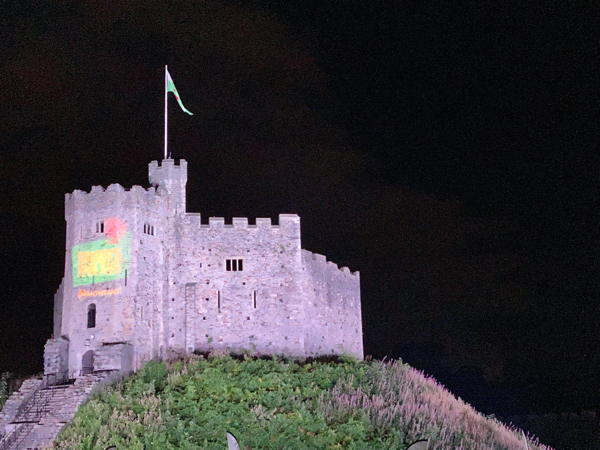 Events are made possible by the event staff. The DBR crew, all 134 of them; marshals, camp crew, caterers, medics and physios plus the superhuman catering gang get a massive and deserved thanks.
I am dedicating this whole years efforts to my wife and family who have lived with my obsession. The love of Wales certainly helped foster a level of tolerance! 
Diolch yn fawr iawn. Caru ti Sian!
Pic credits; Christiaan No Limits, James Kirby, Dafydd from #Cambrianmountains