Strava sends you a nice little message when the mileage on your running shoes reaches the point that I imagine shoe manufacturers want you to go and buy some more. I have always seen a maximum mileage number as a bit arbitrary myself, as it depends on so many different individual variables.
When I ran in road shoes I could tell when the soles had gone 'flat' and I needed some more. It varied, but 500 miles was decent for me as a neutral gait runner.
With trail / fell shoes, the uppers never stay in one piece long enough for me to worry about how many miles they have done!
So having received a few reminders from Strava recently about the 2 pairs of Supertracs I have on the go, I was quite impressed with their longevity and so I'm reviewing how they did since I bought my first pair last February. Pair one have logged 640 miles, still in use and pair two are up to 353 miles but have seen a lot of abuse!
Shoe choice is a supremely individual thing. What's good for one is inevitably not so good for the other. So take all this anecdotal feedback with a pinch of salt and maybe it will help. Or maybe it won't!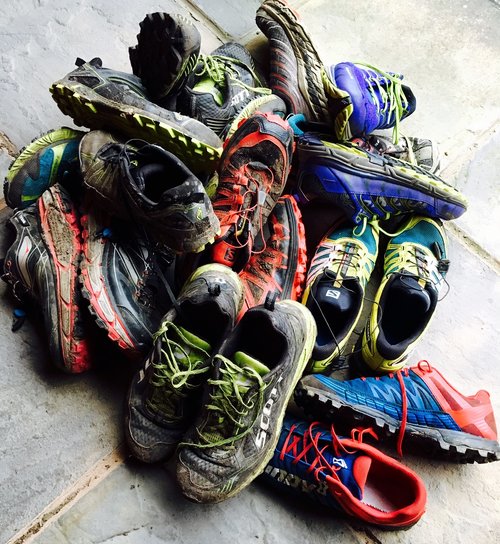 These are just the shoes that live in the coat cupboard....
My requirements
In short: loads of grip, reasonable drop height and good cushioning comfort. These three needs can't always be found together!
I run entirely off road. The only time I hit tarmac is to join the trails together. My style could never be described as nimble or fleet footed and weighing in at around 76kg my experience probably matches the average runner rather than the racing snakes that glide over the fells.
I also have an ongoing issue with hallux rigidus in my right foot which means my right big toe joint has a lot of excess bone growth and flexion is painful after a while on my feet. Not good for steep climbing or pounding downhills. This means I need a slightly wider toebox fit to accommodate the shape of my right foot. This counts out anything like a Speedcross type narrow shoe.
I therefore can't get on with a minimal drop shoe unless it's a short distance, so I want a compromise that retains sufficient ride height for cushioning my feet but keeps low enough for stability on rough ground. Oh yes, I also have hyper mobile ankles after a lifetime of sprains has weakened my ligaments.
At this point a lot of normal folks would and do say; change sport!! However, a 30 year addiction to running, especially since I moved off roads and into the hills certainly isn't going to be defeated by a few minor challenges like that……. 
Terrain
Other than the benign trails and fields around my home near the Sandstone Trail in Cheshire, my playgrounds are the Clwydian hills of North Wales, the Peak District and the mecca of the Lake District. Basically it's terrain as you would expect for any proper off road shoe. Door to trail capability is also important when considering potential for wear of softer compound rubber lugged shoes.
Supertrac verdict: these shoes play very nicely in all environments. Happy on a long distance run over fields, rough singletrack, road sections and offer sufficient confidence on steep and loose ground on the fells.
Grip
Grippy shoes are quite easy to choose from in the minimalist drop category, but in looking for shoes that offer a drop of around 8mm the choice isn't that easy. Hokas give me long distance comfort on ultras or slower recovery runs, but are useless in mud and on contouring terrain. I like my Fellraisers, but they run firm so not the best choice for me on longer stuff. As I run a lot of ultra distances I wanted comfort but with proper fell type grip. That's where these shoes are a winner for me. You still slide around on extreme surfaces, but only my deep cleated Mudclaws offer total confidence and they don't suit me on long distances or on any hard ground.
Supertrac verdict: the lugs grip really well and they also clear mud pretty efficiently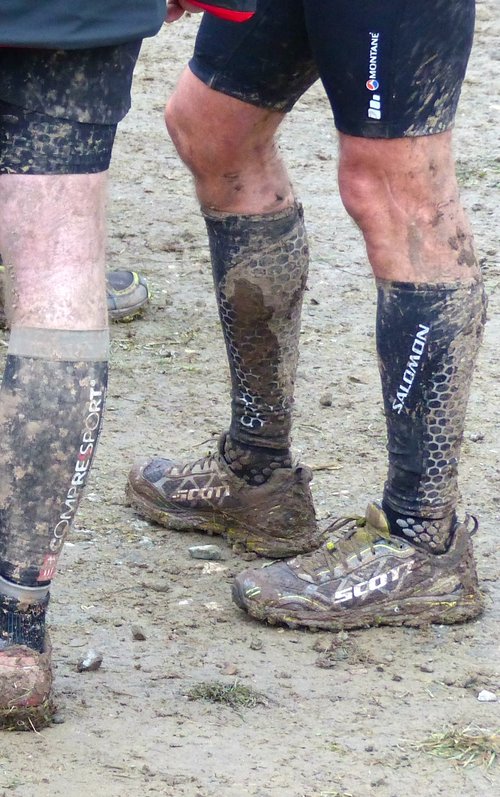 At home in the mud
Feel and comfort
Underfoot protection from hard rocky trails is useful, especially on some popular Lake District paths, but with a running style that has transitioned very much to a forefoot bias in recent years, I want to have good confidence in both foot placement and stability on technical terrain. The 8mm drop of the Supertrac is a good compromise.
In terms of comfort, they have a relaxed fit, a supportive heel cup and a large enough toe box to allow for comfortable movement and accommodate some foot swelling on ultra distances.
Not too stiff either and cushioning is good in the heel as well as forefoot for when your form inevitably dips towards the end of long races.
I won't try and interpret the jargon, but apparently they boast Aerofoam and efit ride technology. There you are then.
The mesh on the uppers is close knit to keep dirt out, but they drain really quickly, so river crossings or marshy bog sections are really no problem. When I get my Fellraisers wet, you can hear me squelching for miles due to the spongy insoles.
Supertrac verdict: a well cushioned shoe for long distance comfort but still retains enough forefoot feel on technical ground. After over 30 hours on my feet in my last event I didn't have a single blister or hotspot; these shoes are comfy.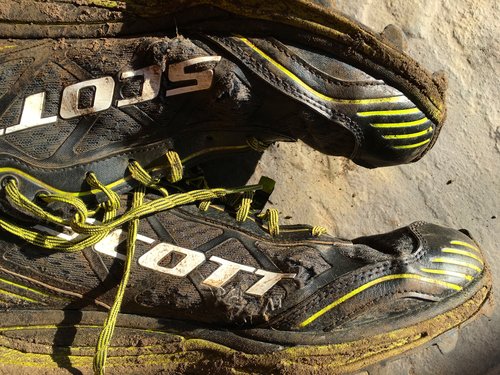 Needle and thread can easily sort a split before it gets terminal
Durability
The fact that I'm still wearing my original pair after 12 months use is testament to the excellent construction of the Supertracs. The tread is still very serviceable after 640 miles.
This has included quite a few miles on lanes as well as the usual soft ground.
The uppers have also performed well; though I should mention that they did eventually split around the forefoot flex points. All specialist lightweight shoes will eventually do this in my experience. Some amateur stitching has kept them in use but I'm ready to retire them now. Although I do try and remember to rinse my shoes, degradation of the material is inevitable in the environment that they are continually used.
In contrast, my previous favourites; the Roclite 295, although really grippy, would fall apart in weeks. My record was actually 5 weeks from new when my last pair split wide open.
The second pair of Supertracs have now gone the same way in slightly less time than the first, but they have had a harder life. Several ultras and multiple long muddy runs done, with 100 very wet and muddy miles around Cornwall during the Arc of Attrition last month inflicting the most damage.
Supertrac verdict: easily the most durable shoe I have owned. They take a lot of abuse and the tread is hard wearing.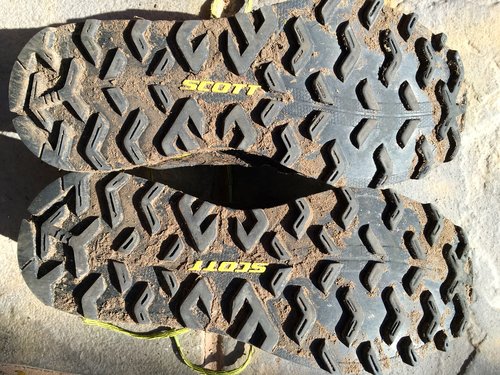 Some wear in the centre but plenty of tread life after 640 miles
Conclusions
I like to rotate my shoes quite a lot, but I found that the Scotts became my 'go to' shoe last year and I did about 50% of my 2,200 miles in them. I have just bought my 3rd pair.
I would like to say I was sponsored to write nice things about shoes, but I'm afraid I pay for kit with my own money like the rest of you, so there's no chance of bias from me!
At £100, they aren't the cheapest shoes, but the use they have had has justified the difference in price from my usual £60-£70 last years model budget.
If you want a shoe with the grip of a fell shoe but the long distance ride of a more cushioned shoe, Supertracs are a good candidate for consideration. 
Happy running…………