I love the whole weekend vibe of being involved in this race.
This is our fourth year as a family in Coniston, having completed JTF (just the 50) for the past 3 years.
I think I had run out of excuses not to enter the 100. I'd steadily improved my experience and time each year in the 50, but was never really enticed to step up to the 100, possibly because you see a lot of 100 legends in a pretty dark place as you pass them by!
It's also all about motivation. I needed to find the right motivation to fuel my determination to complete this task.
 Well, by Sept 1st last year, I'd decided that I wanted to have a go at joining the Lakeland Legends Club.
Our running club is small, with only around 50 members, but we have had a pretty good representation recently, mostly in the L50, with a smattering of 100 mile legends. There wasn't any real serious consensus about who was going to do what this year, but when the dust had settled after race entries closed a mere few minutes beyond 9am, we had no less than 10 of us signed up for the big one. That's 20% of club membership!
My training has gone OK and injuries have been manageable, with just a sore knee keeping me out for a few days after twisting it in Feb during the Arc.
Racing has been a lot quieter than usual this year. Longer fell races mostly. Plus, I completed my first non stop 100; the Arc of Attrition in February, giving me the priceless belief that I could make the distance.
A local ultra in May, followed by a great 80 mile Run for the 96 from Hillsborough to Anfield with fabulous friends were my biggest distances before July. The brutal V3K in June and a few last minute Lakeland recces brought my route confidence together.
 The plan? Run steady and try to run evenly throughout. Discipline and focus. Above all else, finish. A pair of 15 hour legs from Coniston to Dalemain and then back to Coniston was the 'A' goal. My 'B' goal was to be back before 4am, but the over riding goal was to complete. Never Surrender.
The race briefing usually throws up some pointers worthy of remembering. Here's this years pearl from Marc; "you may never get another chance to do this again, so make it count."
That came in handy more than a few times as I fought the demons that tried to make me quit! 
Approaching 6pm on Friday and the Spartans gathered in the starting pen. There was a fairly subdued atmosphere amongst the runners, everyone getting psyched for the off.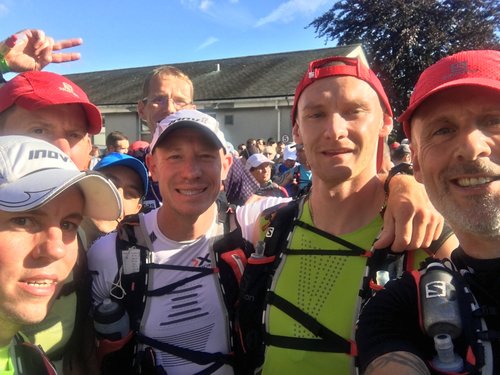 After the traditional Nessun Dorma rendition to get the hairs on your neck tingling, the countdown began and this was it, finally we were off. Up the road we went, the surge of excitement building as the crowd lined the streets all the way through Coniston. Andy and I fell in together, just ahead of the rest. As the road climbed towards the mines, we walked. Walk the hills, run the flats and downs. The definition of what counted as a hill would change as the miles clocked up!
It was a truly stunning evening to be heading off on such an adventure and I tried to stay focused on a steady pace as we wound our way up the Walna Scar Rd. With no HRM to check my effort, I used my breathing as the regulator of pace.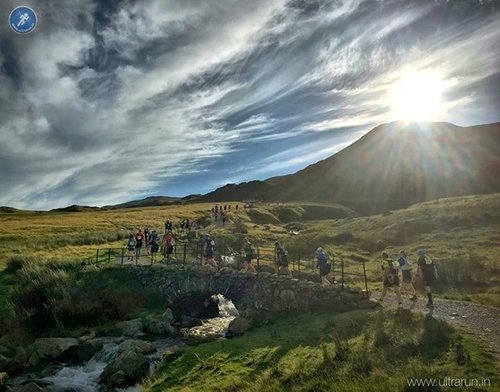 After a long beautiful descent into Seathwaite, we hit CP1 and a brief glance down told me I was about 7 mins up on planned time. No problem, go steady. Rapid bottle refill and straight back on the trail.
The run over to Boot was quite technical and extremely wet in a few places. Grassguards isn't a very inspiring or runnable section. Andy stretched ahead a little as we left the plantation, but I decided to stay within my own plan. This course deserves respect and a disciplined approach. More than anything else, I did not want to be a stumbling wreck from Dalemain and that thought kept my eagerness in check. Mostly! Chris caught me as we dropped off the hill into Eskdale and I paused for the most scenic wee break that you could possibly wish for.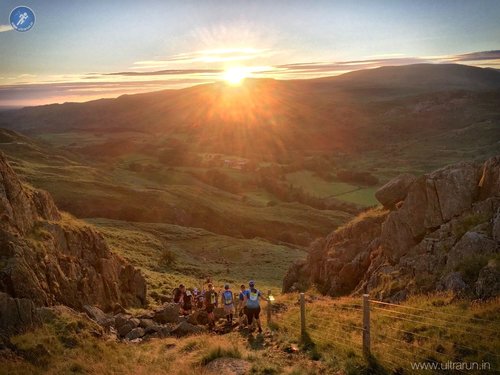 Looking back now, it's here that I should have been more attentive to my fuelling. My strategy was to use real food where possible in the early stages and Tailwind for the middle sections. Refilling with caffeinated Tailwind from Dalemain for an extra boost in the back half of the race.
Although I was taking in fluids well early on, I only ate a little Chia charge bar that I had in my race goody bag. No other food at all in the first 30 miles. This isn't an issue in training as I can easily run further than that with no food. However I had ignored the fact that with an empty stomach, priority of blood supply diverts focus to the muscles and more or less shuts down the stomach in the absence of anything needed to do there. This was to be my undoing.
I arrived at Boot, where rapid pitstops were still the order of the day. Debbie Consani filled my soft flask for me, decked out in a Sombrero. This race throws up legends wherever you turn!
I saw Chris and Alex briefly at the CP. Chris was going to change socks, so I headed off into the dying rays of the sun, hopeful of getting as far as possible to Wasdale before putting the headtorch on. I knew they would soon blast past me!
Once past Burnmoor Tarn, the light began to fade, as did my pace slightly. Chris and Alex caught up by the stepping-stones and I kept them in sight, still determined to use the remaining light as my guide. I managed to get off the hill and onto the rocky path before finally realising that I was now stupidly losing pace and time. I stopped at the stone bridge and got my torch out, just as Gareth rolled by and we ran together into Wasdale.
I had been looking forward to this one and it was great to see Tony Allen and the rest of the mental Strollers in full dead rock star legends outfits.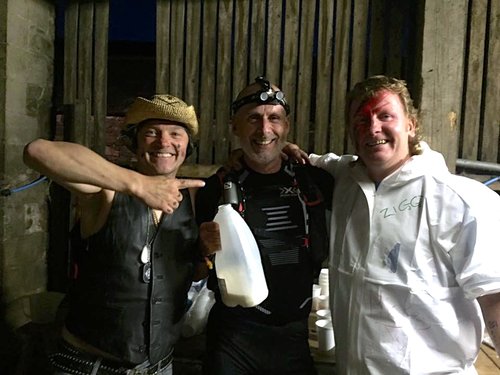 Although I felt that I spent some time here getting refuelled, other than cups of tea and a packet of crisps for my pack, I didn't actually eat anything! It was however brilliant to have a Spartan reunion and the 5 of us headed into the night and the toughest section of the route; Black Sail Pass.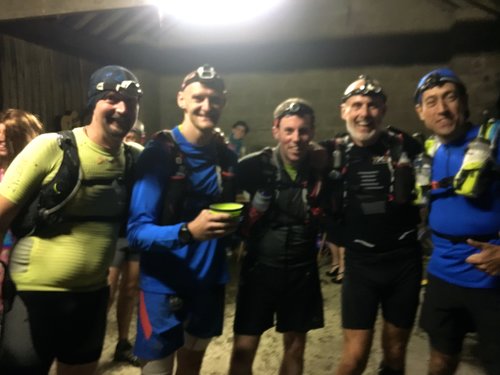 The climb up the pass felt fine, though I did wonder if my decision to pick up my poles at Dalemain had been sensible! As we climbed higher on a beautiful clear moonless night, looking back we could see the most awesome sight of headtorches snaking all the way off the hill down into Wasdale, along the valley and up the pass. Wow. That's a special moment.
Finally reaching the summit, we had all strung out again and I was on my own, which is fine as I could make my own pace. The descent to Black Sail hut is very tricky in the dark, but I bridged the gap back to Gaz and Andy as we dropped down, running together to the next climb up Scarth Gap.
My first real signs of unhappiness began to emerge as I found myself alone again on the run alongside Buttermere. Negative thoughts and a feeling of queasiness had crept up on me.
By the time I reached CP4, I was really struggling. I dibbed in and sat down to get myself back together. All I could manage here was some tea, strawberry milk and a visit to the loo to deposit it all again. As I wobbled outside, Avo and Hackos appeared, looking very bouncy. Paul offered me a bit of hotdog, which would have been catastrophic if I had tried it!
Anyway, the 3 of us set off towards Braithwaite and the contouring sections through the bracken. It didn't take long for those two to leave me and I plugged onwards. The climb up Sail Pass seemed to take forever. I could hear voices behind me and as I really wasn't feeling sociable, I was determined to stay ahead. This kept me moving steadily forwards, until the voices faded and I was alone again in the night. The descent to Braithwaite was unexceptional, although I did pick up a few stray headtorches that had gone off route and needed guidance back onto the correct path up to Barrow Door.
 I hit CP5 just after 3am, now in serious need of fuel, having eaten nothing of any note for 9 hours. I craved some fresh fruit, but to my dismay there was nothing on offer, though I did have some rice pudding and jelly. At this point, a lovely lady marshal answered my desperate plea for assistance and produced a tin of sliced peaches. You would have thought the numbers had come up on the Lottery, such was my reaction and also those of a few other runners. Like hungry birds, we consumed the peaches in an instant and my mood immediately lifted.
With wet sore feet, I decided to make my sock change here, as we were in for some sections of road and drier ground. Gareth and Andy were still here. Gaz left as I swapped socks, but Andy and I headed out into the dead of the night together.
My quads were feeling wrecked, most likely due to the pace of the downhills that we had faced. Whilst in the CP they had totally locked up and I stopped by the A66 as I needed to stretch them out. Andy decided to carry on and that was pretty much the last we saw of each other, as it took me a while to get a rhythm going again.
Other than being heckled by some dickeads in a car blasting past me on the A66, the next few miles up onto the Skiddaw path were uneventful and I was happy in my own company, eager for the lightening of the skies that would signal the new day. I had a welcome cheery encounter with John Kynaston in the Skiddaw car park, before heading right and the horseshoe section round to Blencathra.
I took off my headtorch at 04:30 as the light lifted the gloom, but my pace was still pedestrian as I approached CP6. Queasiness had reared its ugly head again. All I could manage was several pieces of refreshing water melon, and a nibble of Little Dave's mums cake, remembering to sign the thank you book before I left. I just wish I had taken more notice of the salty potatoes on offer, as I would have taken some with me.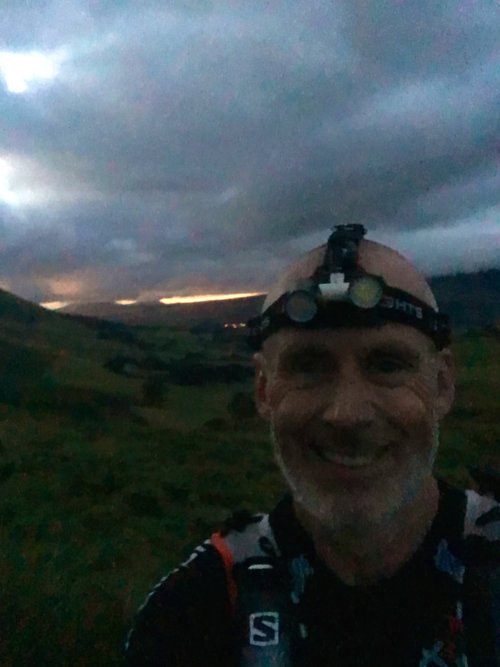 By now it was full daylight and this is often a time that my body starts to hit a natural low point with lack of sleep. I think my pace was so poor that it didn't affect me, but I tried to make good time on the easy sections before hitting the nasty boggy approach to the Old Coach Rd.
The dullness of this section made it hard to stay focused, but I was delighted to hear the cowbells ring me into CP7 at Dockray, just after 07:45. Although I was feeling miserable with my lack of energy, my actual time from the CP estimates was within 20 mins of my B plan, so I tried to take a positive lift from this. Bridget and Lawrence were brilliant at refills and after some more water melon off I went towards a section of the course that I know and love so well around Aira Force and Ullswater.
Here I fell in with a couple of guys and as we made our way around the foot of Gowbarrow, we picked up a few more, including Mark, from the RED facebook running group. Feeling inspired by the total beauty of Ullswater from the path as we climbed the hill, I tried to keep a good steady pace. The thought of reaching Dalemain was now a real boost.
Looking at the pace splits, I think this section to Dalemain was one of my fastest and although the lanes to Dacre were dull, I came into CP8 feeling slightly elated, especially when greeted by Sian and the girls as I came around the courtyard. Emotions surged and Harriet and I ran around to the CP together. I was handed my drop bag and then a host of friendly faces seemed to appear and the next few minutes became a bit of a blur! My number one fantasy food had been my can of Guinness, so out it came before anything else. Christ that's the best beer I had ever tasted!
Dave guided me to a seat outside. This was the main pitstop, so I had made a list of actions I had to remember. I had a full clothing change and ate more food than I had managed since the race start. Stew, fruit, custard, tea and beer.
I know I was here too long, but as my race goal was already blown apart, I preferred to get everything done and take my time, ready for the last 46 miles.
Eventually I had to leave, poles in hand, quietly confident that whatever happened from here, quitting certainly wasn't on the cards.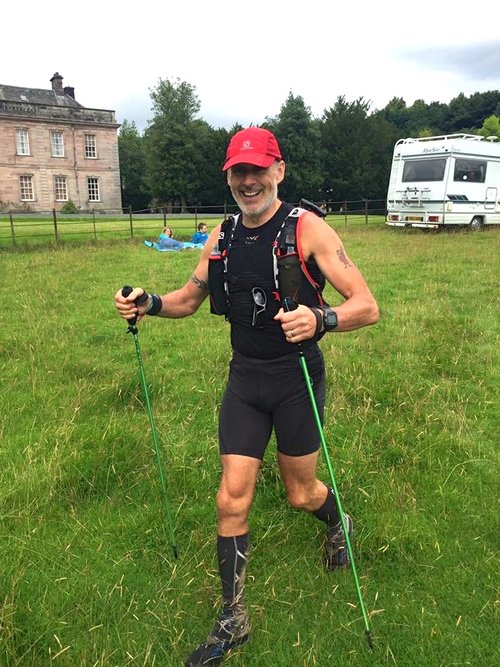 My pace to Howtown was good, it's amazing what food can do for your energy levels…..
As I came into CP9, the freight train of the lead 50 runners blasted by, offering me encouragement as they went.
It did mean that as I tackled Fusedale I was going to be a mobile roadblock for the masses as they passed on narrow bracken lined paths. I kept my head down and struck a good solid pace up the highest section of the route. Positivity was fine and I led a little posse of 100 runners to High Kop at an honest pace.
Andy and Flick passed me near the summit, looking really strong. Once the climb was over, I seemed to lack the drive to push on over the easier spongy ground. I felt slow, but there wasn't much I could do about it, so I just plodded on, with the drop from Low Kop really hurting my battered quads. The trail to Mardale takes forever when moving quickly. With the pace I was going at, it seemed to take all day, the sun was out and it was really heating up. But rather than feeling negative about it, I stopped at every stream to dip my cap and keep myself cool and just marched onwards. The final section around the lake reveals the oasis that is Mardale head and I could hear the bell ringing, as well as a loud whistle that seemed incessant.
Eventually, the whistle drew me into Spardale and my mates from Sparta manning CP10.
Turns out it was Richard holding the whistle and I didn't have the energy, or the stepladder, to take it off him!
I think I just wandered around Mardale for some time, looking in vain for inspiration for something to eat. Beck sorted me with a salty ricecake and granola bar (thanks Beck!) and off I went. I fancied some nice cold stream water, so filled a bottle part way up the hill. Then with renewed purpose, I set a good tabbing pace and marched past as many 50 runners as I could, before seeing most of them re pass me as my quads screamed all the way down the other side.
This section of the race is where I dropped to my lowest position of 120th going into Kentmere. By now, my left foot was really burning with a nasty hotspot from the brutal underfoot terrain in my Inov-8 290's. I was fabulously cared for by Marcus' wife Jen with several smoothies and tea, whilst I peeled off my sock and applied a Compeed to my foot. Although the foot still stung like hell, it did provide some brief respite. As I left, I decided I needed to also sort out the fire that was burning my undercarriage, which was chafed to hell and now almost unbearable. In my medical kit I had a silicon wet wipe. I had the ingenious idea to wedge it inside my underwear to separate my butt cheeks. Who knew if it would work, but I was prepared to do almost anything. Apologies to anyone that saw me standing by the village hall with my keks pulled down, wincing as I wedged a tissue into my undercrackers……… Needs must and all that.
The journey to Ambleside was filled with swear words, as I took very painful steps over what felt like broken glass over and down Garburn. I had done the L50 three times in Hokas, so those broken rocky paths are far less traumatic. Annoyed at myself mostly and discovering I had phone signal, I decided to call Sian on the way down to Troutbeck so I could rant and swear at her instead. Sorry about that love, but I did feel better for it!
From Troutbeck, I managed to start overtaking people and my spirits lifted. I also had a couple of celebrations sized Twix bars, that lifted my energy levels and as the gloom deepened on the approach to Ambleside, I started to run again. Before hitting town, I passed the White family, a very welcome sight to see Jon, Claire and the boys. With renewed excitement I legged it past the pubs, roused the crowd into some spirit lifting cheering and suddenly I was at CP12 and the family were all there.
I was somewhat distracted by Aleks posing as the bearded lady, but managed to pull myself together and wobble off through the park with the kids. I said my goodbyes and headed into the last 15 miles, messing with my watch charger to try and coax it back to life. Shame I couldn't plug myself into something.
From here I had been told that James and Paul were only about 20 mins ahead. Although my feet burned with fire with every footstep, I kept a strict run / walk shuffle going and when at last I arrived at the fairy oasis of CP13, there they both were, tucked up in front of a bloody enormous fire!
I had one mouthful of cold stew, spat it out and coaxed the dynamic duo to get up and leave with me. Unfortunately they both seemed to be locked in the state that I was now ascending out of. I was pretty warm in a sleeveless top, but they both looked shivery in their jackets from a slow decline. Our paths soon stretched apart and I left them behind, knowing they would be fine together but having no idea how bad they were really going to get beyond the Langdales.
I decided to add another T-shirt layer as the fells were getting a little cooler, but the air temp was still feeling warm.
I bridged a gap to another group making good time, with a mix of 50 and 100 runners in it and we made our way to the climb up Side Pike Pass. Here the group splintered and I stuck with the front guys past Blea Tarn and then over the tricky section past the bogs to reach the unmarked dibber at Wrynose. I wanted to preserve the compeed on my foot and amazingly I kept my feet dry for the first time ever as I reached the road. I couldn't make use of the road section as much as I wanted to due to my burning feet, but by now I had fashioned a special little hobble to shift the weight off the soles of my feet a bit.
There is a small sense of elation in reaching this point, with Tilberthwaite one small climb away. 3 of us descended together to CP14, where I planned to stop as briefly as possible and see what time I could retrieve to the finish. I had a quick chat with Jaynie, passed any offers of food and drink and set forth up the lantern lit steps of Tilberthwaite, accompanied by one L5o runner.
I don't know where the thought came from, but as I climbed the steps I decided to make a run for it. Before I knew it I was passing little groups of runners. The more people I passed, the better I felt. Go for it. My legs felt great so I just pressed as hard as I could. Over the stream, I must have passed about 12 people, such was my focus on the prize ahead.
As I neared the top of the pass, a meteor shower sent a fabulous spray of white across the clear sky. This was a magical signal to launch my descent into Coniston. The advantage of NOT wearing Hokas was that my foot placement on this tricky descent was far easier and down I plummeted. Once I hit the track, I passed another group with a couple of 100 runners in it. I whooped some sort of ridiculous battle cry and legged it. I just completely shut out the pain in my feet. I only had to endure that pain for a few minutes longer.
Hearing footsteps behind me, I saw that I had some company from Henry, whom I think I had last seen 104 miles ago on the way up this very hill. We flew (relative term) down the road, passing some more runners, past the Black Bull and charged on our unstoppable final few yards of an epic journey. As we came down towards the school, I waved my poles around and I think I shouted Sparta before coming to a halt at the gates and dibbing in to the finish. 03:45, 63 minutes to get from Tilberthwaite, I had regained 13 places since leaving Langdale and I was buzzing.
Sian appeared and I was engulfed in hugs and congratulations from friends. From somewhere a can of Guinness magically appeared and was duly opened and necked on the finish line. Perfect!
I really wanted to be able to finish on a high. I think I achieved that.
All the pain and trauma of the journey was forgotten. Lakeland 100. Done.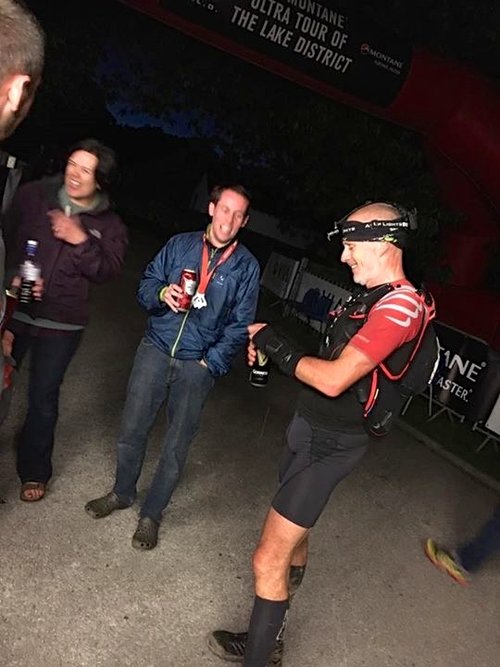 Race over? Better have another Guinness then
https://www.facebook.com/nick.wishart.58/posts/1968140240079171?notif_t=like&notif_id=1470384215519294
Now it's over, I have those inevitable thoughts of what might have been. Finishing so strongly tells me my pace was even but could have been better if my energy had been fuelled correctly. I burned around 17,600 calories. My intake should have been 100cals per hour to supplement my determined rate of fat burning. I probably managed less than half that. Room for improvement!
The weather was kind. Another year may not be so benign. That's what makes ultra running so interesting and unpredictable. We have to adapt to circumstances.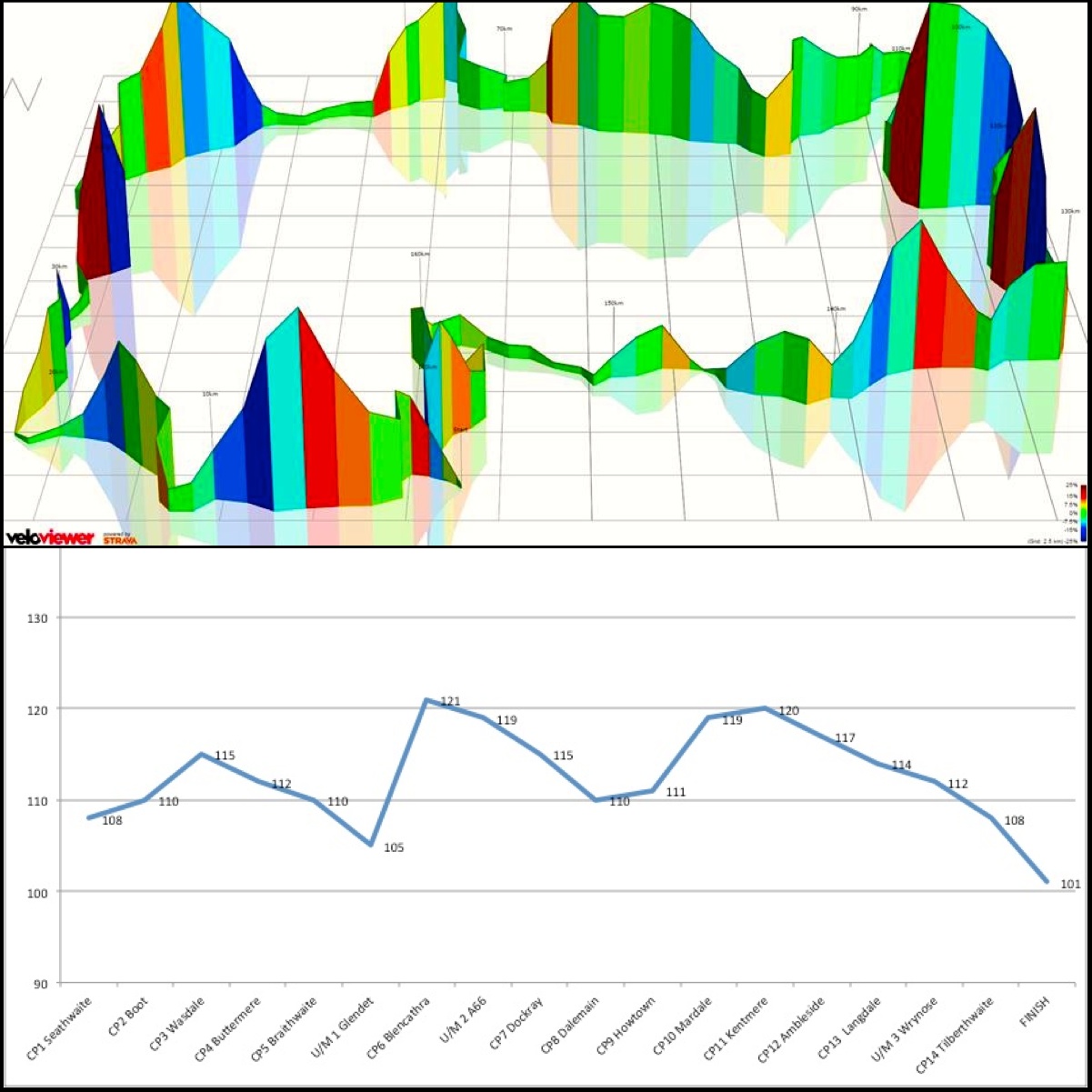 Massive unconditional thanks for all the unbelieveable support from my family, others families and a boatload of friends. Dave, Steve, Jon and the family. Thanks to Giles for some awesome pics he took during his own run. Thanks to the marshals who make this event what it is and thanks to the runners I met along the way, all of whom wanted the best for each other. I did apparently tell Sian in my Tourettes outburst at Troutbeck that this was it. I can't remember any of that!!
Delamere Spartans; a small club with a bloody big heart of steel.
Never Surrender