Another year and another weekend in Coniston at the end of July. I've been making this journey since 2013, since I first arrived as an ultra novice to run my first ever 50 mile race.
Even last year as I prepared for my 5thUTLD and second L100, I felt nervy and uncertain. It was probably because I knew I wasn't adequately prepared and knew what suffering lay ahead!
What got me through last year was an unbreakable will to finish, inspired by the loss of one of our closest friends just 2 weeks earlier.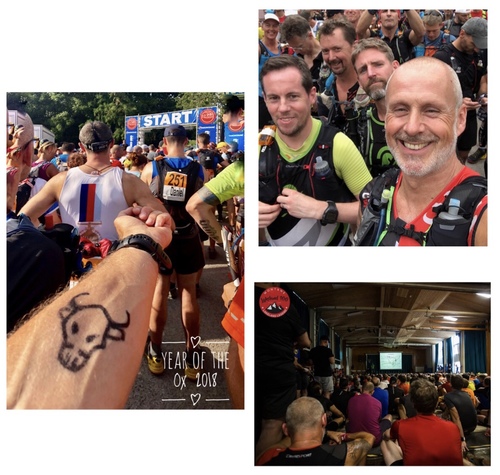 2018 at the start with my Ox Power at the ready, and this year.
This year we arrived two days early, as in 2018 and set up camp on the shores of Coniston Water.
The only change was the new four legged family member. Having time to 'acclimatise' is great and we had loads of family fun on the water.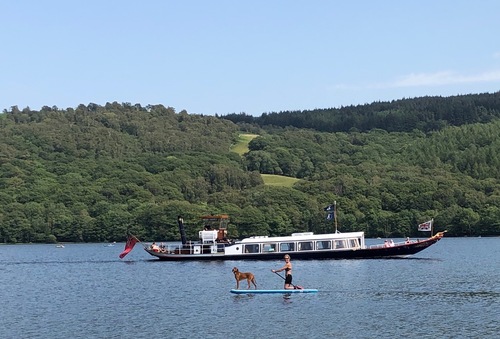 Dog decides she likes paddleboarding!
The most stressful element of the whole weekend was the process of getting into the school field and setting up base camp! Once that was done by 0930 on Friday, I relaxed and had absolutely no worries or nerves about what lay ahead.
Being able to kick back all afternoon was one of my very few pre race goals. Hydrate and chill out. The family went off to the lake for more water fun and so I faffed around with kit and dozed for a bit.
 I am a big believer in having a very firm race goal and had been struggling a bit to find one this year. Naturally I wanted to improve my race time. Last year I was 75 minutes slower than my previous 100 time.
This year I knew I was much fitter and my knee arthritis issues seemed under control for once.
During the first week of July a group of six Spartan mates spent 4 awesome days running the Tour de Mont Blanc route and four of us were in for the 100.
I felt that my legs were ready for the climbs after some monster Alpine elevation. 
 Spartan beer and mountains tour
 Setting specific time goals is always fraught with danger, as the weather can devastate the best of theoretical plans.
With two race finishes to look back on and learn from, I avoided fixing a race time goal and decided to manage the journey differently based on prior hard earned experience.
Setting a potentially faster time came down to nailing a few key elements; 
1)  Start slower; to at least CP3 Wasdale.
2)  Minimise CP time and NO sitting down. Allowable exceptions being Braithwaite, Dalemain and Kentmere, where I would have a proper feed and change socks
3)  Finish strong, keep enough in the tank to make use of 'easier' terrain for running later in the race
4)  My main overall weakness in ultras is suffering from the dreaded nausea, so eating little and often was my aim. Sounds easy, but in practice can be so difficult to cope with and what has worked before doesn't always work again.
 Rather than a blow by blow account of each increasingly painful step, I will try and summarise the key take homes that I want to remember for the future.
Some things may or may not resonate with others. I certainly always enjoy looking at other folks top tips for new ideas.
 What went well
 Feet
I usually opt for a trail shoe for added grip to Dalemain over the more technical sections and then switch to a cushioned shoe thereafter.
Having ruined my feet on a 36 mile recce from Coniston to Keswick a few weeks earlier in my Inov-8 x-talons, I decided to just stick with my Hoka Challenger ATR5. It's not like I was going to be hammering the pace!
I bought the wide fit for extra comfort, placing an extra 3mm insert under the standard insert to reduce the increased volume a bit, but still give me loads of toe room and allow for swelling feet. 
The Challenger 5 is a comfy shoe that got me round the Alps without a mark on my feet after 103 miles and plenty of massive ascent / descents. 
I decided the useless grip from its shallow lugs was a reasonable payoff for protection from the many broken rocky Lakeland paths.
I pre applied Compeed to the inside of both heels as they always take the most damage from pounding the rocky sections.
As usual I daubed my feet in GurneyGoo and changed socks, cleaned and re-lubed at Braithwaite and Dalemain.
 By the end, having been wet for most of the race, my feet were still shredded with trenchfoot and I had two bloody painful blisters under my Compeeds, but I know it could and would have been a lot worse.
I have definitely seen mankier feet on FB over the last 2 weeks and I also have all my toenails intact. No x rated foot pics to display here...
 Pace
It wasn't easy to rein it in, but over the first few miles to Seathwaite I consciously relaxed, walked more uphills, used my poles and didn't get pulled out of my own pace.
Running this section with Andy A was great to have company and we were both determined to start steady!
We arrived at CP1 and CP2 just 5 or so minutes slower than previously, but by the time I got to Braithwaite it meant that I wasn't feeling broken and my time was bang on; just one minute slower than 2016, but 25 mins faster than last year.
My lowest point physically usually comes in the early morning hours just after first light when my body realises its been robbed of a nights sleep!
Bang on cue, as I trudged up Spooneygreen lane out of Keswick contemplating when to switch off my headtorch, I could feel my eyes closing. 
Being sat at CP5 hadn't helped and probably started my body going into shutdown mode. Last year I seemed to suffer a lot from sleepiness here. I had brought a remedy with me this time as I didn't fancy a kip in the hedge.
Out came my poundstretcher energy tabs and with 160mg of caffeine and 60mg of glucose on board, I set off with renewed pace, feeling my alertness coming back online rapidly.
With renewed purpose, I ran all the way round to Blencathra, feeling a million dollars. 
Well, perhaps not a million, but pretty wired!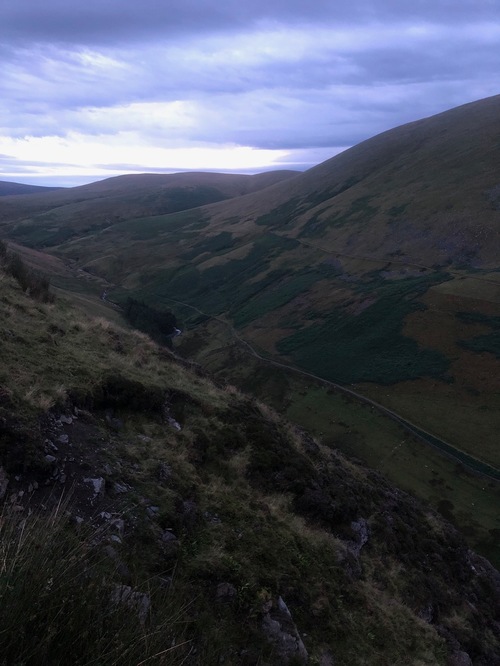 First light revealing the horseshoe around to CP6
 Although the Old Coach Road was still grim and the lanes section to Dacre required a run/walk approach, I kept reasonable forward progress. 
I fell in step with Darren after Dockray, who I had met at UTS in May. His company was great to have on the paths to Dalemain and stopped me drifting into ambling mode.
 Coming into Dalemain is always a big lift to the spirits and set me up for the second half. 
I still had low points later on, but my goal of finishing strong physically and mentally was a success.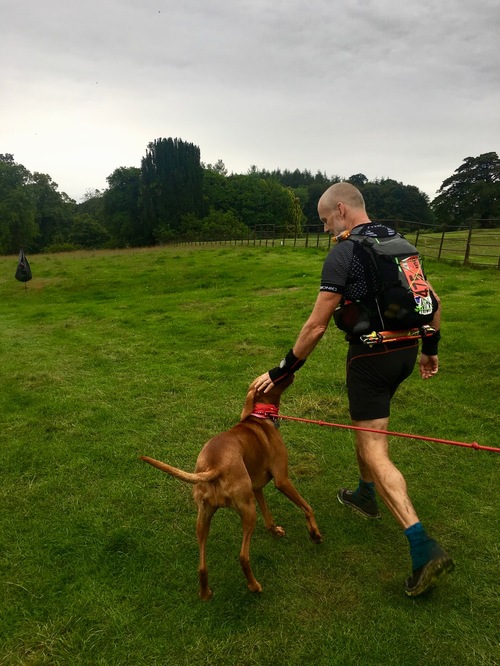 Feeling good with my canine escort out of Dalemain
Having separated soon after leaving Coniston, teamed up again between Buttermere and Braithwaite before splitting again, Andy W and I fell back in step on the way along Haweswater. 
We helped push each other onwards with purpose, despite the increasing foot issues we both were suffering. It's always good to moan to a friend instead of cursing alone!
We used an effective run/walk strategy from Skelwith Bridge to Chapel Stile, 30 minutes up on this leg from last year. 
As for our push to the finish, from Wrynose we were both starting to get that giddy buzz of knowing we were almost there.
So as we approached Tilberthwaite, I suggested to Andy that we should push straight through and see what we could do in the last 3.5 miles. 
We paused only long enough to dib in, ignore a tempting toastie being waved at me and then literally ran up the stairway to heaven. 
This crazy pace fired us onwards to the finish with a final leg time of 61 minutes, a 2 minute PB for me for the 100 and only 4 minutes behind my best 50 time to the finish!! 
We passed quite a number of runners, apologies to anyone if we seemed a little overly hasty. We somehow picked up 17 race places on that last section.
'Sprinting' down the last mile into the village to the finish with Andy gave me a buzz that was pure joy! 
 Coming back to the subject of race focus and mental strength, time and again, for me at least, visualising the finish is incredibly powerful. It lifts my pace like nothing else!
That experience of being led into the hall to be announced to the room; "100 finisher!" is basically what underpins my resolve to never quit and it gets me around the 105 miles.
I haven't experienced a better finish in any other race, apart from another joyous sprint finish at the end of the Ring of Fire with my buddy Luke! 
A 63 minute PB leaves me thinking what more can be done. 
Efficiency is certainly the key to success in this race 
I managed to achieve my first Lakeland negative split; 16:29 to Dalemain and 16:15 to Coniston.
My progress followed a pretty reasonable trajectory when summarised by race position from CP to CP. The biggest obvious blip was from CP5 to CP6 when I was at my lowest ebb.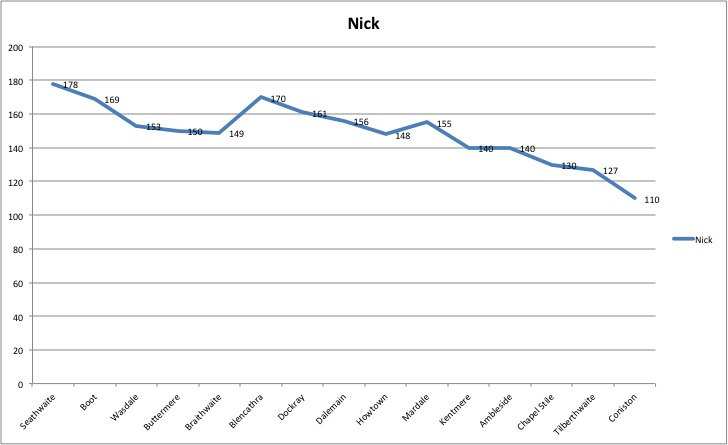 Race position by CP
Checkpoint Efficiency
There are 14 checkpoints to refuel and re energise your journey. However, they are also potentially spiderwebs to tangle and trap you and add hours onto your time! 
In 2016 I was stopped for a total of just over 3 hours in CP's. 
Last year I suffered and was stopped for almost 4 and a half hours. This year I got it back down to 2 hours 49 mins, however my plan was 95 minutes.
It is easy to criticise this additional time and judge it as wasted when sat in the comfort of a warm home. 
However, at 3am when you are soaking wet, cold and in need of some food and some respite, this time is actually an investment, as long as it is managed. 
Unlike last year I don't think I dawdled, but I can still be more efficient and saving time here is easier than running faster!
I planned three stops where I could sit down and sort any issues like feet, as well as eating. No sitting down anywhere else was allowed.
At Braithwaite I somehow used up 30 minutes. I changed socks, relubed and ate more than I did anywhere else, so although the plan was 15 minutes, it was at least well spent. 
I was at Dalemain for 50 minutes last year. This year was only 30 minutes, but my plan was 20 minutes. Again, sorting my feet and getting mentally ready for the second half was crucial, especially as I was wet through.
The obligatory Guinness was nice though!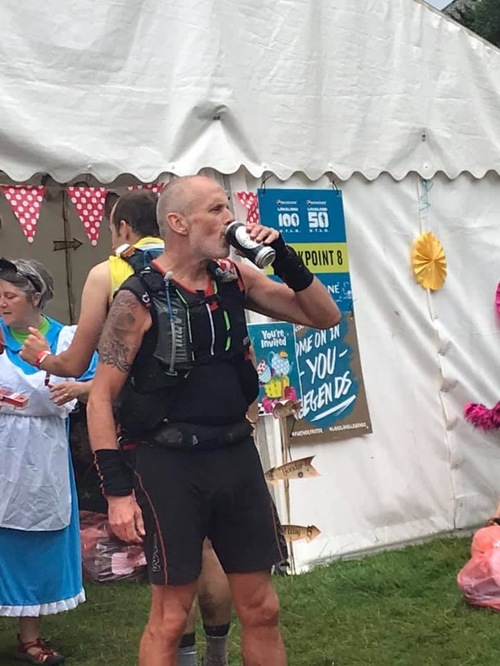 Compulsory Guinness Breakfast Fuel
 An unscheduled 17 minutes at Howtown was mostly me faffing around after another proper soaking.
I belatedly donned full waterproofs before heading out for the Fusedale slog in the now relentless rain, only to stop half way up and take off my waterproof trousers as I was boiling alive!
The final permissible sit down was at Kentmere, where I decided to leave my sorry feet well alone. I ate some pasta, ready for Garburn Pass and the drop down to Troutbeck on a path that had become a stream!
Nutrition and nausea
Eat early. Stay hydrated.
I spent all afternoon on Friday keeping the fluids up and ate soup and sandwiches. I took a bottle of Mountain Fuel Morning Fuel to the briefing and stayed at the back of the hall to avoid the sweatbox undoing all my hard work.
From the start, my goal was to finish one 500ml bottle with MF energy powder before CP1 and eat at least half of a 300 calorie granola bar. The aim was to balance the overall effort level to preserve blood supply to the stomach to permit efficient digestion. Feeding and drinking small amounts regularly should also maintain stomach emptying.
The extreme humidity meant that cooling was an issue and a lot of people suffered with sickness, partially I think because the body is working so hard to stay cool it shuts down all non essential services, including digestion.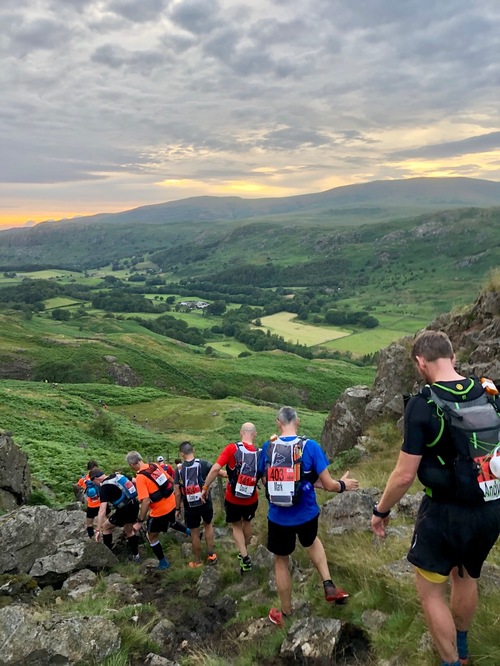 A warm evening on the hill
 In the past I have frequently ignored checkpoint food but I made sure to eat sandwiches at Wasdale and Buttermere and focused on getting fluids onboard from the first mile onwards. 
Stopping for a wee 3 times before Buttermere is a first for me but it really gave me confidence that I was hydrating well.
The nausea did inevitably come, but this year, instead of using S-Cap salt tablets, I switched to salt chews.
The sensation of salt in the mouth provided an instant relief from the sick feeling.
I kept a tablet in my mouth for as long as possible and without doubt this helped me maintain my pace, as well as allowing me to take food onboard better at CP's. 
 What didn't work as well
Chafing!
I swear by GurneyGoo. As well as lubing my feet, of course I try and keep the old undercarriage well oiled. I wore exactly the same kit as last year.
Despite reapplying lube frequently, eventually being in soaking wet shorts for that length of time began to take its toll.
I shuffled into Mardale, soaked through and grimacing and despite spending some time sorting out a good clean up, things didn't improve over the next 10 hours to the finish! Next year I need some Sudocrem for this type of emergency.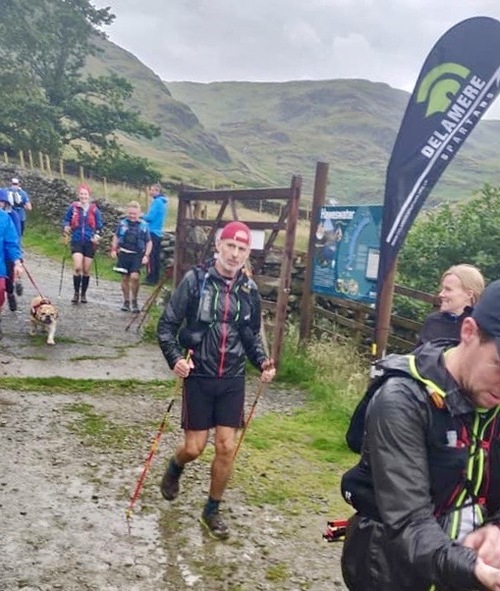 Fire! Where's the medic?
Consistency
Despite my feet being more manageable and my pace being more measured, my pace still suffered at times and the foot pain for the last 8 hours steadily increased to pretty unpleasant levels.
Luckily the fire in my undercarriage took my mind off my feet…
The paths were awash, especially over Garburn and into Troutbeck. Eventually, rather than avoiding the rivers running down the hills, I actually started to feel better if my feet stayed soaking wet as being relatively cooler brought me some respite!
Although time at CP's was better utilised, I can still do better. Braithwaite in particular seemed to hang onto me. Maybe rehearsing a pitstop routine would help. 
I do have a printed 'To do' list waiting in my dropbag at Dalemain. It really helps a tired brain to not forget to do things. I just need to add the words GET A MOVE ON! 
Fuelling
My nutrition was a lot better, but I still had a number of flatspots where I know I needed more calories in me.
I don't like to carry too much of my own food, but with this strategy I need to build better tolerance to taking on 'real food' like pasta in the CP's. 
My favourite picnic heaven is always Braithwaite. Milkshake, fruitpots, custard, jelly, all the junk you could dream of! This CP has literally everything that I crave!
I also left Chapel Stile with a cuppa and a brownie that was the best thing I had tasted ever!
Conclusions
For a successful race, make sure you have prepared your mind. Don't worry about your running splits, analyse your CP strategy and be efficient. 
Lakeland 100, 2019; another one in the bag. 
I thought I was satisfied and ready to call it quits with 3 x 50 and 3 x 100 finishes. 
However, my youngest daughter stood up after the epic presentation ceremony on Sunday and gave me my orders; "Daddy, you're coming back to get one of those 500 mile slate trophies."  
So. Here I go again. 
"And here I go again on my own
Goin' down the only road I've ever known
Like a drifter, I was born to walk alone
And I've made up my mind
I ain't wasting no more time"
David Coverdale
 My mantra is definitely I ain't wasting no more time.
Thanks Andy, Andy and Gaz for the company on another lap of the Lakes. 
Though I traditionally have always been happy in own company on the really long stuff, it's also pretty cool to share the Lakeland journey with your mates. 
Seeing my two beautiful girls and my fabulous wife in Coniston at the finish tops off the best weekend of the racing year.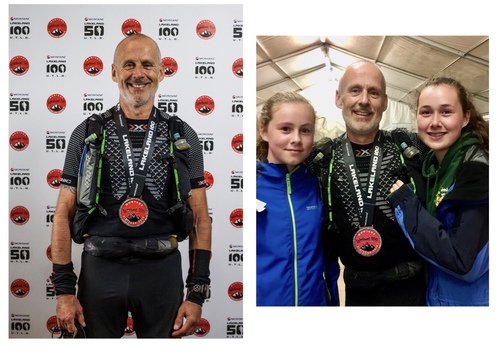 And afterwards comes the joy
Hoping to see you all again in 2020…………
Pic credits for the awesome No Limits Photography