I love the concept of this race. I loved the atmosphere and camaraderie before the start of this race especially. The start was pretty unique and makes it worth entering just for the madness of watching your fellow competitors scatter in all directions at midnight! 
Once it's underway, the challenge throws up many questions, some of which I had tried to predict, some I hadn't foreseen. The overall experience of running in an event like this is something I wanted to preserve in this ramble. Perhaps a help to others, but certainly to try and capture the memories and some idea of what approach might help success!
 My entire running is done off road. I haven't run on tarmac for any distance since 2012. However, a couple of weeks ago I ran a road marathon distance with a friend as part of his 31 in 31 days challenge. My foot was so swollen and sore afterwards I couldn't run for 4 days. Hmm….
 Sometimes you take on challenges to get out of your comfort zone. I hate flat courses and I hate roads and canals with almost equal passion. Back in June I ran a 24 hour Treadmill Relay Challenge for charity. I also hate treadmills but it made my plea for cash seem more authentic to provide folks with authentic suffering! So 4 of us ran 30 minute rotations, maintaining an 8mph pace throughout. I managed a total of 50 miles in 6 hours running but each time I had to jump back on the machine at 8mph, the pain was intense and at 3am that's grim!
Meriden was to have a familiar theme of suffering, but I was mentally ready for it.
The most important choice for this event seemed to be to find a running partner as the overwhelming feedback I had from solo runners was the impact of loneliness in a race with no CP's or competitors on route! So my club mate Andy signed us up last year and we proceeded to forget about the race until it suddenly appeared in our minds a month ago!
 Planning and Preparation
The goal of this race is to get as far away from the centre of England at Meriden Cross as you can in 24 hours. Naturally I would prefer to do this on trails wherever possible, but the distance your escape is measured by is strictly straight line; as the crow flies. So the choice is either direct efficiency or a more desirable but meandering route plan. The goals are 30, 60 and 90 miles for a silver, gold or black medal respectively.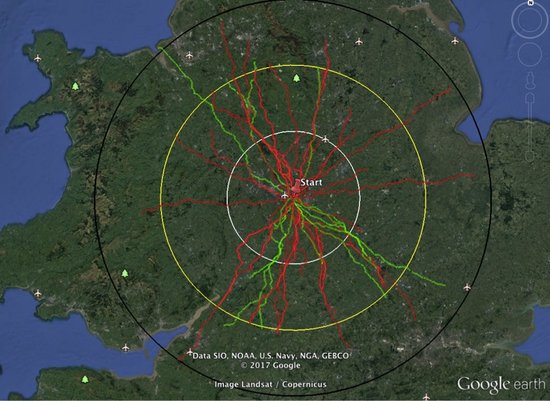 The inner competitor in me had to choose a route that was direct, but the inclusion of canals at least felt like some concession to avoid tarmac and save my legs a bit. Ha!
 Coming from the North West, the obvious straight line took us towards Chester, with the 60 mile barrier actually at about 70 real miles and the 90 mile barrier away in the distance on the Wirral. I studied Chris' winning route from last year and plotted it into Google Earth with some changes here and there, adding a bit more canal.
 The main route concern was re supply opportunity. Our plan meant heading through central Birmingham in the dead of night, then Wolverhampton before going rural.  I managed to plot a few late night garages where we could pick up water and brekky was going to be McDonalds Wolverhampton. After that it would be diversions off the canal. I wanted to have roughly 6 mile leg gaps, but we ended up with one 15 mile stretch through Shropshire that had me a little concerned beforehand. Back to that later.
The weekend before the race I went to Valencia for the last round of the MotoGP and arrived home Monday morning, full of cold. This rapidly progressed to proper manflu and I spent Tues and Weds in bed before a long work day in London Thursday. At least I could faff about online with the route and check junctions etc but my health was only about 6/10 as we stood on the platform at Hartford station Friday evening, coughing and spluttering! Two trains and a bus later, we got to the pub in Meriden to carb up ready for the off. Guinness for me, Doom Bar for Andy and a shared pizza.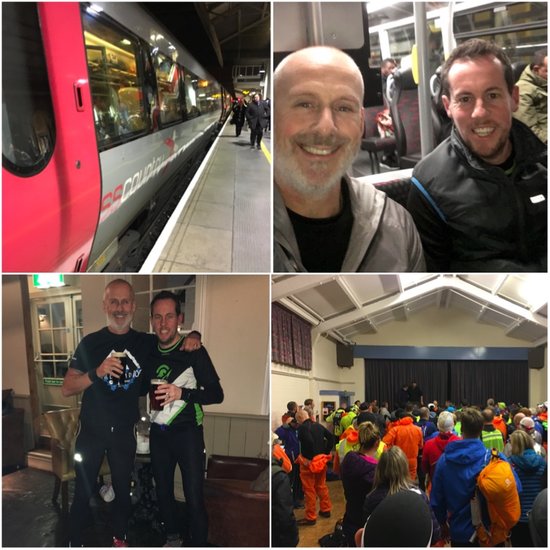 It was good to reach the hall and make final preparations. We opted to leave out the orange boiler suits, mainly because my bag was already crammed, as was Andys so there was no more room to stash it and I didn't want to start too warm. I always run in my Salomon S Lab 12 vest, but this event needed more kit due to the unsupported set up. I therefore resorted to my only other rucksack, which is an old Inov8 traditional style backpack. I had tried it out on a practice night run with quite a bit of kit in, but it still ended up being a bad choice and left my back red raw from rubbing after 12 hours. It was also just too damned heavy, weighing in at 5kg with water in a bladder. Probably not helped by multiple usb chargers for phone and watch.
After faffing around some more in the hall and a visit to the loo, I filled myself with paracetamol as my lergy was returning and we headed to the Cross for the crazy start.
So, onto the race itself then:
 Route efficiency:
I had some photocopied pages from an A-Z for the city section as physical back up. We both also had the route on ViewRanger and Andy had the course on his Garmin watch. Our navigation was pretty spot on for the whole race, no complaints. My time in bed with Google Earth run throughs paid off. One dodgy bit where the Shropshire Union Canal spurs off from the Staffs and Worcs canal, but I was conscious how easy it was to miss it and we nearly still did!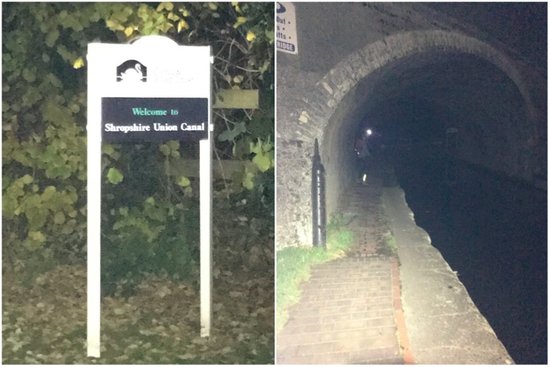 Canal ahead; sanity hazard warning!
 Refuelling points:
During planning I had found a 24hr garage at Perry Barr, just off the Tame Valley Canal in Birmingham, 14 miles in. We jumped off there to reload water and get a cuppa to warm up. It was 2:45am and there were folks queuing at the window to be served. All pissed of course. We became stars of the forecourt and our pictures are doing the rounds of Instagram and Snapchat with a load of selfies with the drunks! All good fun but a bit heavy on time and we also got really cold waiting to be served.
Next stop was breakfast, 28 miles in at the golden arches of Wolverhampton McDonalds. We got here about 5:20am. First marathon covered in 5 and a half hours. All good. Spirits high.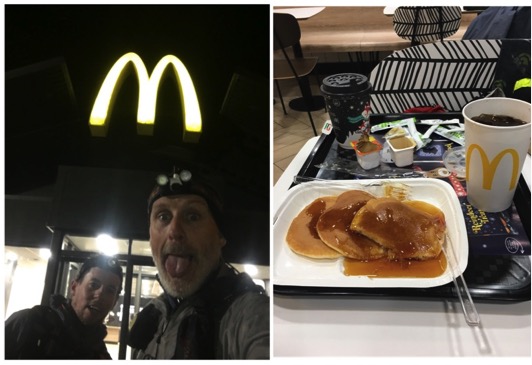 Stops along the Shropshire Union canal meant heading off into villages. First up was Wheaton Aston at 38 miles. We just bought chocolate and drinks here at 8:15am and I probably should have had something more substantial than a Turkish Delight! I also bought a Mars bar but carried that to the end uneaten!
Already fed up of the canal after 8 miles of it, the next stop was due to be a shop in Gnossall Heath but we foolishly plodded on, not wanting another half-mile detour. This meant a whopping 21 miles till Market Drayton, the next stop. BIG mistake physically, but even bigger in mental penalty terms.
At around 10:20am and 46.5 miles we came across a canal side café and as we were both really sleepy and nodding off, we stopped for coffee and a teacake. My back was now sore from pack rub and it was making me avoid filling my water bladder as a consequence. This was my only water source, with no bottle holders. I had put 750ml in at Wheaton Aston and had 500ml left here so didn't top up. However we had another 14 miles to get to Market Drayton and of course I ran out a good hour or so before we got there. BIG mistake number two.
Those 14 miles will remain largely unspoken of. Andy slipped to the lowest point I had seen him. I briefly rallied at the 50 mile mark with a little bit of a spurt in pace, but mostly we ran heads bowed and cursed the endless straight canal.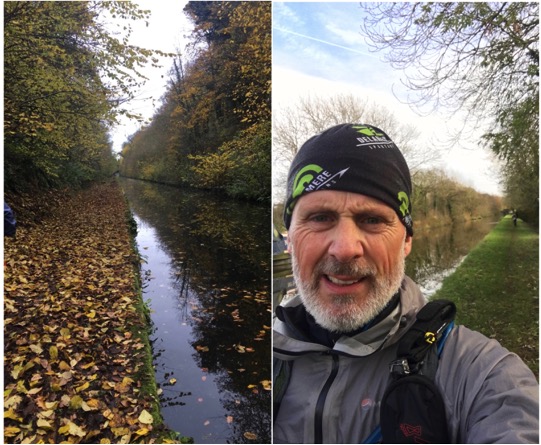 By the time we finally hit Market Drayton and Morrisons at 2pm and 60 miles, I was having full scale hallucinations. Looking like muddy zombies we stood at the snacks section and just weighed straight into the drinks bottles and food while we stood there. The (virtually empty) café had a big wait for hot food so I scoffed a tub of mandarin oranges, had a full cold shivers meltdown reaction from stopping moving and then fell asleep halfway through a conversation with Andy.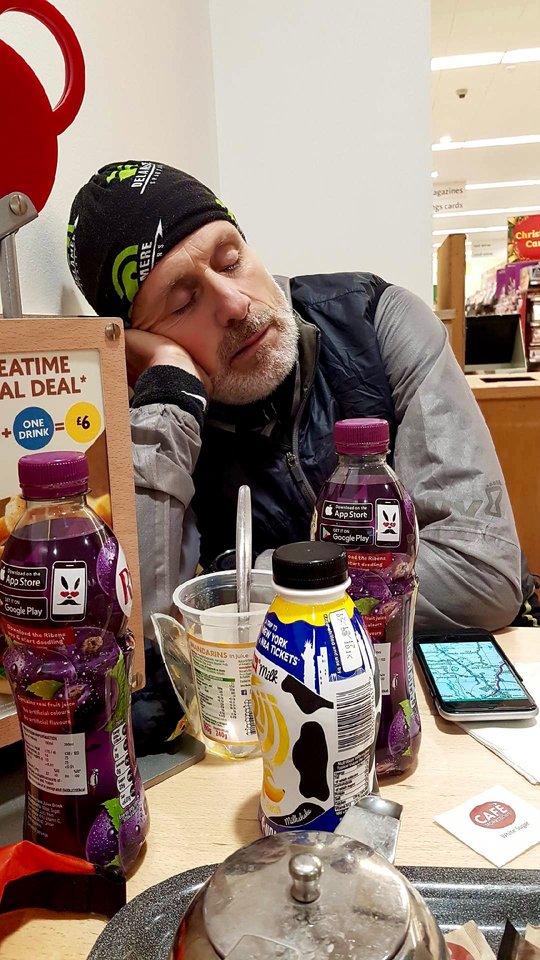 Just planning the next section........ 
After a lifetime of dithering but still no bloody hot food, Andy then stuck 2 plasters on my back in an attempt to patch the holes, he changed his socks, we apologised for the mud and shuffled outside, wearing every item of clothing we had.
So we lost a good 75 minutes in here, which effectively killed the challenge. But even now I know that if we hadn't stopped and performed a sort of reboot, we would never have got any further. The 28 miles on the Shropshire canal had drained our spirits away.
 As we got onto the road again, my wife Sian rang to check we were alive as our trackers hadn't moved for ages! Oops!
Happy to be back on winding country lanes and roads and using our wits again, we really perked up and headed north once more.
I had arranged to see friends Zahra and Roger near Audlem, with an original ETA of 4pm. Our timings were now out of the window and so the RV point drove closer to us, on a little remote lane 66 miles in. At 4:15pm, just before dusk, this was the oasis that Morrisons had failed to be. We had hot soup, sat in their car with heated seats on, loaded up with snacks, rebuilt our positivity and then ran off into the dusk with a little posse to get us on our way. That interaction with people is something we hadn't had since the morning, it's the sort of morale lifting boost you normally get when you reach a manned CP in a race. Only becomes priceless when you don't have it.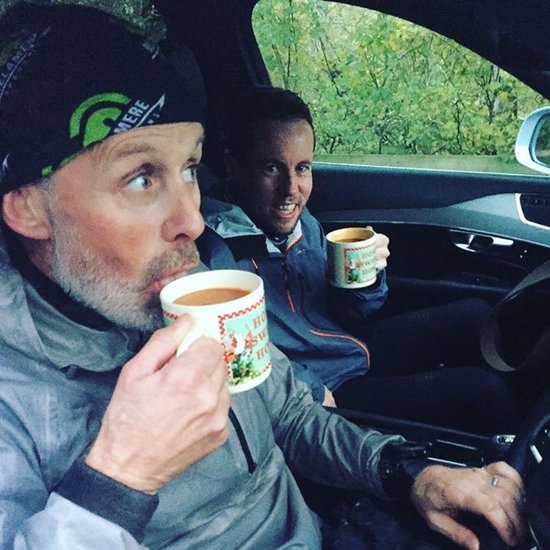 Our next scheduled stop was Wrenbury, but we were just heading up featureless dark lanes now and not really game focused. Dave from our running club had promised to come and support our last part of the journey. His orange van popped up behind us at about 71 miles and we had a welcome cuppa and a team talk in the back. We set a new game plan, to aim to get to Chester.
 We plodded on and in a couple of miles, heading through Wrenbury two figures just appeared from the gloom holding out cans of Guinness. Turned out to be our friends Dave and Tracey who live nearby. I like a Guinness or two in an Ultra and so it was like jump-starting a car for me and we bounced off up the road back into the night. After another few miles, Dave, Dave & Tracey plus Andy's wife Val and kids were all waiting on a street corner where we had some more Guinness and a quick chat.
As we ran off again, we had to re engage with our task and finally remembered that the 60 mile barrier was just ahead. After mistakenly thinking we had passed it, we eventually breached the golden circle after 77 miles and paused for the obligatory selfie.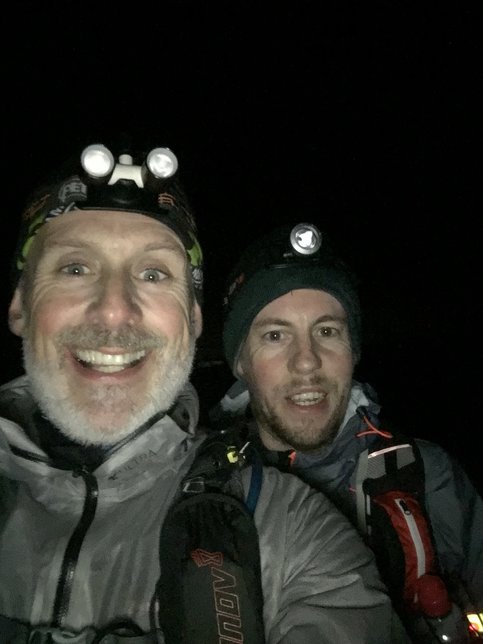 The rain started to threaten and the roads became more undulating around Cholmondeley. My back was now really bloody sore from constant rubbing and I was running with it held away from my skin, even though I had ditched a lot of crap from my bag in Dave's van. Andy had a sore foot, and so we debated our options as we kept moving slowly northwards. We still had around 18 miles to get to Chester and about 4 hours to do it. Our pace had been at least 4mph or better throughout, but the stops had hurt us and we weren't getting any quicker.
Each time we stopped my coughing fits kicked in, but if there had been a fixed finishing line there would have been no debate and our finishing mileage would have been higher, though still short of black.
 Searching for a compromise, we agreed that we should get to the junction where our route crossed the Sandstone Trail at Bickerton and use that as the symbolic marker to finish our journey. This trail is a familiar friend and I've run its full length more times than I can remember. It was a good symbolic end point for our epic journey north.
 We told Dave the plan when we saw him a bit later and so on his next pass in the van, he announced that there were 1.2 miles to go. From somewhere we summoned the stupidity to run the last mile at 'full speed.'
We charged down the lane to Bickerton Church, legs burning but fuelled with the prospect of the final push. So, at 8:50pm we touched the Sandstone Trail marker post by Bickerton Church and powered down our tracker after 81.4 miles. Just short of 21 hours on the move from Meriden.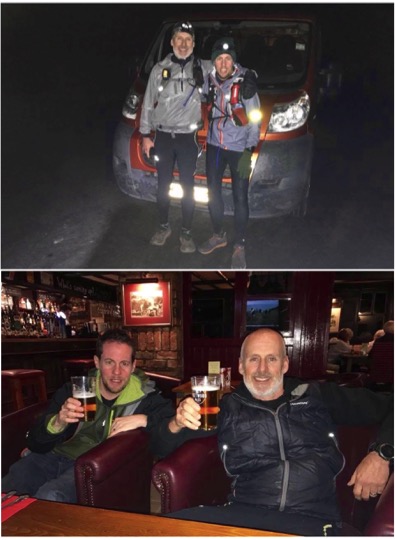 Lessons learned
 Running pace
In planning I used an average 4mph speed to estimate section times. Our moving time was about 12 m/miles or 5mph. The time we lost when stopped brought that average pace down to 4mph, so we did OK, though as our motivation and core temperatures fell away, so did the pace.
I am a great believer in the need to train specifically for the conditions of the race. I don't run on roads and that bothered me beforehand. Running on trails involves frequent elevation change; it gives variety to the demands and loads placed on the body.
In this event we spent hours with no change in elevation or terrain. Both Andy and I began to complain of the same very specific leg discomfort caused by the extreme repetitive nature of muscle use.
The canals were the worst, at least on lanes and roads you need to stop at junctions, there are inclines, etc. Out of the 81.4 miles, 42 miles were on canals. However I must say that some of the softer ground meant the impact on my legs was saved. My feet were fine throughout; I carried 2 pairs of spare socks and never felt the need to take off my shoes. I wore Hoka Stinson ATR 4, with a slightly wider forefoot to give the toes more room. No blisters.
I was really glad to have Andy for company on this challenge. It's not until you do an event with no fellow competitors around you and no checkpoints to break up the distances that you realise how much you mentally rely on them. Although we had some planned refuel points, these were planned from a map. Also on the biggest canal section we went 14 miles without a break. It played on the positivity meter a lot.
My nutrition was not very good, though it was way better than most of the ultras I have done! I used Mountain Fuel in my water bladder and ate reasonably well. I really don't take on much fuel when running, but I had no nausea issues at all.
My appetite took a full 24 hours to return and now I'm just starving! I'm also on antibiotics for the chest infection I gave myself, but I'm pleased how my body held up considering my condition before the start.
 It's really easy to forget to enjoy yourself in distance running at times, but we actually had a great journey. We had only been going for less than two hours when as we crossed the M6 in Birmingham, we saw two guys struggling to push a Ford Fiesta over the bridge. The engine was screaming, clutch on fire and these guys asked us to help them push. FFS! We're in a race fellas and so we sort of ran past, then my conscience turned us round and so we pushed their sodding clapped out motor over the M6 before heading back on our way.
It was hilarious to be the centre of attention with the drunks at Perry Barr services at 2:45am and we were welcomed like royalty at McD's in Wolverhampton for early breakfast. 
Scything through the sprawl of Birmingham along a canal at night was a pretty cool experience, especially navigating the spaghetti junction network of motorway bridge pillars and criss crossing waterways.
Watching the dawn break after a long night of running will always be a real treat for me as a distance runner and we did enjoy the early sections of the Shropshire Union canal. Honestly!!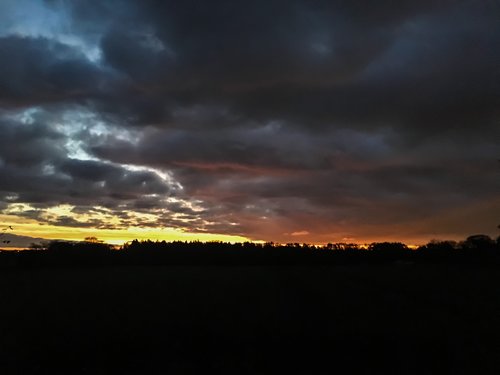 If you have any plans to do this race, then I thoroughly recommend it. Just make sure you;
Plan your route and know it well
Make sure you are either supported or have definite proven and frequent refuel points
Unless you love the isolation, run as a pair and share the pain
Make your training match the race conditions
Have a Plan B and a Plan C to make sure you will keep going when things change
Don't underestimate the mental impact of running in an event with no mass finish line, checkpoint interactions or fellow competitors
 Thanks to Dave, Zah and Andy for the pics. Thanks to everyone for their support, both online and on the route.Thanks to Richard and the Beyond Marathon team for a brilliant concept. He runs some of the best events available in the UK.More adventures planned for 2018!