Attrition. Noun; the process of reducing something's strength or effectiveness through sustained attack or pressure
The Arc of Attrition had its inaugural year in 2015 and is a 100 mile coastal ultramarathon, held in winter on the South West Coastal Path over exposed and remote terrain in many places. Designed to be an extreme challenge with strict cut offs, the degree of difficulty to complete is also dependent on prevailing Atlantic coastal conditions.
The race is organised by MudCrew runners and after a very successful first year, I think the organising committee had hoped for a more wintry feel to this years race to do it justice. Writing this a few days after getting back home, I believe their prayers were answered.

 Pre race briefing with Ferg giving some inspirational weather updates to focus on!
Pic credit Bridget Funnell
 The challenge in writing this review is to try and accurately convey how the conditions impacted the journey. Not as simple as it sounds, with no real pictorial illustrations and the toughest sections being done in darkness. It is given from my perspective as a runner of reasonable experience but modest ability, attempting his first non stop 100 mile race.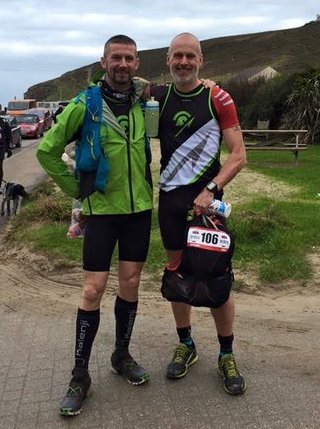 Spartans ready for the off
 So why am I here? Running with my new found buddy Luke during the excellent RingOFire last September, I learned of the Arc. For my first 100 I didn't want a challenge where finishing might be seen as inevitable with sufficient training; I wanted a tougher challenge. A winter extreme ultra on the Atlantic coast seemed a reasonable start to the year to me!
I had some idea of the course difficulty after an excellent recce trip before Christmas with fellow Delamere Spartan Dave Douglas. We spent 4 days in Cornwall covering the entire route, splitting it into sections and gaining invaluable knowledge of the type of terrain, as well as experiencing the gale force coastal conditions. We also ate a lot of pasties and drank a lot of Cornish beer.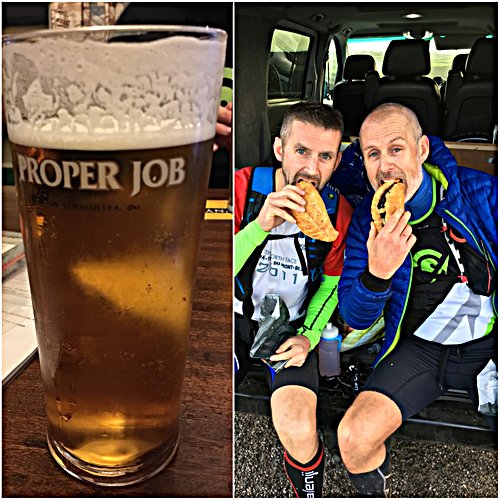 Essential Cornish nutrition
 To help my support crew Jason with an idea for meeting point timings during the race, I set myself a goal of 30 hours and wrote a schedule with a pace into which I tried to build fatigue and the increasing course difficulty.
 However, it's all just educated guesswork really, so as we set off from Coverack at lunchtime on Friday, I focused on enjoying the moment and not overcooking it before halfway, hoping to be at 50 miles in around 13 hours.  I had no fear of the distance, but as I was adding about 35 miles onto my previous longest run, conservation of my body was a priority consideration.
 Once Dave vanished into the distance in the first few miles, I chatted with a number of folks as we were blown around the trail, but stayed true to my own pace.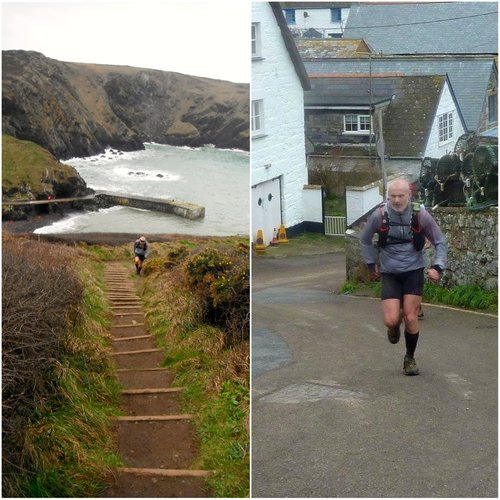 Run the hills while you can
Pic credit: Bridget Funnell
 I passed a stormy Lizard point feeling strong and enjoyed the support lining the little streets of Mullion cove.
CP1 at Porthleven had me slightly ahead and by CP2 at Mousehole, I was about an hour up on schedule; inside 10 hours for the first 42 miles. This was despite somehow ending up diverting onto a rocky beach before Marazion, significantly impeding my progress. I should have only been on the beach for about 200 metres or so, but I put any negativity to one side as the hammering rain greeted me on the 6 miles of road through Penzance. The elements really battered the runners on this exposed sea front section and I was glad to get to Mousehole for a refuel and clothing change.
 Looking back at my splits, my slowest and lowest point seemed to occur after here and it was a bit of a drag on the first tricky section out to Lands End. The terrain was technical and wet, not helped by the onset of severe adductor cramps, so there was no choice other than to back off the pace to preserve myself and recover. I dislike using poles, having only ever used them once before, but I used them now to assist my complaining muscles with the steep steps on multiple hillside climbs.
 I was breaking the race down into shortened sections to maintain focus. However, there was a distraction caused by a mismatch in my Garmin mileage and my position on the course. I now know this was most likely due to my earlier navigation 'excursions', but this was creating an issue for me and making me doubt my route choice at times.
It seemed to take forever to get to Portcurno and my pace was suffering badly. What should have been 48.5 miles read as 53 miles; for a tired mind the extra distance wasn't positive! After the steep climb up the cliff to Minack Theatre car park, I sat in the front of Jasons car and had a drink. As soon as I stopped moving I shivered uncontrollably, making me realise just how important keeping my core temperature through the night was going to be. Definitely time to keep moving, back out into the darkness.
 My only recollection of note before reaching Lands End, was seeing a runner suddenly appear out of the dark to my left from a headland spur. I caught him up and asked if he was OK, but didn't really get much response. After a blurry photo opportunity at the signpost, I kept him with me to the checkpoint at Sennen Cove.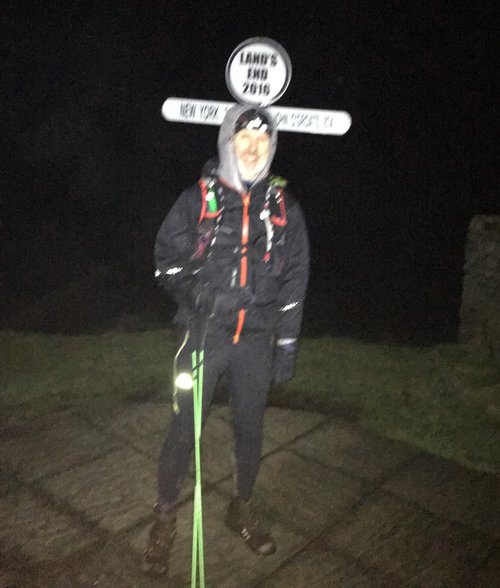 Lands End at 3am
 Out of CP3 at 55 miles, 59 miles for me and now 50 minutes behind schedule, I fell in together with another friend I met on Anglesey last September; Tim Cox. We headed out into the toughest sector of the course to St Ives, moving steadily towards Cape Cornwall as the weather got itself ready for round 2.
After a lot of sliding about in mud and cowsh*t, a few wrong turns and being generally thrown all over the place by enormous gusts of wind and rain, daylight eventually came on the approach to Pendeen Watch.
After over 13 hours of darkness, this really lifted my spirits. Jason was in the lighthouse carpark and I recharged my race focus, loading up on enough food and drink for the next long section. I checked out my remaining time and headed towards Zennor feeling refreshed and up for the battle ahead. I was now behind my schedule by almost a couple of hours but with renewed energy I was confident about the last 35 miles.
Tim stayed a little longer than me to sort his feet out, but I knew he would be back on it shortly.
This last 13 mile stretch to St Ives is the single most remote and technical part of the course and having done it in December, I knew what lay ahead.
 I had some company from a new Tim on leaving Pendeen and we dodged cows and slid around in the bogs hunting for a reasonable line to make progress. Tim C eventually rejoined, along with Katherine. They were keen to press on, but with the rough and very slippery conditions and knowing the worsening ground that lay ahead at Zennor, I was happy to stick to my own pace. I soon found myself alone again and was quite at ease.
That was until I wiped out, not once, but about 4 times in the space of a half mile. The last fall was the worst; stepping down a greasy steep slope my feet just went sideways. I landed heavily on my hip on a rock, twisted my knee and bent my pole as the tip was deeply buried and still strapped to my wrist, almost pulling my shoulder out of joint. Multiple expletives and mud rage ensued for a minute or two. It must have looked comical. But what do you do, stuck in the middle of nowhere you just get up and press on.
 Some of the terrain beyond here was laughable, the land had simply turned into a fast flowing river in places, crazy stuff!
The additional issue I had now was that my knee was trashed, making descending really tough and stopping me from running at all.
I focused my anger into picking it up a bit wherever possible and by the time I reached the headland above St Ives I had caught Tim A up and by the time I plonked myself down in the Lifeboat Inn I was sat next to Tim C. 
It had taken me 5 hours to cover just 13 miles. That summarises the conditions of the Zennor section.
Tim announced that he was going to call it a day. I got a medic to strap my right knee up, then headed back out to finish the job. I knew I had time to get to the end.
With my 30 hours now an impossible task on one good leg as I couldn't run at all, I set my Garmin to show instant pace and using my poles to set a rhythm, tabbed off through the town with a minimum 3mph pace goal for the last 22 miles.
If anything I was even more focused than I had been at the start. From the recce before Christmas, I knew that if I could get as far as St Ives then the rest was 'easy' to finish.  The only problem was that I had planned on being at St Ives at 10am, not 1.30pm, leaving me 30 mins from the cut off and I only had one usable leg!
Luckily at the time I had no idea that I was anywhere near being a cut off risk, it just never once entered my consciousness.
I kept my mind alert by constantly recalculating a finish time based on the pace I was making and adding up the hours. It took me about 7 hours, spent entirely on my own, which was a little lonely at times so late into the race. I sang to myself, saw strange shapes in the bushes and generally stared at the number on my watch trying to keep it near 20 min/mile.
Things of note to mention; the piece of Tiffin that I ate at Hayle surf club was like nectar from the gods. Shortly after the dunes, I approached a flooded section with a diversion, as mentioned in the briefing.
MudCrew Ferg appeared from the gloom to guide me around and we had a nice chat where he told me how many people had retired from the race, which was incredible to hear.
I knew there was a footbridge to take over a river channel that flows out to sea. What I wasn't expecting to see however was the footbridge being not over, but totally under the water level! Not just that, but the channel was now about 3 times its normal width and flowing at a fair old pace. Well after about 28 hours on the move through what I had just overcome, this looked like fun, so we waded through together and I headed off into the distance laughing like a demented muddy idiot with freshly rinsed legs.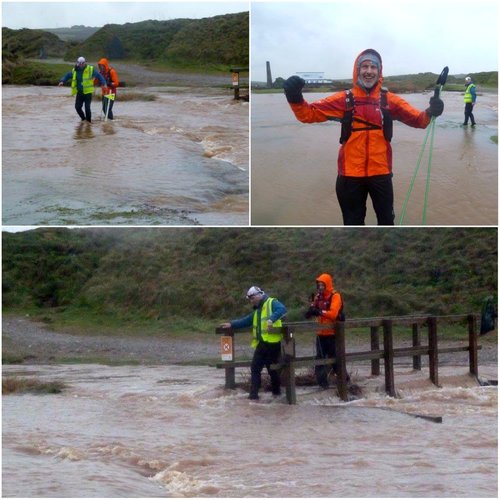 River crossings are fun after 90 miles
Pic credit Bridget Funnell
 I played headtorch chicken with myself until I finally fell on my arse in the dark at Hells Mouth and used that as the cue to put my light back on (about 6pm).
Jason continued to stalk me to the finish line. At Portreath he played his Joker and produced his phone with a video clip of my two gorgeous girls urging me to the finish, including a club motto 'Never Surrender' shout from Harriet. I'm filling up now writing this!
Cheers Jetpack that got me moving big time. A quick hand off of cold pizza from the ever-present and awesome mudcrew volunteers van and I marched up Lighthouse Hill and back into the wilderness.
 I dodged the slurry pit at 98 miles before my headtorch decided to die right at the base of the last monster slope at mile 99. Change of battery in complete darkness, stomp up the mega steps and I finally could smell the finish line.
As I tabbed it out, two headtorches approached. Not withstanding my previous hallucinations, a figure appeared out of the dark dressed in a bright green Kermit onesie, brandishing a can of Guinness. Turns out to be my buddy Luke; remember it's his fault I'm on this bloody hill anyway! Jason is with him, eager to see me home on the last leg of an epic journey.
The three of us marched off the hill as I drank my beer, before breaking into a painful trot to my well imagined finish line.
 Still time for the elements to deliver one last curve ball, as the wind whipped a layer of wet sand up and machine gunned it into my face, not once but twice during the last 100 yards.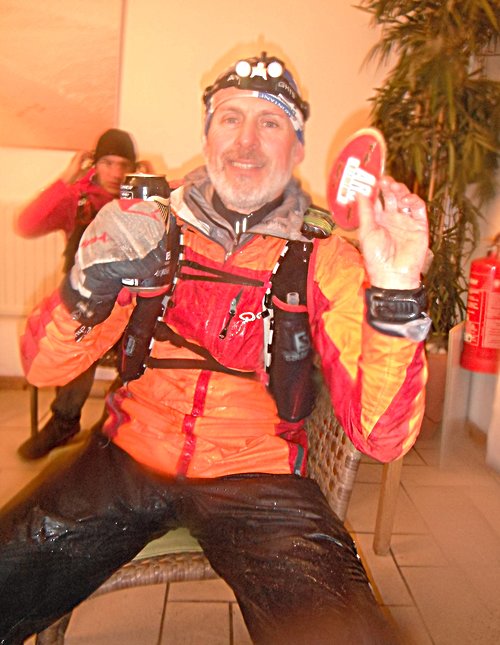 Won the Buckle and sure earned the Guinness
Job done, my Arc of 'almost' Attrition completed in just over 33 hours, with my Garmin showing a wayward 105.6 miles. From 105 hardy souls that headed out from Coverack, just 28 made it to the finish line, a 73% retirement rate underlining what a proper tough journey it really was.
So, my parting thoughts;
Things that helped me
Route confidence. I always want to recce a race route before hand, whether it's marked or not. I just like to know that my feet have trampled that piece of earth already and have an idea of what lies ahead. It wasn't a popular family move, but spending a few days running the entire route before Christmas was a definite shift of the needle for my internal positivity meter on race day. It didn't stop me going wrong in places, I added 5.6 bonus miles. That 3rd quarter of the race is a massive hurdle to climb over, literally and figuratively. Understanding this about the race is a crucial step to a successful completion.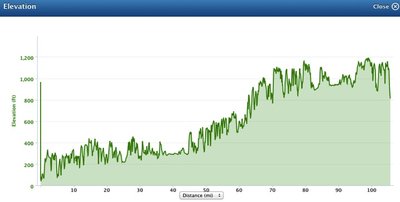 Self belief. I never doubted when I started that I would make it to the end. It was almost as if the progressively worsening conditions fuelled my determination to crack on. I often have low points in all ultras and this was my first 100, but I sit here now and can only think back to one section where I had extreme adductor cramps that made me rethink the game plan. Oh yeah, I didn't enjoy that bit falling over either!
Motivation. For all my challenges, I think hard about my motivation before hand. Seems obvious I know. But by motivation I mean what is going to DRIVE me unflinchingly to reach my goal. It has to be burning, not half thought out. I create visualisations to focus on and I use the emotions from all of this to power me on when the low points start to invade my head.
Self preservation. My previous longest single race distance was 110K around the Lakes and day 2 of RingoFire in September at 66 miles. My two concerns before this race were my feet and my nutrition.
Feet: I wore Scott Kinabalu Supertrac shoes, all except for the Marazion to Mousehole and St Ives to Hayle road sections, where I briefly switched to Hoka Mafate Speed.
I changed socks 4 times, where I dried and relubed my feet with GurneyGoo. Result; not one blister; my feet are completely unmarked after 33 hours on the go in the wettest and muddiest conditions you could ever wish for. Get it from www.myracekit.com; worth every penny and hangs around much longer than Vaseline and really helps minimise trench foot.
Nutrition: Tailwind. I've dabbled with Tailwind in long races, alongside real food, with mixed results. That's been my own personal issue I think. The uncertainty comes in what works with it and what doesn't and it has always been too big a leap of faith for me to rely solely on energy from a liquid calorie source, especially over 100 miles. I like food!
This time I was far more careful about what and when to eat. I focused on a 500ml soft flask with 200kcals Tailwind as my main source and slurped on bits of rice pud and soup at CP's and the odd bit of food that Jason persuaded me to take. I switched to the raspberry caffeine flavour in the back half of the race on Saturday. I even cut out caffeine for 2 weeks prior to race day so that I had a better caffeine response when I most needed it. In the last 15 miles whenever I felt a bit lightheaded as I tabbed along, a few slurps of Tailwind put me right within minutes. I also never felt remotely sleepy at any time during the race. I got through 8 200kcal stickpacks; which probably wasn't enough but energy and hydration levels stayed out of the red zone throughout.
What did I already know?
The course gets increasingly tough and the weather was going to be challenging. No surprises. The forecast just got worse before hand. It's traditional to talk about the weather; it's in our genetic make up! That's fine, it isn't moaning, I entered a winter 100 mile race that described itself as extreme; I'm delighted it delivered on that front. Actually I think we had four fronts!
What do I know now?
I had to remap my race when I could no longer run. It was simply stop the race or walk as hard as I could manage. No regrets, just did it. I finished slower than I would have done, but I got there.
Game changers: core temperature. My body was wet for virtually the entire race. I became far more aware of the critical importance of managing warmth. Stopping, even for a minute, left me freezing cold and I always had an extra layer of clothes left to add if it became necessary out in a remote area. Wearing two rain jackets helped my insulation, but I still need better gloves.
Support crew
Jason is a fellow Delamere Spartan. When I entered this race, he readily offered his services as support crew and I owe him a massive thank you for helping keep me on track.
He was at every point on the course that we had agreed to meet at. He was ready with a full drinks bottle, or any kit requests that I asked for and just took everything that was thrown at him. I could have managed on my own but the result would have looked a lot messier!
I have only one complaint; every food offering he made was healthy! Home made wholewheat pancakes and carrot cake were great, but where's my Turkish Delight, choccy raisins and Frazzles man!! He never even waved a can of Guinness at me! Seriously mate, I owe you one.
I travelled with Dave and Steph, who had volunteered to crew for her hubby. Steph is also an endurance specialist and nothing seems to faze her, including driving around remote parts of Cornwall in foul weather all night on her own. Top lady!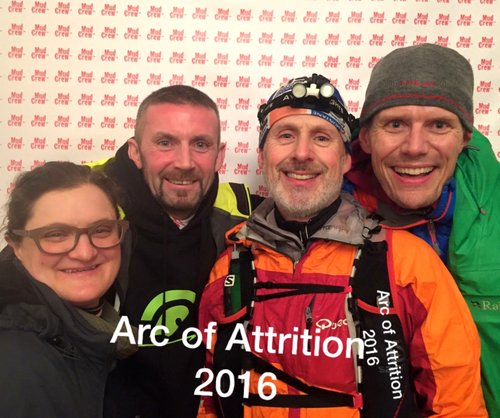 Team Delamere Spartans
Ultra community
This was my first MudCrew race. I have a reasonable experience of events and this one is up there amongst the best from many angles. Well organised, incredibly friendly, continually encouraging. Aside from the excellent CP volunteer angels, it seemed as if every time I arrived at an area of human habitation (which might just be a track on a remote lane) someone would appear from a van and offer me a drink and some food. Amazing. As a competitor it was a great and challenging experience.
The support crews for the competitors were equally encouraging to all and the spirit between the runners was one of being in it together. Four guys finishing a race together in first place is a big endorsement of that spirit.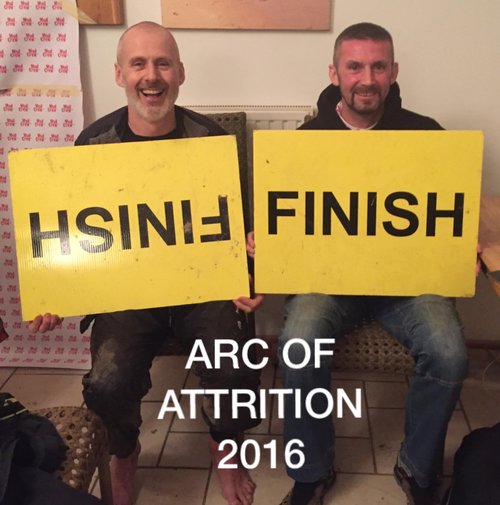 Finish with Dave feeling a little upside down
Now I need ultra patience to mend my knee and resume training. More challenges lie ahead.
Spartans Never Surrender