Running a complete non stop lap of Anglesey was meant to be part one of an extreme triple header with UTS 100 and my 4th Lakeland 100.
Once Covid 19 hit and races were being cancelled all around, I was glad I still had a goal to motivate myself for.
Yet with Wales remaining stubbornly closed to travel, my date of May 12th came and went and I had to keep positively focused and I just keep training on an every day streak with my fingers crossed. Even a severe ankle sprain at the end of March threatened but failed to derail my running.
I had also lost two potential run buddies in Dave and Andy, so focused myself back onto the original plan of a solo adventure.
 By the time July arrived I was as fit as I would ever be and just itching to get going, with over 1,000 miles run since lockdown and 150,000ft of ascent, all mostly on trails around Frodsham. 
 Background
This challenge came about due to a combination of my love of Anglesey and its beautiful coastal path and having previously completed a hugely enjoyable tough lap of the island in 3 race stages of the multi day RingOFire race in 2015.  
When I returned to the race in 2017 and dropped out after only 64 miles on day 2 following severe cramps overnight after day 1, I knew that my disappointment would only be resolved by returning to do the whole thing in one go.
Fast forward to 2020 and the opportunity finally came to realise my goal, only for the pandemic to decimate plans.
As soon as the owl in the welsh assembly gave the go ahead to lift travel restrictions on July 6th, I was ready to go into action that very week on July 10th. 
My attempt would be solo and self supported, following the FKT (fastest known time) guidelines.
This meant no accompanied supporters, planned assistance or pacing and resupply only from shops, stashed supplies or begging from members of the public!
Additional complications of the new world living alongside Covid 19 meant no cafes or pubs or public toilets would be open anywhere, so my logistics needed precise timing to make use of the few available stores that would be open around the island.
This necessitated picking a few locations to visit and stash food and water to provide essential resupply.
Looking back, though I knew this would just make the challenge even tougher, I underestimated the impact of having very few options to call on to keep me moving.
When you add to this the tidal aspect of certain sections of the path it meant a nice all round challenge awaited!
I arranged for a GPS Tracker from Wayne and his fab team at GB Ultras to provide both an independent verification record of my journey and also an easily accessible way for supporters to track me and hopefully advertise and boost charitable donations for the Christie Hospital cancer charity I was supporting.
Day 1
I left my vehicle in a pub car park close to the iconic Menai Suspension Bridge and started my journey, clockwise, under the arches at 5:50am.
The weather was set to be fine for the two days and I headed off at low tide and was soon running over rough rocky beaches along the southern coastline.
After traversing a number of very overgrown, knee high dewy, wet fields, my feet were completely soaked within the first 5 miles.
Foot management would be a main feature of a successful round, with the difficult and varied underfoot terrain around the island battering the hardiest of ankles and feet.
Although one of my goals was to set a respectable time, my number one goal above all else was to enjoy the journey.
I kept in mind the words of Stuart Mills that he coached into me several years ago during some time we shared on the trails. Use positivity as a fuel for energy. Race focus energy (RFE) enables you to overcome the physical challenges and keep negative elements like sore feet or tired legs at bay.
In other words, a positive mindset will convince a tired body to just keep moving. That mantra featured strong on this quest and I think I used it well.
Newborough is a fabulous part of the island with a seemingly endless sandy beach. I knew that at low tide I would be able to include an out and back diversion onto Llanddwyn island. 
After 3 hours running I hit the beach and soaked in the views along the shoreline then headed out onto the island and topped up my RFE to 100% with stunning views of the mountains beyond.
Another stretch of soft sand and forest trails then brought me to a first stop at Malltraeth at about 23 miles.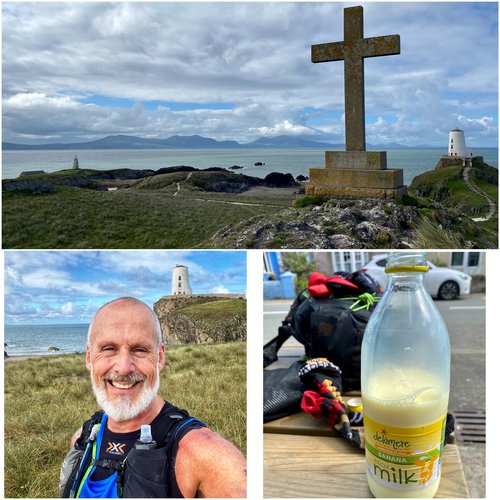 With my feet burning, I stopped and bought a banana milkshake and a crème egg, which I enjoyed while I removed my shoes, dried and dressed my feet and changed socks to try and keep them in good shape for another 110+ miles!
From here my progress was steady as the day grew warmer, with a coastal breeze that was deceiving me as to just how much I was sweating.
Bing, the race director of the RingOFire intercepted my path before Rhosneigr and it was great to have a chat with him while he took a few photos of me for the record. 
I had a short refuel stop in Rhosneigr where I bought a tin of mandarin oranges in homage to the tonnes of them that I had eaten during the RoF in 2015!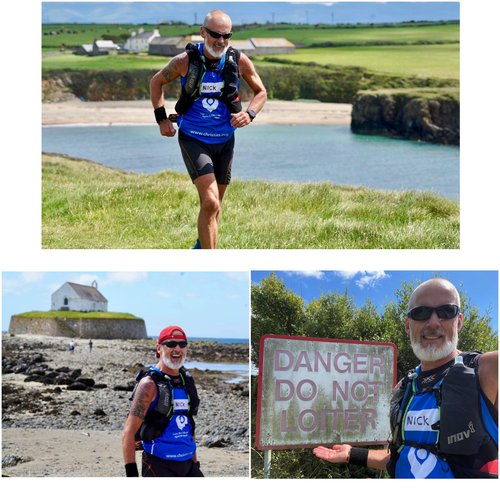 By now I was feeling the heat. Looking back, I think it just crept up on me as the breeze was masking my sweat rate.
Andy A was working on the island and he popped up to say hi at a random field crossing somewhere past RAF Valley I don't even remember!
My pace had been as planned, but by the time I reached Trearddur Bay at 50 miles, my steady pace had slowed and I was suffering the effects of heat exhaustion. A silly unforced error. 
I queued up and resupplied in the convenience store. However as I sat on the pavement and ate, I was overcome with nausea, cramps and uncontrollable shivering that soon resulted in a severe and protracted bout of vomiting.
I had to put on my emergency warm clothing and take a proper time out, lying flat out on the steps of a café, closed of course. This did not make an impressive sight.
Only briefly did I wonder if I had ruined my quest and I called upon my memories of being in a state like this several times in the past.
I eventually controlled my stomach and temperature and packed up, ready to set off.
Realising that I would now miss the closing of my last resupply point on Holyhead before the overnight stage, I made sure to have enough fluid before leaving. My next resupply would now be over 37 miles away. Ah, not good!
I put this minor hiccup to the back of my mind and set off power marching, as I still felt too dizzy to run.
The only significant climb on the route is from South Stack where the lighthouse stands guard on the western most tip of Anglesey on its satellite, Holy Island. I watched the sun finally dip below the horizon as I trudged northwards towards the lump of Holyhead mountain ahead.
Then as I finally commenced the climb onto the mountain proper, I quit playing headtorch chicken and finally illuminated the trail ahead. It was 11pm and a beautiful calm evening.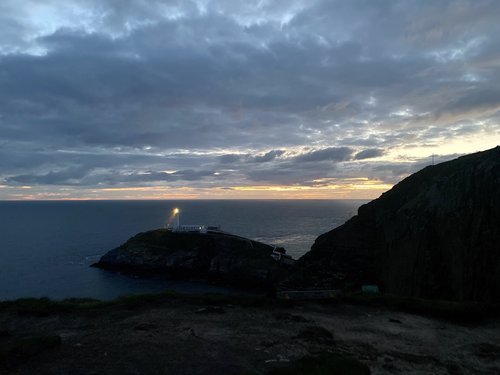 I know the route very well and the darkness didn't bother me at all, finally dropping down into Holyhead itself about an hour later.
I sat in a bus shelter to rest my legs and escape the cool breeze, then lay down on the bench for a second.....
Moments or minutes later a ping from a text message from Andy brought me around and I realised I had nodded off!
I passed through the town centre as dozens of wagons disgorged from the Dublin ferry. A strange sight at 12.30am.
Desperately looking for any source of food or water, I spotted the lights were on in a pizza and kebab takeaway but when I got to the door I realised it was closed.
The owner who was cleaning up for the night must have seen the look in my eye and let me in, kindly donating me a can of tropical fizzy Rio drink. Much needed sugar!
So I marched onwards back out into the darkness and left the lights of civilisation behind me once more.
A couple of miles later as I made my way over Stanley embankment and around the estuary towards the coast, a headlight came towards me.
A face appeared that I did not know and greeted me. This was a strange encounter at about 2am.
A local benevolent runner had been following my progress and came to meet me and offer encouragement.
This was a great boost to the spirits and I accepted a warm drink of tea that he had with him. Thanks Jason.
Feeling more energised, mostly due to some human interaction to be honest, I headed back along a stretch of rocky beach and I also put on my headphones for company.
For the next couple of hours on a frankly unexceptional stretch of the coastal path, I listened to the Rich Roll podcast interview with the inspirational Kilian Jornet.
The only other point of note was witnessing a stunning cloud formation at around 3am as the skies began to lighten.
I have since learned that it was probably noctilucent clouds. Whatever it's called, it was a stunning twilight phenomena to witness as I trundled relentlessly onwards, listening to the mesmorising, softly spoken words of Kilian recounting his adventures on Everest.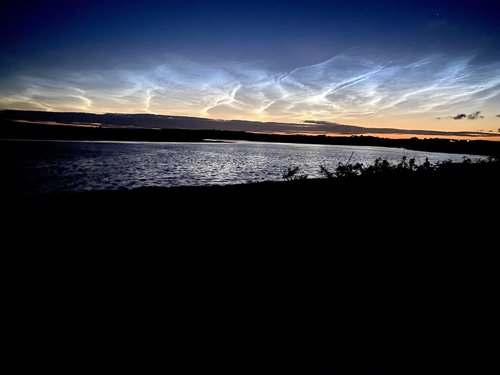 Day 2
With daylight came a new sense of purpose. My stomach was settling but I was still not eating so progress was OK but slow.
The coastline from Church Bay up the north western section of the island is stunning and remote. This was particularly so as the island was pretty much still in lockdown mode and nobody was out.
This is probably the quietest, remotest part of the whole island anyway and I soaked up the peace and tranquillity of the new morning.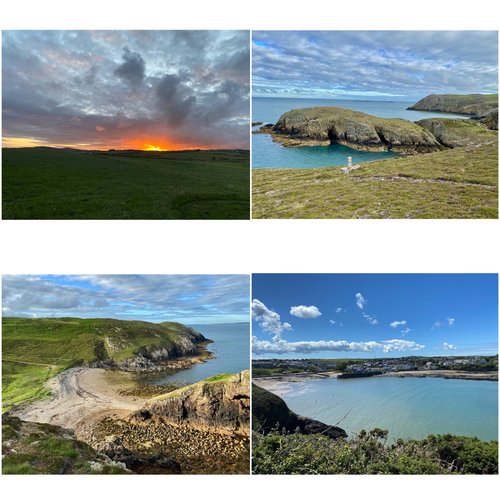 My karma was only briefly interrupted when I followed a bit of a diversion and ended up scaling barbed wire fences, rolling under electric fences and doubling back and forth to regain the path due to some bizarre temporary obstructions that my tired brain could not fathom out.
I had also started hallucinating, imagining rocks as animals and seeing swimmers in the sea below the cliffs that were actually brightly coloured buoys.
I reached the steep headland section that I was using as my icon for my JustGiving page. I made a quick FB Live video and choked up with the amount of support and donations that were pushing me onwards.
It reminded me how much I had needed this challenge and my determination just grew stronger, nailing any negative issues of pain and tiredness firmly in place.
By the time I reached Cemaes Bay at 90 miles, I was properly ravenous and fantasising about food, having not eaten anything of note for nearly 15 hours.
Another queue at a shop, where the funny looks I received that told me I must have appeared and smelled 'interesting'. 
I bought cold drinks and bizarrely a prawn sandwich, then found my own stash of food and water outside the holiday house of some very kind friends that had given me permission to hide my gear on their driveway.
I took a sensible amount of time to refuel and carefully redress my feet with new blister dressings and clean socks.
My 40 hour finger in the air timing plan was now long gone, but my supreme goal was to enjoy my journey and I headed back onto the path, RFE positivity totally topped up and ready for the run down the east side of the island.
From Cemaes the path is particularly familiar to me as this is the area where we stay the most as a family.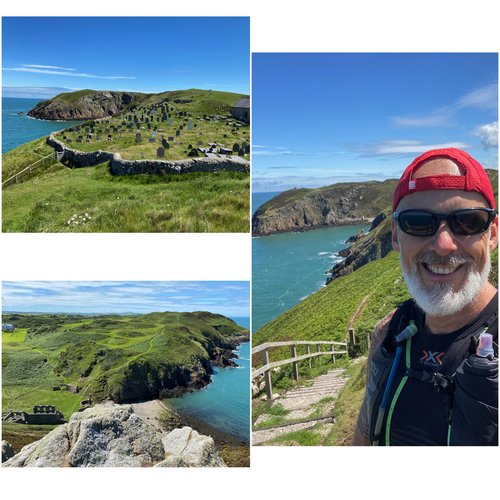 It almost felt like home turf and it was a major psychological hurdle crossed to have got this far, though I was still not entertaining any ideas that I had this challenge beaten.
The sun felt very hot in the afternoon and I was glad to have used sunscreen and that I had my cap with me.
Another little mental boost awaited me at Bull Bay where Paul and Claire had come over to surprise me and say a hello on the path, more welcome positive energy!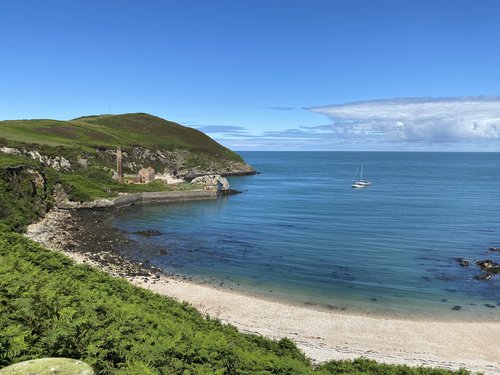 Porth Wen shone in the sunny afternoon, resembling an exotic bay in the mediterranean, all sparkling blue water and yachts.
It is hard to describe running these familiar sections, knowing it was all part of a single continuous thread around the island, very uplifting indeed.
My next stash point was at 111 miles, at the farm campsite just past Moelfre where we stay on our visits here.
I retrieved my pots of fruit and snacks from the farm shed and topped up my water. I bumped into the farmer, Ieuan, a lovely guy, who went up even further in my estimation when he offered me an ice cream!
In fact he was so taken aback that I would choose to run the entire island with no sleep that he offered me two ice creams, but I declined!
I headed off into the evening sunshine licking a Magnum and feeling very happy with it.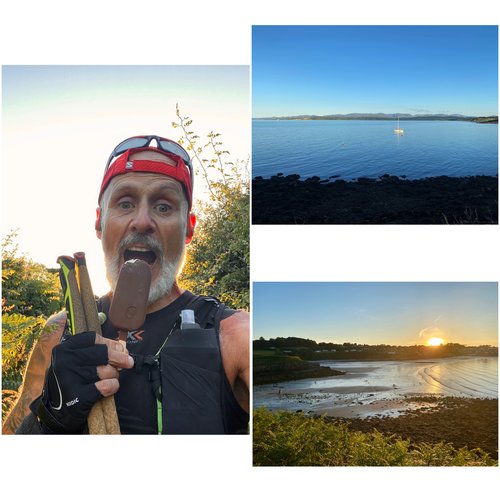 The sunset glow was fabulous and it made me feel very privileged to be experiencing the journey in this way, outstanding views of the island and across the sea to Snowdonia beyond.
Amazingly, as I hit the promenade at Benllech, more complete strangers that were following the tracker came out to wish me well and helped stoked my positive energy banks immensely. 
As the sun finally set, I could tell that it would be a cold evening as the skies were so clear.
My original theoretical plan had me finished before dark, but I still had 20 miles to go as I put my headtorch on again between Red Wharf and Llandonna.
With darkness came a real chill and I put a layer on. I also began to feel extremely light headed and was unsure for a while if it was low energy or just dog tiredness after 40 hours on the go.
I had used my caffeine energy tablets up on early Saturday morning. I was on a very uninteresting stretch of straight coastline, marshy in places and with a long raised section of coastal wall to negotiate along the top of that I felt I was going to fall off as I was so wobbly.
I found a Mountain Fuel caffeine gel that I keep in my pack for 'emergency' life support. Seemed appropriate to deploy it! 
Next up was a recently opened revised section of the path that climbed very steeply up from the shore and wound around the headland towards Penmon point. A series of fields that would be simply negotiated in daylight became more challenging as I sought the correct line.
This seemed to take forever, though a deeply orange coloured moon that rose above the horizon, rather like a Death Star, pleasantly distracted me. 
Shortly before I dropped down from the headland, I saw what looked like a smudge of light stretched across the sky at about 2.30am.
It looked like an enormous comet, though with my hallucinations I wasn't really sure until afterwards when I discovered it was in fact comet Neowise.  
It was at this point that I checked the ETA on my tracker and realised that I was now due to finish at 6.15am, beyond my 48 hour barrier.
I wasn't clock watching, but I had lost so much time here and there along the way and especially through the previous section, I really got a bit angry with myself. 
I had another pep talk with myself, happy by now to berate myself out loud with just the cows in the field as witness.
I stopped and stripped down to my running vest and with about 11 miles to go, broke into a much more determined and sustained pace of running. 
Via lanes and fields, I reached Penmon point, the location where I had finally abandoned the RoF race in 2017. Not today!!
From here a road section grinds steadily uphill towards Beaumaris. I ran this entire section, filled with a renewed conviction to finish strongly. 
9.5 miles to go. The road led onto a short but nasty rocky and boulder strewn beach.
My feet were utterly destroyed, swollen ankles with burning on the balls of both feet and in both heels. And the tide was in.
After another short section of road I came onto a last choice. It was another mile or so of rocky ankle killing beach, fighting the tide that was also making the rocks wet and treacherous.
Or the high tide diversion on the road, adding probably an extra half mile or more. 
I opted for the latter and headed reluctantly inland but shouting out loud at myself (again) to run like it was a 5K race. 
At 3.30am I must have looked some sight, running down the centre of the road straight lining the bends. 
Checked the tracker ETA again and 6.15am had now become 5.20am. Run on! 
Into deserted Beaumaris, with just 4 miles to go. The remainder was all on roads now as the coastline is so developed with expensive houses and a posh hotel. 
Outside Beaumaris the route takes a turn inland up a frankly ridiculous hill that climbs over 300 feet in half a mile.
After 130 miles that's no fun. Head down and marching like I had the devil chasing me, I pushed on.
The last 3 miles came and went in a bit of a blur, the sense of elation was building.
I knew my wife Sian would be somewhere ahead awaiting my arrival.
Headtorch off, I stayed in the middle of the empty road running the white line like a road marathon racer, only in much slower motion!
Once I dropped back onto the main road and saw the arches of Menai Bridge looming ahead, I let out a little whoop.
Then I saw Sian ahead, leaping up and down like a jack in a box. 
With under half a mile to go we had a triumphant but brief hug.
My tracker now had an ETA of 4.50am so off I went, knowing I could get not only under 48 hours but possibly under 47. 
Sian ran ahead of me to record my 'sprint finish' and I dashed back under the arches of the bridge to my virtual finish line at 4.47am.
Spent and ecstatic. 135 miles done, with an exhilarating last 11 miles where I clawed back over 90 minutes.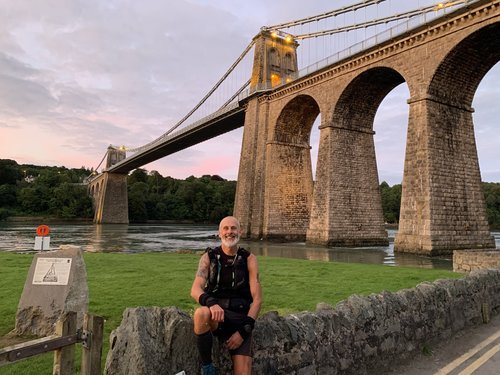 We stood together and drank in the beauty and utter tranquility of the new day. I was too tired to speak coherently.
It was strange to think that it was all over as we wandered back to the car. 
Then as we drove over the bridge shortly afterwards, the sun burst over the horizon to the most majestic of sunrises, signalling my own little personal triumph of a dream adventure realised.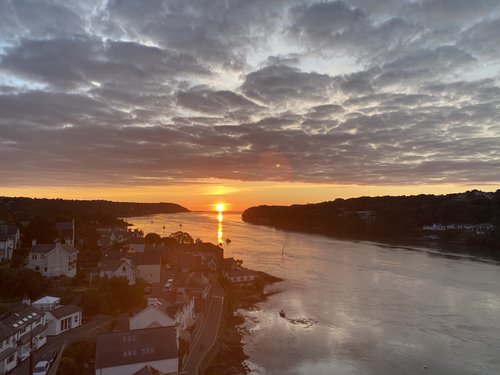 My JG fund for The Christie stands at an unbelievable £2,540. I've achieved a bucket list goal to navigate the entire island in one non stop run.
I also have a modest but reasonable FKT of 46hrs 57 minutes.
Special thanks to my family for living patiently with my obsession for most of the last 6 months.
Thanks to everyone who followed, supported and donated to such a worthy charity. Thanks to Bing for some great photos.
In the uncertain times we are living in today, I hope I managed to spread a little positivity and inspiration. 
https://www.youtube.com/watch?v=GIR-FEv-6M8