UTLD 50: Coping in the absence of a Plan B
I am sat in a comfy chair at Mardale, cup of tea in hand, trying to focus my eyes, stand up and face the climb up Gatescarth Pass. It wasn't meant to be like this, with the taste of vomit still clinging to my throat. I expected to breeze in, share a few happy words with the Spartan Army and fill the bottles before marching on to Kentmere.
The weekend so far had been fantastic. Camped in a field with around a 1000 like minded ultra nutters gave me a buzz and the air of anticipation was heightened after cheering off the 100 runners.
My kids had run themselves silly in the Lakeland 1 and done their Dad proud and now it was my turn. My big race for the year and the longest race of my life so far. I was ready.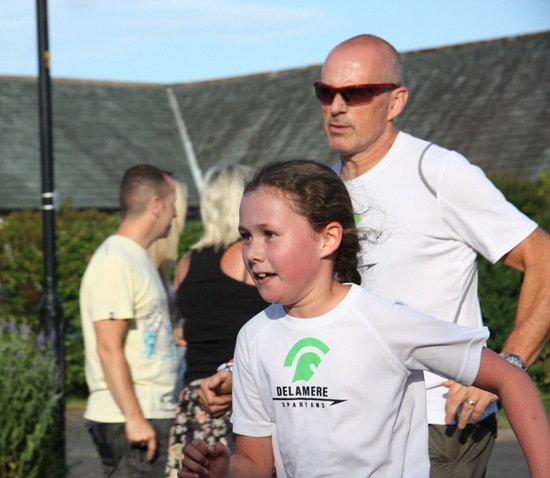 Having Jim whispering words of advice in your ear 10 minutes before toeing the start line does nothing for a common sense approach to the longest race you have ever entered.
Plan A was roughly constructed to give me a one hour window of checkpoint time guidelines, in order to hopefully finish inside 12 hours with what seemed to be sensible pace goals. As a newbie, I had no idea really! Of course, with the weather at a baking 23 degrees as we gathered under the start gantry, Plan A should have been diluted by 50%. That much I should have known after suffering in the 28 degree oven over the last 7 miles of the Coniston Marathon just 2 weeks earlier.
Knowing me as some of you do, once I reach the start line, the plan is usually to hit it, whatever the distance ahead. I figured the 4 mile loop of Dalemain could be done at a quicker pace, get past the bottle necks and then switch to cruise mode. Chatting with Marcus Scotney was an utter buzz, so I have happy memories of the first hour of the race.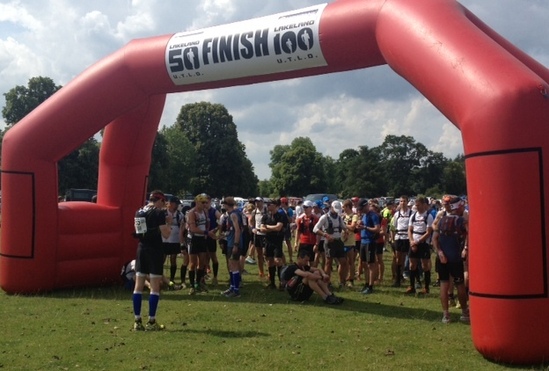 CP1 arrived pretty soon; the route is familiar and enjoyable. I felt within myself all the way from Ullswater and had no perception of burning precious energy and rapidly dehydrating. Speaking to friends afterwards who tracked my progress; seeing me dib in at Howtown in 52nd place set off massive alarm bells. If only I had received those warnings I would have agreed!!
Although the Fusedale climb up to High Kop was brutal, I still felt good and chatted happily with runners and spent a few minutes with Andy W as he caught me over the tops.
However, once I dropped down to Haweswater, what little breeze there had been high up just vanished and I overheated and finally paid the price for the first two hours, totally losing it and becoming nauseous and dizzy. Gareth came by, offering friendly abuse in the process. I knew I was in trouble and just focused on reaching Mardale where I would surely be revived by Spartan friendlies.
I don't recall how long I sat in that comfy chair; obviously too long judging by the eyeballing I felt coming from Andy A and he sparked me into life. The poles came out; he pointed me up the Pass and it was race on again, I stepped around the bodies that now littered the Mardale CP.
Still feeling sick and very dizzy indeed, I set to work trying to get a rhythm going with the poles, having only used them once before on the same section during a previous recce. Steve Mee appeared alongside me and I must have looked like s**t because he told me; in a concerned way of course!
I now knew that Plan A had disintegrated, but I hardened myself to the fact that nothing on earth would stop me completing this challenge; a picture of my girls travelled safely inside my pocket, precious and motivating. I also had my family, my in-laws and some good friends that had given up their weekend to support me and follow me round the course. Spartan spirit required:
Never surrender.
Right, with that decision made, I surprised myself at managing to get a slow, but steady pace going up the steep and winding pass. I don't know if I could have done that without having the poles to focus on.
Before long I re-overtook Steve, busy battling with cramp. Near the top of the long ascent, Jason appeared alongside, looking like he had popped out to the shops for a pint of milk. As we started the descent, I urged him to carry on and moved back into my own world of focus. Apart from one attack of cramp in my inner thigh, the descent to Sadgill was dull and I caught up with Jason again and a little group of us headed the last few miles into Kentmere.
Kentmere CP; home of the fruit smoothie. I would like to say I enjoyed mine, but I promptly tipped most of it over the floor and narrowly missed a nonplussed runner next to me. Having eaten virtually nothing up to now and still feeling sick, I found that pieces of apple were actually good, so I took 4 or 5 and headed out to find the loo, (pointless trip, I was empty!) with Jon, Jason and Steve all around the busy CP at the same time.
Back on my own after leaving Kentmere, the poles came out again for the Garburn Pass. In the last couple of miles into Ambleside I caught up with Jon and dropped downhill into town, only to be greeted by a torrential rainstorm which had sent the cheering crowds back into the pubs for shelter.
Another energy low set in and the food on offer at the CP did not inspire me one little bit. The CP was also hot and stuffy inside and I still struggled to get going again, not feeling remotely refreshed after the stop.
I know my senses must have been puddled, because it was only after struggling back down the steps of the CP (not the best idea to locate the CP upstairs!) I realised that I had left my poles inside. Damn, more wasted time retrieving them.
Sian and the girls greeted me and we walked through Rothay Park together like a surreal Sunday stroll, then I set course for the last 15 miles and into record setting distance territory for me.
I promptly missed the left turn up the hill to Loughrigg and wasted another 10 minutes going the wrong direction. Eventually I re traced my footsteps and got back on track, VERY angry at myself and burning valuable positive energy.
The next section became a grind, energy levels depressingly low, but eventually Chapel Stile CP loomed out of the darkening sky like a fairy grotto and suddenly James appeared beside me. He must have scored some quality gear in Ambleside, because he charged off like a loon, and I chased him into the CP, bemused by him telling me how he 'died' at Mardale. Yes James, I was that knackered and I did believe you had been defibrillated! Scary…..
I managed a few mouthfuls of stew and headed out into the gloom, happy to leave the CP where a marshal was trying to DNF a dehydrated but stubborn runner.
The Langdales section was great. I navigated on my own perfectly happily in virtual darkness and enjoyed the peace as I wobbled out into open country again. Out came the poles for the steep climb towards Blea Tarn; headtorch finally on and suddenly the heavens opened. The warm rain felt great, so I ploughed ahead, not bothering with my jacket.
Lightning filled the sky in the distance; it's an epic and wild scene being on the fells late at night. It gave me a real energy boost and when I dibbed in at the Wrynose Pass CP, I knew the finish was near and I suddenly felt great; really great, strong and happy. Let's go then!
I mixed running and walking and used my poles because I didn't have time to waste and stop anymore. As I marched up the climb over to Tilberthwaite, a figure appeared from the gloom, in full waterproofs, gloves and hat. It's Steve. I had lost him earlier with my Ambleside diversion. We had a few words; he felt cold but was in control, so I carried on, onwards and upwards.
The sight of Tilberthwaite CP in the distance made me whoop out loud with joy, much to the surprise of the leading ladies pair that I had caught up with. We reached the CP together and I just grabbed some apple pieces and headed onwards for the steps and the final climb.
At every recce I had done here, I imagined what I would be feeling like when I reached these steps on race day, dreading the pain I might be in. Now, I bounded up them without a thought, to hunt down the headlights of a small group some distance ahead of me.
I bridged to the group ahead and we stayed together. The pace was a little slower than my ideal, but it was throwing it down as we approached the section I was least confident about in the dark, so I fell in behind them for a while. Everyone else seemed to be in full waterproofs but I felt warm in my Spartan vest, fuelled by knowledge of only 3 miles to go.
The ground was very wet and boggy, my heel started to sting, but eventually the descent came. I slipped on some dodgy sections in my Hokas, but soon enough the coppermines track opened out and the four of us in a group belted off down the hill towards Coniston. I hadn't run at pace since Dalemain over 12 hours earlier, but opening up my stride actually eased the stiffness in the quads and I hooned into Coniston.
Will I p*ss anyone off if I scream Sparta at 12.30am down the street I wondered?
Who cares! SPARTA!!
And suddenly it's all over. Sian appeared from nowhere, with tears and hugs and smiles and on into the school where my friends made the loudest noise in the building.
Next year I will set a time, older and most definitely a hell of a lot wiser.
Epic journey; epic memories, epic friends to share it with. Thanks to my family for putting up with my commitment, ok, obsession for this race and for just being there.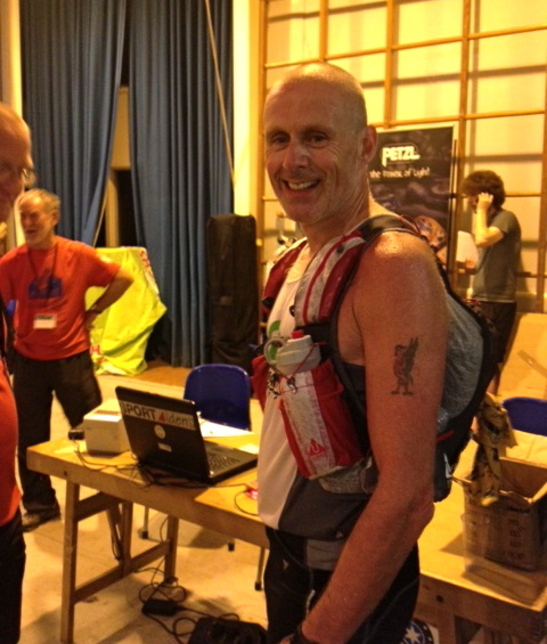 Never Surrender.
Categories: