Ultra Marshalling an Ultra Marathon: Lakeland 100
This blog is a record of a few of the questions I've found the answers to. Some are trivial, some involved a bit more thought. Some, I'm not even sure I want to know the answers to!
Before you dive in to the blog itself, special mention needs to be made of Tim, Nigel, Andy, Zippy, Fay, Mike and Rob (in no particular order) who all gave up their weekend along with me to look after a lot of sweaty ultra runners and some of our very good Spartan friends. They are all true stars.
1. Where is the race?
This was the most commonly asked question by nonSpartans before the race. The only answer could be: It's a 100 mile race. It's all over the Lake District!
2. So how do we end up in the middle of nowhere?
Mardale, at the end of Haweswater reservoir is a beautiful spot. It's completely isolated, with no mobile phone signal, and only one road to get there, barely wide enough for two cars to pass.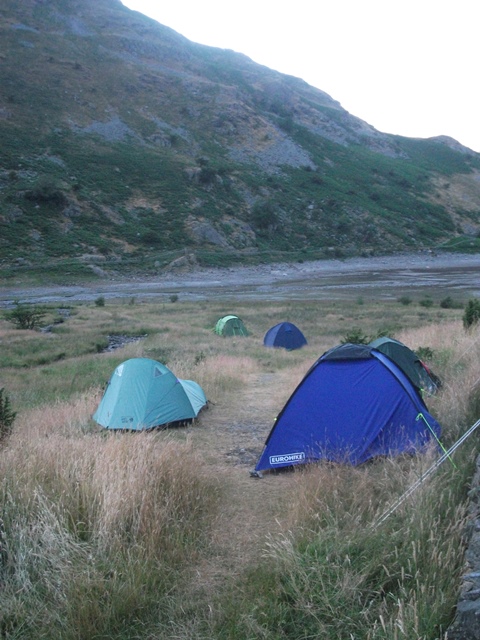 Having seen other checkpoints in village halls and in other relatively civilised places, I wouldn't want to be anywhere else. However, being out in the wilderness does have its problems... lets face it, this is the Lake District: baking hot sun leading to dehydration and heatstroke; thunderstorms and torrential rain, especially when you leave the tent door open to air it in the heat first thing in the morning; midges, midges and more midges... and not forgetting those who don't believe in clearing up after their dogs, when there are race marshalls who want to pitch tents!
3. How do we get enough food, drink and shelter for over 800 runners to Mardale?
Fortunately, Tim and Zippy took a van to Coniston and nearly broke the suspension with all the kit for the checkpoint. We had a large gazebo/ small marquee, 175 loaves of bread, enough butternut squash soup to feed the whole of Cumbria as well as gallons of cheap coke, electrolyte drinks, gels, and three jars of Branston pickle. One runner had Branston pickle.
4. Where are the loos?
Don't panic, it's Friday night and there are 800 runners arriving tomorrow, and we have no toilets!
Tim, Zippy and Rob were busy unloading the van when I arrived, and seemed unfazed by lack of toilets. A quick phone call to race hq in Coniston assured us that all was in hand, and they would be delivered that evening. Phew... then we began to relive childhood TV programmes, with the help of the Chuckle Brothers the large gazebo was put up - "to me, to you, to me, to you", we marked out the car park by "circling the wagons", and other cowboy references that Nigel, Andy and I enjoyed, but left the girls cold.
5. What on earth is going on here?
This was the cry of many a passer by, out for a walk in the hills. Most seemed a bit bemused by the whole thing. Zippy seemed very enamoured of a young man who turned up for a walk, asking us what was going on, and there was much discussion about whether he looked like Robbie Williams or not. He very kindly took a team photo for us, and as he got on so well with us, Andy decided to ask how many times he had been mistaken for the cheeky chappy from Take That!
Left to Right: Matt, Nigel, Fay, Mike, Tim, Rob, Zippy, Andy
6. Where is the first runner?
We were up at 5.30, waiting for the first 100 mile runner, who would have covered about 75 miles by the time he reached us. Stuart Mills arrived at about 8.59, looking a little beaten up, but as he won the race, he was clearly doing well.
Ed Batty (overall 3rd place) came through at 9.16, and despite some serious efforts from Zippy to get him to stay, he left quite quickly, looking in good shape. Third was Richie Cunningham (overall 6th place), 20 minutes later at 9.36.
7. What do you want to eat and drink?
Tim ran out to meet the first few runners, took food and drink requests, and ran on to get them ready. After we had seen the first 3 runners in, Fay saw the person in 4th place at 10.01, and wondered aloud why we were bothering to go out to meet him, "cos its only 4th place, its not even a position on the podium, is it?" Then we found out that it was Friend of Sparta Charlie Sharpe, who looked fresh and raring to go, if a little disappointed that we had no grapes for him but obviously the Aldi apple worked a treat! As he sat for a quick rest, he said how maybe running (and winning) an 80 mile ultra the weekend before, maybe wasn't the best of ideas!
8. How do you flatten a couple of hundred litres of coke?
Sugar rushes are all the rage, but burpy bubbles aren't. So the coke has to be flattened. The bottles had been opened the night before, but that didn't do the job, so Saturday morning saw us invent the Mardale coke bath, pouring the bottles into a large plastic box, and then decanting it back into the bottles. Hygiene went out of the window, but it did leave us with nicely tanned bronze hands. Dragon's Den here we come for a cheap fake tan alternative!
This was great, and worked a dream until the very helpful gentleman from Sportident turned up and said "Oh yeah, you just put a teaspoon of sugar in, it fizzes a bit and then its totally flat." If only we knew that last year, never mind earlier that day... but this technique actually didn't work very well and managed to flood the carpark. If only runner number 13 had arrived earlier...
9. Who on earth is turning up for this race?
Mid morning, and there were only one or two people at the checkpoint at a time, so we were all able to take notice of them. Each runner had their names on their race numbers, and with much surprise, I found that one of a pair of Greek runners who were in the top 10 of the L100 was called Leonidas, the Greek hero/ king of Sparta. I couldn't quite pluck up the courage to ask for a photo, his sense of humour seemed to be a few tens of miles back of the trail, and I have to confess, I wasn't sure quite how a modern day Greek person would take to being described as a Spartan king. Would it be offensive? King Leonidas, as I now know him, was also a fine example of my other observation: Ultra runners are a hairy bunch. There was some wonderful facial hair coming through the checkpoint, indeed I am sure I observed 1970s tv historical magician Catweazle at the checkpoint, rocking some amazing facial hair. Sadly, when I pointed this out to Zippy, I was only ridiculed. "Cat-who?!"
10. Lippy? Mascara? Best outfit on? Are we all feeling glam?
Zippy, aka Mrs Slocombe, she of the fine pink head of hair (Are you being served?), had many compliments on her new choice of hair colour. It has to be said, that pink hair, a Spartan running vest and wellies is definitely the best look for marshalling an ultra marathon, and Zippy looked great in it! I, on the other hand, needed no fake hair colours (it's a good job) to pull, as a gentleman who called me darling as I poured his electrolyte drink made clear. On leaving the tent, he asked if there was any chance of a massage, and when I laughed at the thought, he told me it was worth his while asking, just in case!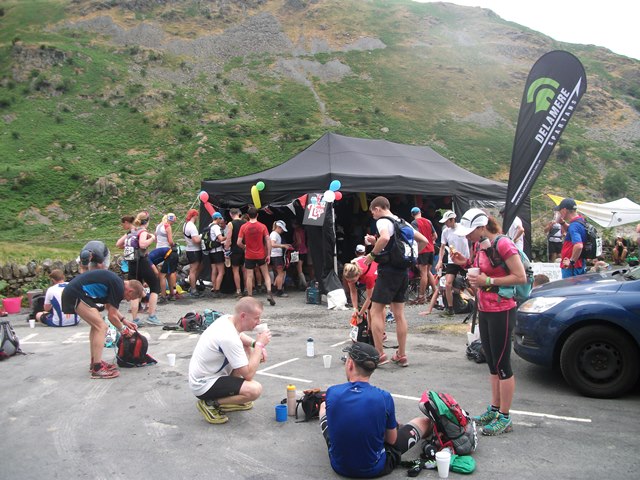 11. What on earth does Number 11 have in his rucksack?
Jonathan, AKA Number 11, is the stuff of Spartan legend. Last year, he got lost on the hills, and turned up at the checkpoint at 2am. Was he ok? Was he suffering from hypothermia? No, he wanted beer. He really wanted beer, and to be fair, was a bit annoyed that we wouldn't give him any (we didn't know if he would need medical attention after that long lost on the hills). So the following morning, he drank his beer, while we packed up the checkpoint.
And then he arrived this year... It was pouring with rain, there wasn't any room at the inn, but here comes Jonathan (Number 13 this year!), and he's brought a beer to share with us! Bless him, he put his beer in his spare kit bag at Howtown, and carried it all the way to Mardale, so he could share a beer with us. He also had made a couple of stickers to put on special Spartan Tupperware, claiming they were top quality coke flattening devices. He is a lovely guy, and as we were so busy at the time, he didn't get the welcome he really did deserve - Jonathan, we'll see you next year!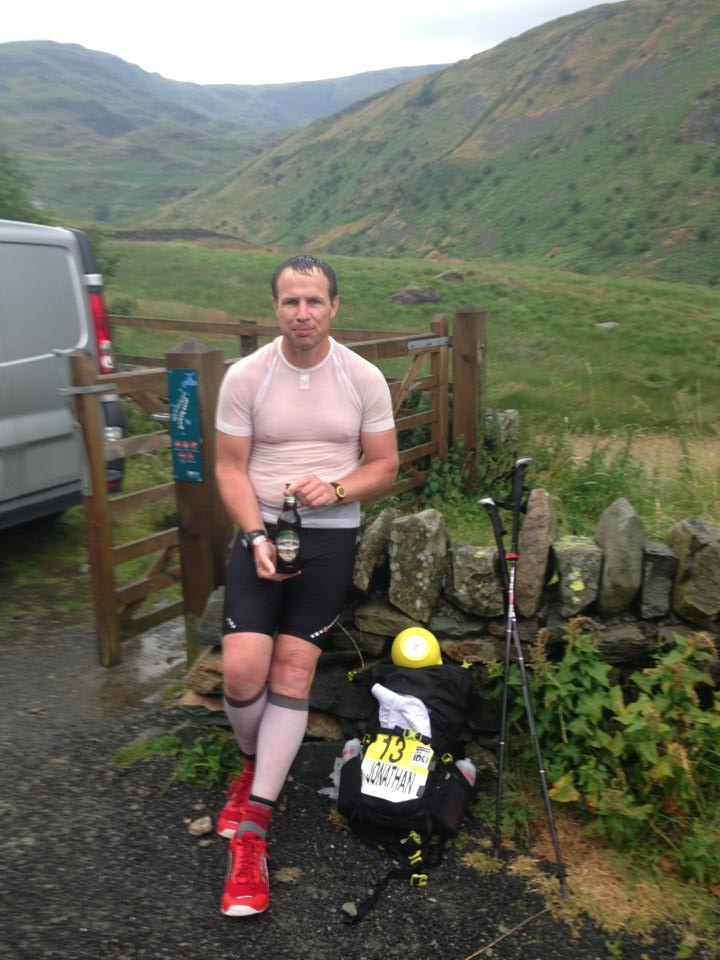 12. What do you do when things get scary?
There's a runner in trouble. This was the message we were beginning to hear as more and more people came in to the checkpoint and we had to make a decision about what to do. When someone has run 75 miles, they will be in trouble by that point. Who makes the decision to let them carry on? We let a lot of very rough looking L100 runners leave, with the cheery words "just another marathon to go!" But the tales from the runners coming in grew worse, and increasingly confusing. He's passed out. He's passed out but he's ok now. (Well that's obviously ok then!) He's just down the path. He's a couple of miles away. He was lying on the side of the path. (Why the hell did you just run past then?!)
In the end, we took the decision that Andy and Rob, as our two fastest runners, should go out to look for him. Kitted out with first aid kit, bivvy bag, foil blanket, gels and the only sat phone (there was no mobile signal at all), they headed out. We lost track of how long they were out for, and began to worry. While our intrepid rescuers were gone, a range of things happened that caused us increasing amounts of concern: the gods of the Lake District weather reverted to type and caused a torrential downpour (Did they take waterproof kit with them? Did anyone see?); an ambulance arrived and the crew sat in the car park, waiting ("Erm, nice to see you, but exactly who are you here for?" "One of the runners. No idea who." "Ok, do you want some soup while you wait?"); a Mountain Rescue team arrived, explaining that one of the L50 runners was a Mountain Rescue volunteer, and had stopped his race to call them using our sat phone; finally, an air ambulance roared overhead, all in the pouring rain. The ambulance crew had finally managed to determine that the runner was ok, that Rob and Andy were still with them, sheltering under a foil blanket (only Rob had his waterproofs), and that the air ambulance wasn't sure if it was going to be able to land. At least our guys were ok.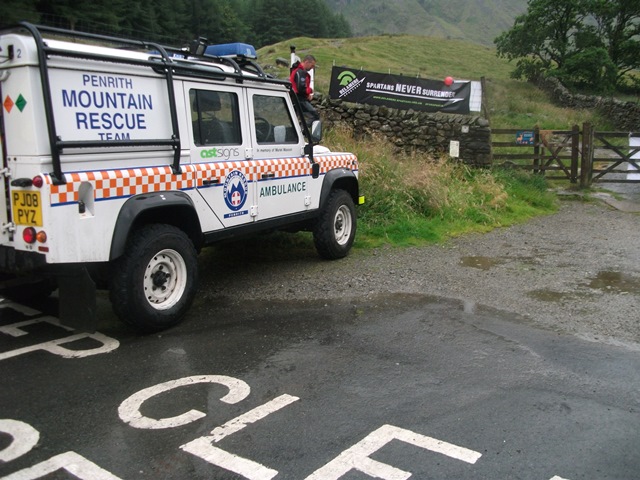 Meanwhile, back at the checkpoint, people were getting tetchy. In the end, 47 people retired at Mardale, and had to wait to be driven back to the start at Coniston. Some of them were in fine form, Ashleigh had turned her ankle and couldn't run, but helped filling water bottles, and welcoming people in. Others were less supportive. One fine gentleman, evermore known as Mr Angry, stormed away, saying that the checkpoint was a farce, he'd been waiting there for three hours, and we were doing nothing about it. He left to get a taxi from the hotel a couple of miles up the road.
In reality, there was nothing we could do about any of it. As soon as a runner retired from the race, the organisers in Coniston knew about it via the technical wizardry of the the electronic tracking system (known as 'the dibber'), so they were well aware of how many runners we had waiting to be collected. Unfortunately for them, the runners didn't get collected until quite late on at night, and as the sat phone had gone out with the Spartan rescue team, there really was noting we could do.
Before long, we heard that the runner had been airlifted and taken to hospital, and found out much later he was fine, with just a concussion. Andy and Rob had done a wonderful job of looking after him, ensuring he was dry and warm in a bivvy bag, then covering all three of themselves in a foil blanket to keep the driving rain off. They both returned to the checkpoint in due course, soaked and cold, but true life savers.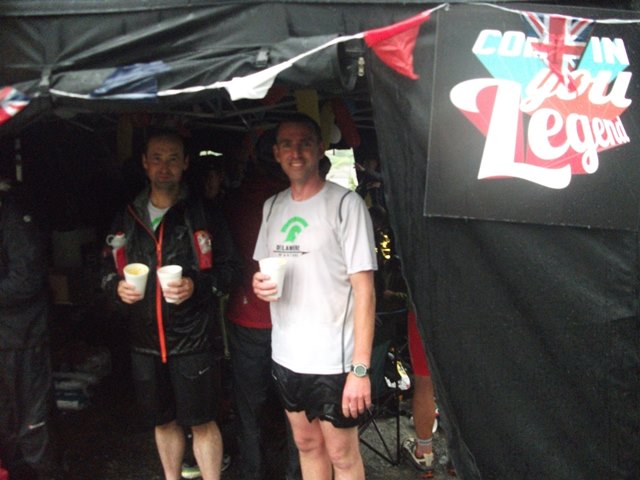 13. What are the poachers doing here?
The last bus with the runners who had retired was waiting to leave. All we were now waiting for was the final two runners who had left the previous checkpoint to get to us. We saw a torch coming over the hill, begin to come towards us, then turn around and go again. Was it one torch? Were there two lights? Were the runners together? Why had they turned around? Tim and Andy once more went out into the dark to find the missing runner. Eventually, they found Ian, who had been on the hills for a while, and had come over the hill towards Mardale, and saw us in the distance. As it was dark by that point, we were all wearing our Alpkit Gamma head torches, which have a green light. As we were all standing around gossiping (We were with Zippy, who can talk for Sparta), we'd turned the green lights on, as they didn't blind each other so much. Final runner Ian saw the green lights and in his confused state, thought that only poachers would be using green torches, so turned around and headed away from us!
14. Questions with no answers...
Some questions are unanswerable. Here are some of my favourite from the weekend.
What is that flock of geese doing heading towards my tent in the rain?

What exactly did the runner who helped himself to our nachos, celery and guacamole think we'd given to the rest of the runners?

Just how much sympathy for sore/ aching runners can Mike muster, after serving soup for 10 hours striaght?

How long can you leave Absolute 80s on the radio before being driven round the bend?

How did Tim's t shirt end up in Zippy's sleeping bag?
15. Are we going to be using the free places that we gained by marshalling?
Erm... Tim, Nigel, and Rob will all be running the Lakeland 50 next year. Andy has already signed up for the Lakeland 100. Fay and Mike will be too busy running around after their own mini Spartan to get much running in at all, so that just leaves me and Zippy, who are both far too sensible to do anything like run 50 miles, so yes, we will be heading back to Mardale again, to man the checkpoint, to support another 800 runners, but more importantly, to support the brave Spartans who are taking on this awesome challenge. Will you be joining us?
For Sparta!