King Arthur vs Delamere Spartans (Excalibur Marathon 2014)
We arrived at the time of day when regular folk are still tucked up in bed. No sign of King Arthur. At the foot of Moel Famau the wind whips round the small car park and you can instantly feel the chill and squelch under foot. A prelude of what is to come.
A hardy band of adventure seekers are aligned at the start. United by similarly weather worn faces. Those intending to run these 26 tough, tough miles are no strangers to wind and rain. It's meant to be the end spring of spring but it's howling and brass monkeys. I'm grateful for the starting gun as it's signal for my teeth to stop chattering.
We belt it up into Clwyd forest. The first few miles are a good climb and we're all going out fast. Jon's looking strong, paired up with Sadie the hound who loves the trails just as much as Jon does. We're all more or less neck and neck, with Nick and Paul starting to edge away.
I dig in behind a familiar face, wayward Spartan Clive. Not wanting to get into any sparring at this early stage I'm happy drafting him. The pace he's set is admirable and one that I'm keen to match.
Andy's not far ahead as we bypass the first checkpoint. After a lot of ascending (this race has over 5500ft of it), I see my chance to overtake them both. A major descent that I'm familiar with. It's rugged as hell, sharp rocks and dirt. Needs major caution here or all out brakes off. I opt for the latter and an instant later I'm ahead of the other guys.
Belting through mushy fields towards Cilcain and along some double track I continue to make good ground. There are some gorgeous open descents through lush Welsh farmland. We're starting to catch the walkers who set out an hour earlier. You can see the pain on some of their faces as they climb. I overtake Spartan Lisa who's looking strong on a tough climb.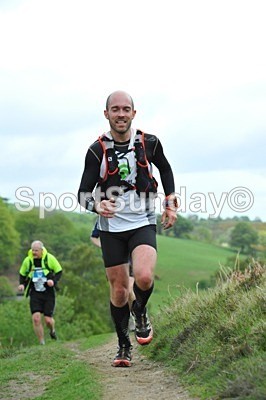 More invigorating climbs including the great Moel Arthur. The penny drops...maybe that's why it's called Excalibur? There would be sensational views should we be able to see through the rain and clag.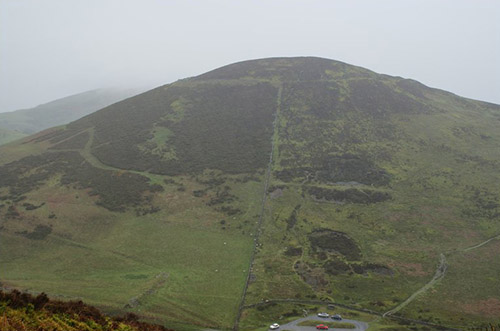 Over the 'bakewell tart', as nick likes to call it, (a moel with a stone wall halo on top). I'm going really strong as I head into the Northern part of the loop and I know I'm going well. Right in the mix, top ten at least and I'm hanging on to Nick's coattails. He's a speck at best, but still within view. Clive's not far behind though - a pattern is emerging, he seems to be catching my little legs on the ascents, then I'm edging away again on the long descents.
We head into the checkpoint at mile 16 and I'm thinking now's my chance to break away. A big ascent then a fast exit from the checkpoint. As I defeat the first climb and head down a long grassy ascent, a guy snaps me with his camera. Seems to have a glint in his eye like he knows me. Oh yeah, the guy from earlier. I hit the double track and I'm killing it. I overtake another 5 or 6 guys in one hit.
Then it dawns on me - that sudden sinking feeling of deja vu. So focused on my exit from the check point was I, that I'd exited at the wrong arrow. Turns out there's a 'little loop' at the top; a tough section of about 4 miles. I was on my second pass... I had to concede that it was going to be an unplanned ultra marathon.
I dug deep and tried to look on the bright side. More training miles and a tough challenge. Part of me was pleased that I'd found a way to sneak in a few more miles. At miles 20 or so, the inevitable pain of a tough race kicked in. Slightly mundane double track that's just steep enough to make running it really uncomfortable. Not the most enticing section of the race as I beat myself up about being a total moron.
The last section is arguably the best. A long and challenging boggy, technical final ascent of Moel Famau. Earlier the wind had been strong enough that you could run at 45 degrees. Now the wind had teamed up with heavy cloud and rain. Up to the fort and past the final checkpoint. Kudos to the marshals for not heading for cover.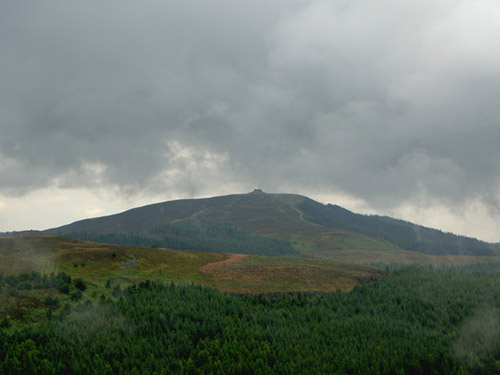 Once past the fort, it's all-out descent on the tourist side of the mountain. It's about 1.5 miles straight down now to the finish line. You can try running fast, but if you've raced this far, you can guarantee that it will make you wince with each step.
It felt great crossing the finish line back at the foot of Moel Famau. Some exceptional Spartan results, with 4th placed Nick regrettably suffering the early stages of hypothermia thanks to my little detour. Still, it gave the guys a good laugh so was well worth the extra effort.
45th could be worse given the extra miles. A fantastic race and a must for all Spartans! Next stop Nottingham for a change of sports...
Categories: