Gritstone Trail part 2 of 3
"You know how we were saying these trails were great, well this bit isn't".
Coming from Macclesfield I'd always wanted to travel all of the Gritstone Trail. Earlier this year, while there was still snow on the ground, I did Disley to Tegg's Nose. Now for part two, Timbersbrook to Tegg's Nose. Steve and I set off up the Cloud and took in the views, it was awesome. Once we'd found the right path, of course. Going the wrong way hadn't damped our spirits as this was a recce run for the Gritstone Grind http://beyondmarathon.com/gritstone-grind/ in a few weeks. Now was the time to go wrong and learn from it. The views continued to stun as we ran down the other side of the Cloud.
Over the A526 and we are enjoying the running until we hit the path along the conduit (see map below). "Steve, did you bring the machete?". "Nobody has been along here in a while". We slogged on, having to walk slowly, through head-high foliage. "This isn't much fun". Mental note, contact the race organiser as there is a path (ish) in the parallel fields we could maybe use instead. "Ouch, I can't even see which ones are brambles, can you?". Much ripping of shins (see photo below) and a second mental note, to think about packing football shin guards for the race later, we were through and away from the brambles. Next we slogged up a hill that we exactly one sandwich high, good to know for the race, this is what recces are about, and we were back up high and taking in the views.
[UPDATE: From the race organiser, "We are are hitting the trail armed with a petrol powered strimmer next weekend. A few areas are overgrown. Not worth cutting them until now as weeds grow back fast."] Excellent news.
The trails were great and it was brilliant having Steve for company. Cheers Steve. My fitness was letting me down so I dropped out a Tegg's Nose and let the Beast continue, at a proper speed, alone to Disley. Boy, was I happy the ice-cream van was there, hopefully it will be there on the day too. Almost 16 miles and 2,500 feet of ascent for me. What a great day, can't wait for the race. Oh, actually, I can, I need to get some good runs in first to up my fitness otherwise I'll be walking more than I run come race day.
The Start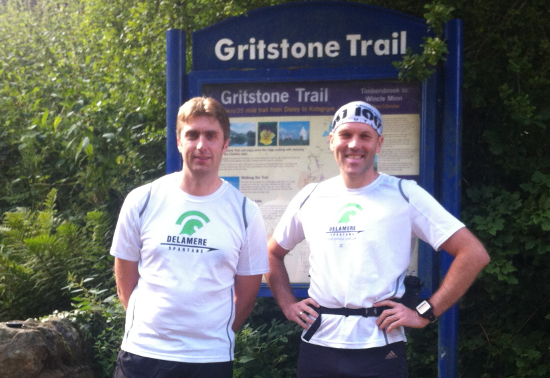 Map of the tricky bit along the conduit
Shins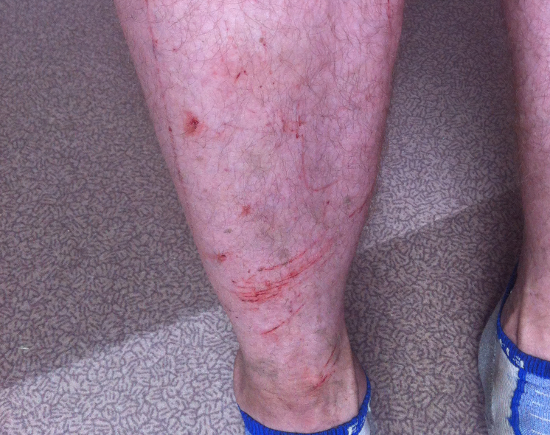 My end point - Negg's Nose