Gritstone Grind 2013
It's 4:57am, "I might as well stop my alarm before it goes off and get up". I wonder downstairs, "today is going to be a day to remember". Bottles filled. Sandwiches packed. Running kit on. Fellow Spartans, Rob and Ged arrive and we drive off in the dark to pick up Andy. Everyone's in good spirits and I'm enjoying the company as I'm expecting to spend most of the day alone. Park up in Disley. Register and board the bus to Kidsgrove surrounded by more Spartans. Final instructions from the race director, encouraging words from friends and we're off. "Bye Spartans, see you at the finish, hopefully".
Video of the start https://www.youtube.com/watch?v=bboCVQUnb1U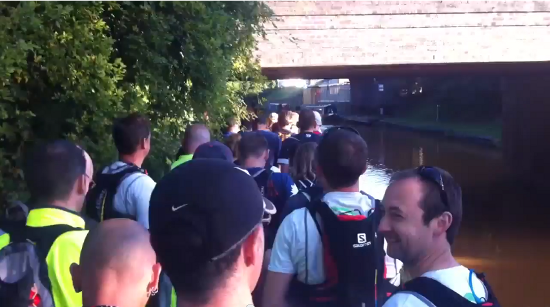 Canal path plodded along in a group. Mow cop walked up, still stuck in a group. Recceing this section paid benefits as I ran past about five people and felt much better having some space to myself. The views across the Cheshire plain to Wales opened up and it was great fun running along Mow Cop.
Video on Mow Cop https://www.youtube.com/watch?v=SUk7qvdgPA4
There was a guy in a black top about a minute front of me, but I couldn't close on him. Down the side of the hill and onto the disused railway. I got into a nice rhythm on the uniform straight trail. Suddening a thought started to niggle at the back of my head, "That marking before the disused railway… was that an unmanned checkpoint where I should stamped my card? .. It was wasn't it. No!... I'm not going back half a mile and down those steps just go stamp my card. " I read Stuart Mill's blog http://ultrastu.blogspot.co.uk/2013/08/montane-lakeland-100-full-race-report.html recently about trying to turn negatives into positives. "Oh well, I wasn't going to win anyway, I'll still be marked as completing the event just moved to the end of the list. I'm pretty much last at the moment anyway. No worries".
I continued along the trail finding it difficult not to be annoyed with myself. The image of the checkpoint was going through my head again and again. "Better check the map, I know I need to turn off soon… I've overshot… You idiot. Turn round. Go back. Take your penalty". Messages from trail running podcasts ringing in my ears. Annoyed. Back on track. Annoyed. "Why didn't I recce this part? I'm behind a large group now." Annoyed. I run past the group as they walk and enter a field, "Where's the exit?". I stop and look at the map, the group runs past me and stops. "There is it", I go through a gate and the group follows. "I want to drop this group and get my space again". "Where is the exit to this field? No looking at the map this time, just go that way, it looks like there are tracks that way. Hmm. That bit looks a bit boggy. Just get on with it. It doesn't look too deep."
I take a step and go into mud up to my calves, overbalance and put my hand, and phone, in up to my wrist. "This is cow sh*t as well as mud isn't it". I try and pull my foot out but my shoe starts to come off. Slowly I get myself out and using my clean hand and water bottle, spray clean my hand and phone, fortunately in a waterproof case. "OK, the next checkpoint is just up here. They'll have some more water and I can clean up my legs. At least no-one knows me in this group… Oh hello Charlie". Actually I didn't have the energy or togetherness to say "Hello Charlie". I got "Hello" out then had to stop for a few breaths and continue. He was marshalling at the checkpoint after racing the day before http://charlie-sharpe.blogspot.co.uk/ . I'm surprised the photo he took isn't blurred, the amount he was laughing. Another marshal told me there was a stream next to the checkpoint so I ran down into it and washed my legs. "This was not in the plan", I thought to myself as I stood in the water. On returning to the checkpoint, I saw the large group standing around and chatting. "Time to refill the water and get moving".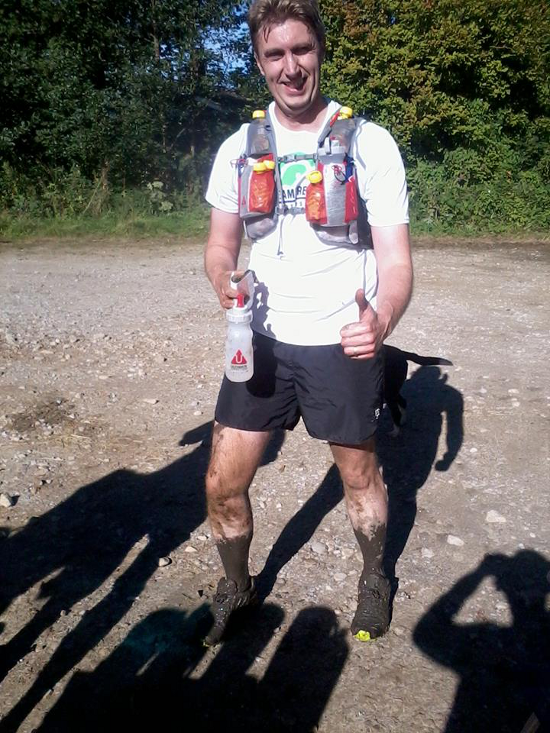 Climbing up the Cloud, even with soaking shoes, felt good. From now on I was on ground I had run before.
Video from the Cloud https://www.youtube.com/watch?v=23WzBdhZ34A
I chatted to some Manchester Harriers about a friend in common on the way down the Cloud. "Right, time for a sandwich and some chocolate". Fueling was going well but the day was getting hotter and hotter. I was having to slow down not to overheat. I was going through my water faster than I should. "Wish I'd drunk some cups of water at the last checkpoint, I've already finished one of my two bottles and I've got miles until the next checkpoint.". The hills around Sutton Common were very tough and I was overtaken by a man in a white top and another man. I just couldn't run for more than a couple of minutes before having to walk. I needed to eat more but I'd need to finish off my water if I did. "OK, just a couple miles until the next checkpoint, eat another sandwich and finish your water".
"Where is this checkpoint, I know it's at a pub, but where, it can't be that far along this road. Go back to the trail. No keep going, it will be there and you need water. There it is. Phew. Water". Four cups of water drunk. Bottles refilled and I was off again. I'd tried a crisp and the salt tasted good (normally I don't like salt), so I had a handful. Again tips from a blog about water and salt http://www.irunfar.com/2013/07/cramping-my-style.html
The hike up Negg's Nose was a slog that appears to have vanished from my memory, probably for the best. But after that I was on real home ground and in a great mood. The gentle downward grassy fields to Rainow are wonderful running. Thinking about it the slog up to White Nancy has also vanished from memory. But the views from the top were great. I never thought I'd stand there after seven hours of running and walking, with most of the Gritstone trail done.
Video near Negg's nose https://www.youtube.com/watch?v=2fRGGUoUqmk
Video at White Nancy https://www.youtube.com/watch?v=PqKgvrS4I-Q
I bounced down the steps saying "Hello" to the Sunday afternoon family walkers. At the next checkpoint I bumped into the Manchester Harriers again and had a quick chat with them while I sorted my pack out for the last section. I left before them and used the chance to break clear of them to push me on. On the next climb I saw the man in a white top from beforehand half way up but moving slowly. I was feeling great, it was cool now, my fueling had being going well for hours so I had loads of energy. "Let's see if I can catch him". I just focussed on his back and got my legs moving at what felt like twice the rate of his. At the top of the climb I passed him as he stopped to look at the map and used the idea of getting some space to push on and run the flat sections.
The views from the ridge above Lyme park are awesome, you can see so much of the Peak District. I was starting to tire now and only able to run about ten minutes at a time without walking. On the descent into Lyme Park I could hear someone running up behind me, I couldn't run any faster. After a couple of minutes they passed me, "Yes, it was just someone out for an evening run". The trails out of Lyme Park were hard work but I was still running about ten minutes at a time. I found it easier to run normally and walk than constant plod running.
Video near Disley https://www.youtube.com/watch?v=jQEFnDlb7co
As I reached the outskirts of Disley I thought "Let's get this over with" and quicken the pace. It is a great feeling knowing the end is getting nearer and nearer. I was amazed and honoured to see my Spartan friends waiting for me at the finish. Most of them had finished a good two hours before me. Somehow they had managed to see Charlie's photo so there were plenty of jokes to greet me too.
What a great day. The whole of the Gritstone trail in one go. 35 miles and 9 hours 14 minutes of fun.
Thanks to Beyond Marathon for organising a fantastic event.
http://beyondmarathon.com/gritstone-grind/