Excalibur Marathon 2014
If you took any notice of the nonsense written in many running magazines, you wouldn't dare step out of the house for a month after running a marathon. I have never believed in resting for weeks (or actually more than a couple of days) after a big event, but although I fancied the Excalibur Marathon, I wanted to see what state I would be in after the Fling before entering. I knew getting round the course wouldn't be an issue, but I don't see the point entering a race if you have no belief in your ability to do your best, particularly when the elevation is about 6,000ft.
So, after a very satisfying sub 10 hour Fling, the last 2 weeks has been pretty much back to normal, legs a bit heavy over the hills, but 75 miles logged, with two 20m plus outings.
With that scientific test complete, off went the late entry for Excalibur.
The route is pretty much up and down from beginning to end, a good challenge. A small Spartan gang of us ran the course about 14 months ago, in mixed wintry, snowy conditions and from my distant memory it was a tough day on the hills.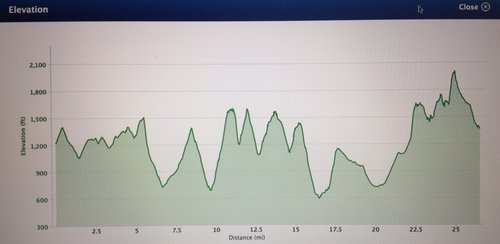 Excalibur Elevation. 6,100ft elevation. Not many flat bits!
More nonsense is written about how to prepare for a race. Some of the best events I have done have been after a night on the ale. Some of the worst as well it has to be said, but I have also had bad races when I have stayed off the beer, eaten sensibly and gone to bed early! In another masterpiece of Wishart race planning, my pre race night plan this time involved a karting night with friends, followed by chinese takeaway, beer and a bit of a late finish. Perfect!
Saturday 7.30am and James, Andy and me travelled over together. Jon was travelling on his own and bringing Sadie for some canine race company. The forecast was for rain and pretty gusty conditions. On arrival, it was certainly very windy, but not especially wet. Yet.
We met up with fellow Spartan Paul R, who had also made a late entry. Lisa was also running the marathon, making 6 jolly Spartans, a great turnout. Steve from Helsby had also made a late, why the hell not, entry and numbers at the start were about 140. Also good to see Clive who ran a great race. Come back and see us mate!
Most folks were in waterproofs, hats and gloves with the ominous black skies and strong winds. I knew I would be overheating pretty quickly, so it was Spartan vest and my new £6.99 Aldi armwarmers, which were great. Be bold, start cold as Stevie Mee always tells me. Spot on!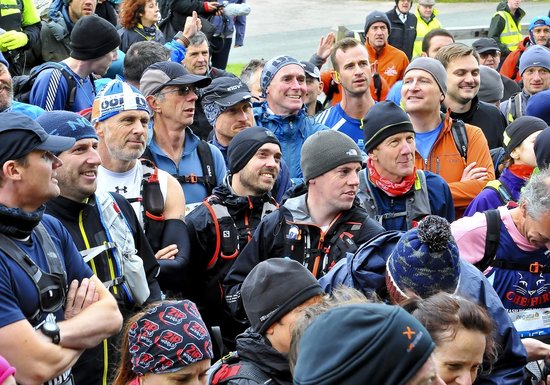 Pre race briefing. Copyright Sport Sunday Photography
A quick chat with Charlie before the start, and then it was off, straight into a gradual climb into the Clwyd forest. The pace was steady, but I had decided to try and check my usual enthusiasm to go hard out as I didn't want to be on my knees for the last climbs later on.
I used my HR monitor to keep my pace sensible, using a HR about 10-15 bpm below my average race peak HR. No science, but a reduction in perceived effort which actually felt good.
The first section winds up through the forest and when Paul came past me after only a few miles, I kept focused on my HR. A few others passed me as well, but I stuck to the plan. It wasn't easy gauging race position as the half marathon runners set off at the same time, taking a slight detour then joining back onto the same route as us up to about 11 miles.
I fell in with two other runners from about 8 miles and we swapped places on the ups and downs right out as far as Penycloddau when the elastic between us eventually over stretched and I found myself in between them. Still feeling good, I was also taking care not to go too hard on some of the steep drops, but was also conscious not to slow too much and fall into Ultra 'cautious' mode. This was only 26.5 miles (coughs), it didn't matter if I burned a few matches with some pace, so I began to push on a bit harder.
The wind had been really blustery all the way, but the run over Offas Dyke path and Penycloddau was quite crazy. I was leaning heavily over to my left in an effort just to stop being blown off my feet. Occasionally a gust would conspire to leg me up, but at least it wasn't hammering down as well!
Checkpoints on the route were about every 3 miles, which was quite something for a route like this. I had decided to carry pretty much everything I needed. It made my race vest a little heavy at the start, but I only paused at the Moel Arthur CP for a quick water top up and couldn't resist grabbing a Timeout bar! I tried to eat half of it as I ran / walked up to the summit but I couldn't breath and eat!
After completing the top loop of the course, I got a bit of a move on along the path back. This section can drag on, but I was enjoying stretching my legs a bit after all the climbs.
I came across Paul at around 20 miles. This section comes at a traditional energy low point for marathon distance and coincided with uninspiring tracks with frequent gates to break any meaningful rhythm. We exchanged a few words and I pressed on, thinking of the climb back up from Moel Arthur car park that lay ahead.
I still had no idea where I was in the field, but I passed another runner on the short roady section before the big climb. Ahead I could see the guy I had run with earlier. He was already halfway up the climb and I concentrated on getting to the top as quickly as possible, hand on knees up the steep hill.
Over the top and no one in sight as far as I could see. The wind was now not quite head on as feared, but cutting across my shoulder and so I just got my head down and pressed on. Rattling of empty gel flasks in my bag sounded like footsteps of a runner closing in on me with the distortion of the swirling wind, but I have a strict policy of not looking over my shoulder in a race, so it just pushed me on harder!
One more climb up Moel Famau where I spotted the guy in front again, agonisingly out of reach but I had closed the gap a little. Once at the summit by the Jubilee Tower, the weather was closing in again quite fast. A quick glance at my watch told me I should make a sub 4hr 30 finish.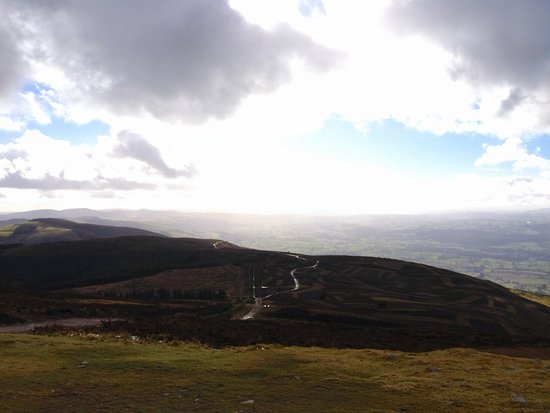 Downhill path seen from Jubilee Tower (on a nicer day!)
The 2km downhill to the finish was an absolute blast, arms windmilling and I had to shout to warn several walkers on the path of my presence as my legs weren't capable of slowing down or making diversions! I shot through the finish at full tilt and applied the brakes, having to trot back to collect my medal from the lovely ladies at the line.
Phew. Over to the tea wagon, where I discovered from the two guys having a chat, that they had finished 3rd and 4th, making me, erm, 5th. Really?! Happy with that!
4hrs 25 mins 13 secs, 26.5 miles. Position 5 / 142.
Spartans placed 5th, 9th, 10th, 18th, 43rd and 135th. If a team prize was on offer it would have been ours!
Charlie came over to say hi, wrapped up nice and warm, 1st place in the bag, carrying a new piece of furniture for his living room.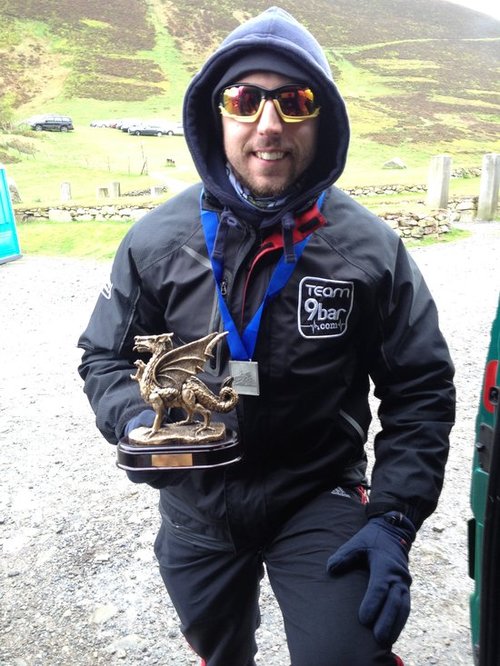 Charlie with his new dragon
What a great race. Brilliant route, great marshalling, excellent stew and tea at the finish and some great local beers on offer from the Hafod Brewing Company.
My fuel count for this race; 400ml flat coke, about 400ml of water, 4 gels, half a timeout bar and a handful of Haribo's.
I never drink as much in cool conditions, but my energy levels felt about right throughout. Maybe the HR pacing is something to use again.
I turned a little bit blue while waiting for James to finish his bonus miles, but the lovely tea ladies let me shelter in their Transporter, so we all had a bit of a tea party.
Cheers for driving Hackos. I suspect we will be back next year.
Categories: