Anglesey CTS Ultra 2015
I love running on the Anglesey coastal path. I have run every section of it over various visits and it has some stunning sections of headland and beautiful beaches that match anything you can find in Britain. Lately however, I have begun to think that the path doesn't like me that much.
Last August I arrived, ready to race the RingOFire after a good year of preparation, only to be foiled the night before the start by a mysterious crippling recurrence of a groin injury that reduced me to walking with a stick. Then, in early December I returned to the island with Dave for a recce of the marathon course in preparation for the January race. After 12 miles I managed to go over on my ankle, which swelled like a balloon and hobbled home. Not good.
So I turned up on Friday afternoon with the family, full of my usual anticipation of a great run, but wary of the luck that has seemingly deserted me!
At £1.82 per mile, this 33 mile race isn't exactly the best value, but the timing suits me really well for focusing winter training over Xmas and makes a good yardstick to start the Ultra running year with. So there lies its real value.
The omens were looking good on Friday after recent stormy galeforce weather. As we arrived, a magnificent sunset greeted us at our family base in Trearddur Bay.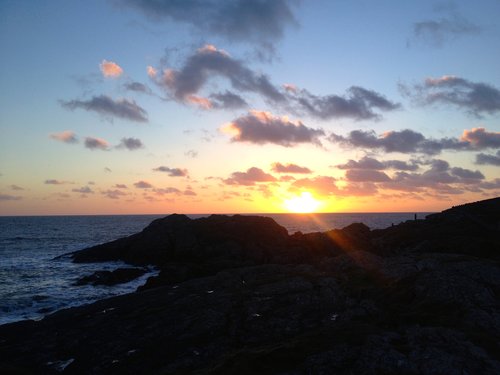 We checked into the hotel, to the same room that we have had for the past 2 years! Early meal and a few pints of IPA to assist the sleep, then off to bed.
7:30am Saturday and I headed off to the start with Andy, who kindly gave me a lift up to Holyhead. The weather looked predictably cold, dry, but pretty blustery. A big improvement on the gale force winds of two days earlier!
Last year it rained. A lot. In fact I think it rained for pretty much the entire time I was running, all 6hrs 22 mins. Sian had reminded me that I looked worse than she had ever seen me in any race when I passed by the finish line at 26 miles, to head back out for another 6.5 miles and so she didn't want to see me there this year. OK then!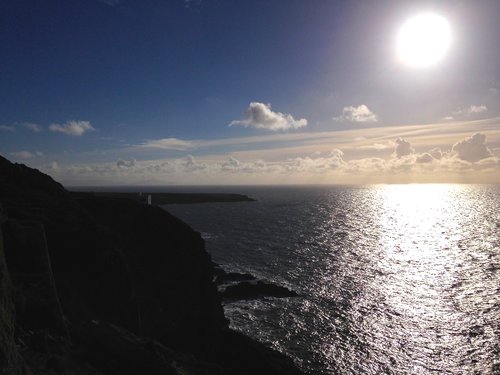 Better conditions this year!
With the memory of that in my mind, my race plan was to make sure there was enough in the tank for the last tour around and over the mountain, via a combination of even pacing and forcing myself to eat and drink regularly. Something, which I failed to do adequately last year, once I became too cold for my fingers to function.
5 Spartan buddies were in the marathon, but it was just me toeing the line at 8:30am for the Ultra. I had a quick chat with Charlie who had popped up with a late entry, probably to the disappointment of the other fast runners!
Course familiarity helps me a lot, so as we headed out towards North Stack, I kept a steady pace and let folks bomb off. Conditions were excellent for January and other than a very cold wind over the exposed sections, progress was good. I used my HRM to throttle back my pace, keeping the needle at around 140bpm / 85% max HR.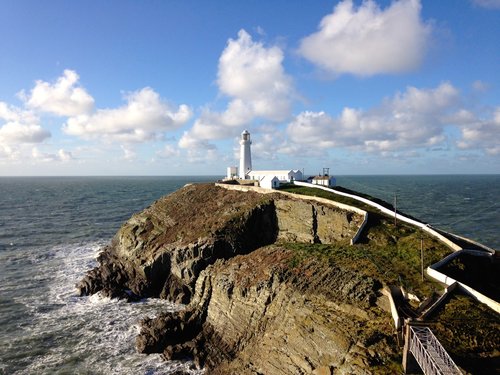 After CP1, the route leaves the rocky and undulating mountain section and winds around the headland with some fab views. The course was wet but I had good traction in my Fellraisers, underfoot protection enhanced by inserting Dave's Magic InsolesTM. See me for further details!
I fell in step with Tom from Sheffield and the miles passed easily as we chatted more or less all the way to CP3 at Rhoscolyn.
The family were waiting for me at Trearddur Bay and I received my jumbo sausage roll like a relay baton (similar size!), which brought a few funny looks from folks on the road as I whizzed by stuffing it into my face!
As well as keeping an eye on HR, my other goal was to make sure I ate and drank early this year. The marzipan ball experiment worked well (recipe available!) and each little bomb delivers 150kcals. Overall, my race nutrition was OK. I had most of the sausage roll, 3 marzipan balls, a rice pud pot, a couple of Jaffa cakes and a few jelly babies. 600ml of electrolyte and 500ml of flat coke.
After crossing Rhoscolyn beach at 15 miles, the route heads inland and back up to rejoin the coastal path 3 miles later. I was beginning to feel the pace a bit here, with a bit of an energy dip. Last year, the route headed back via a country lane after 22 miles, which made for a boring few miles and some additional course repetition as it headed round to start the mountain section. This year the route stayed off road, which was far better and took us through some great gorsey and muddy tracks that eventually came out at the same place at the base of the climb to the summit.
I fell apart on this climb last year, although the driving rain, which had turned the narrow rocky singletrack climb into a small fast flowing river didn't help my mood. No such problems this year, though being passed by chirpy half marathon runners demanded some mental effort to block out any energy sapping negativity caused by being passed.
Now comes the part where you find out if you have ultra endurance training in your back pocket or not! The last 10 miles are where the hills are concentrated. I felt great all the way to the summit, a 600ft climb and I cruised down to the finish area amongst a mixture of 10k, half and full marathon runners, dodging folks as I went.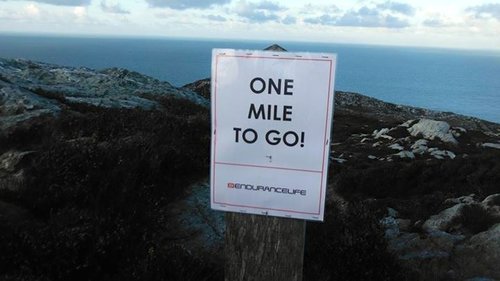 Not a very helpful 'motivator' when you actually have another lap to do!!
There was predictably no sign of the family at the finish area and I plodded happily back out for the last 6.5 mile loop, not distracted at all by the other runners finishing as I had been last year. Looking at the results, it appears that the 9 DNF's all happened at this point, so factor this into your mental strategy when you plan one of the CTS events.
I hadn't seen any other Ultras for the last 10 miles, but Tom appeared on my shoulder as I worked my way back up the headland to North Stack. He looked recovered after a bout of queasiness and I was soon on my own once more. The headwind seemed stronger on this second loop. Another runner caught me as I rounded the point and I began to look forward to seeing the last CP at South Stack. Dropping down past the lighthouse was a relief and there I saw the family, ready with some Jaffa cakes! I caught up with the guy who had overtaken me, who was called Mark and we headed off towards the mountain in unison. His face looked familiar and I then learned he had done the RoF in August. We reached the mountain climb and passed everyone we saw. That gave me renewed strength, to be passing runners from the shorter distances even though I was pretty much spent. It gave Mark a bit more strength though and he dropped me as we approached the summit!
Hitting the summit for the second and last time injected a last surge of energy and I set off down the rocky slopes to the finish as fast as I could, scalping as I went. I caught back up with Mark and we legged it down to the finish together.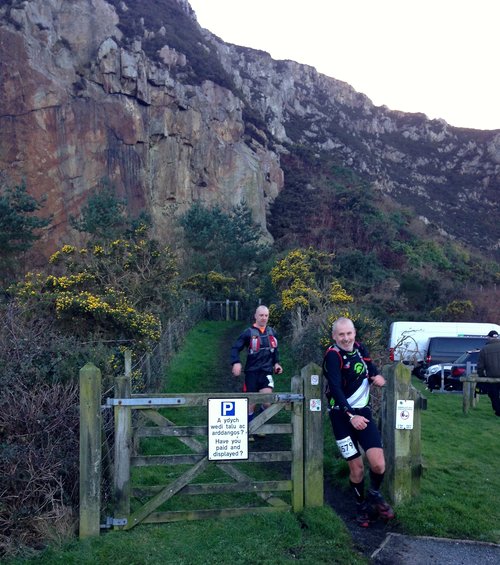 Dash for the line!
5hr 54 mins and 13th place, a good 28 minutes quicker than last year and in much better shape physically and mentally!
My ankle held together well considering it was 4 weeks since I had proper sprained it. I definitely believe that my run every day in December 251 mile month gave me a good endurance base. Who needs rest!
Now I need to press on with some speedwork and also plenty of hills, prior to the next long race; a return to Glasgow for the very excellent Highland Fling in April.
Categories: